Severe and serious?
Fluffy White Peonies
Yippee! Another summer gardening weekend. We are supposed to be cleaning out the Moosey pond and trimming the Olearia hedges behind the house. These are severe and serious garden maintenance tasks!
Saturday 22nd November
The Moosey roses are in full flower now - from Rhapsody in Blue in the Koru Garden to the cool white Icebergs along the house fences. The woodshed pink rambler, and most of the orchard archway roses, too, are blooming. What a pity that I have so many roses which are anonymous...
Early this morning I woke up to the happy sounds of squeaking, cheeping, trilling, chirping and whistling birds. My worst (in other words, my most successful) bird-hunting cats Percy and Fluff-Fluff were flopped on the bed purring. This is the way things should be.
Missing!
But something was missing - the noise was all wrong. Ha! My rooster wasn't crowing. I lasted about five minutes before I had to get up to check. Off in my dressing gown I swept, over the dewy lawns, past the foxglove flower spires, apprehensively clutching my bowl of chopped up silver beet and broad beans.
My Rooster :

I can always hear my rooster - even in the middle of the night his distant crowing is there, in the background.
What would I find - or not find - in the Hen House? No problems at all - yet another false chook alarm. Rooster was perfectly fine in body, but - oh dear - the voice! His crow certainly wasn't working properly. He'd lost all his treble tones.
Croak-a-Doddle-Doo
A rooster with laryngitis? Croak-a-doodle-do? It makes a change from the hideous 'Nightmare in the Hen House' shriekings I've been hearing the last few gardening days.
The Birthday Rose Garden - Summer 2008
Today I will make sure that the Birthday Rose Garden is in the best state it can be for Daughter of Moosey's arrival tomorrow (It is, after all, 'her' garden). The peonies are looking beautiful - the fluffy whites (possibly Sarah Bernhardt?) hold onto their petals for weeks, and now some pinks are flowering too. Of course the roses are very beautiful. It's a very fluffy-pretty garden for an adventurous, outdoorsy, and environmentally-minded girlie... Oops.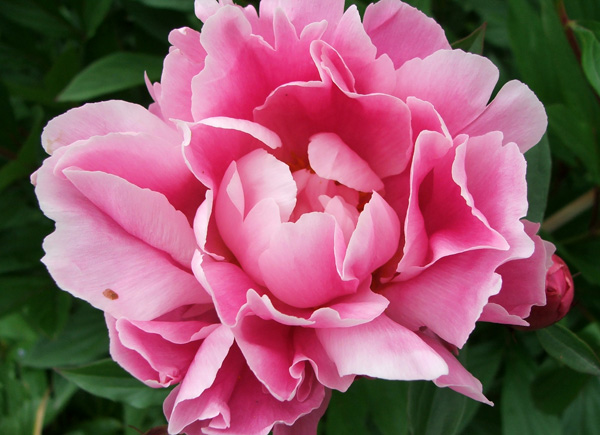 Pretty Pink Peony
As well I'll be helping with the Pond (aargh!) and maybe disposing of the hedge trimmings (aargh!). I will also weed, tidy, trim, try my gardening hands at that new Brahms Sonata, and read my new Country Garden magazine (full of inspiring Irish Gardens). Also there's the cricket...
Lunchtime, the Start of the Cricket...
Nervous times, nervous times. The cricket - a test match between New Zealand (yippee!) and Australia (eek!) is reasonably well-balanced. I'll write a list of achievements - I have some lunch-time thinking to do and decisions to make.
Things to Think About
Rhododendrons to Rescue

My ideas of a reflection pond, with beautiful flower colour near the waters edge, will not work. Two rhododendrons which were OK earlier in spring are now sulking dreadfully.

Carex Trifida - Modest or Monstrous?

These coarse striped carexes looked almost cute a few months ago, but are suddenly bursting all over with ugly brown seed-heads. Hmm...

Phoenix-Like Weeds?

I've built up the ground at the back of the pond with ash from my burning heap. So is this where all the weeds have come from? Hmm...

Pelargoniums Planted

All my variegated pelargoniums, grown from cuttings, have been planted along the edge of the Pond Garden. Will there be enough sun for them to flower? Hope so.
Those rhododendrons won't survive the summer - the irrigation doesn't reach them. Solution - replace with a row of Renga Renga, the perfect foliage plant for dry shade? Forego the swathes of reflected colour, and stop reading unrealistic gardening books...
The Pond is Nearly Empty
And what about those three Carexes living by the water's edge of the pond, with one in the Glass-House Garden - it's surrounded by pretty annuals and roses and looks absolutely horrible. Shift it out?
C'Mon Tiger!
Right. I'm going back outside. The cricket is slipping away from us. Blast! I'm going to clean up along the water race, and then I'll take some photographs of my beautiful roses. Too many roses? No way! Too many anonymous roses? Yep...
Much Later...
Tiger the cat almost came gardening with me this afternoon. She got as far as the gate into the Pond Paddock, but there she lost confidence. I've made it one of my summer projects to encourage Tiger more. As a 'teenage' cat she was ignored in favour of her sick brother Smoocher. Consequently she's grown up being an independent furry lady - not really interested in gardening.
It's quite late and I'm tired, but I've had a great day. I've done a lot of fussy little things while Non-Gardening Partner has been busy fixing the pumps. Now the water is rushing back into the pond, the cricket is lurching towards a defeat, and I'm extremely happy with my day's work. Nice one, Moosey!
Sunday 23rd November
I love having multiple cats! Each cat has a purpose, a place, and a favourite behaviour. Getting up early this morning to watch the rugby I had the two gardening boys (Fluff-Fluff and Percy) lolling all over my lap with their legs in the air. Fluff-Fluff was at his smoochiest. Jerome the grey had been purring in my ear all night (that's what it seemed like). Then I fed the hens, accompanied by Histeria the bouncing tabby - my walking companion cat. So many cat friends!
+10
Today the garden takes second place - I have to sing in a Christmas concert in the cathedral. Should I burn my rubbish pile now, before the wind starts up? 'Smoke gets in your - eeeeeeeeeyes...'