Summer watering...
Glass-House Path
Summer watering, summer weeding, and cricket to listen to... Lovely! But please would all twittering birds in the Moosey Garden be extra vigilant...
Thursday 20th November
This morning I know exactly what I need to do. The little bay window (inside which relaxing gardeners stretch out in the breakfast chairs) needs flowering annuals in its gaps. And I have pottles of Omphalodes, Pansies with terribly official names, red Candytuft, and orange and lemon Cosmos to find garden space for. Easy!
Foxgloves
It's the time of the foxgloves in flower. They are one of my favourite cottage garden plants, and they self seed so generously. Saves me all the hard work of seed-raising!
Too Many Roses
It's also the 'Too Many Roses' season - it must be time for 2008's article on the subject (I write one every year). This year the larger roses have grown up, and up, and up even more. Constance Spry has flopped over all her large neighbouring shrubs, and the Buff Beauty near the house is scrambling into the trees.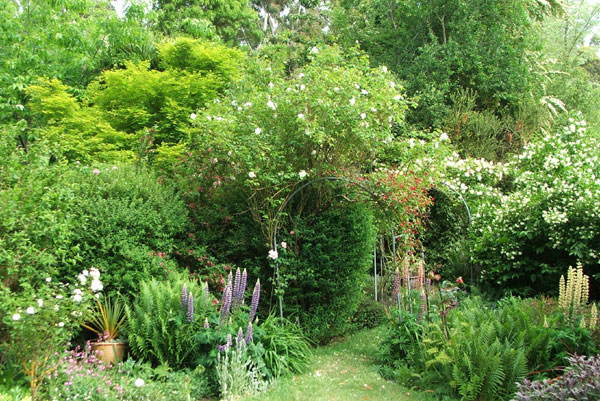 Archway Roses
Moonlight is another rose who climbs madly up her neighbour, an old apple tree. I usually only notice the traditional climbing roses as being 'up there', if you know what I mean.
Fantail :

Fantails are delightful little New Zealand birds with beautiful fan tails.
Cats - aargh! I'm furious with Fluff-Fluff. A fantail came inside the house (they eat insects on the wing, and are foolishly 'friendly' and squeaky). FF did a giant big-air leap from the lid of the Moosey grand piano, caught the bird, and took off outside.
After a lot of stalking and cajoling in my smoothest, most complimentary cat-voice, I managed a rescue. I've perched the shaken bird in the middle of a thorny Berberis shrub, but I'm not optimistic...
Fluff-Fluff, back in the house, is now behaving like a frustrated teenager - he's bullied Histeria out of the house, and has chased poor Tiger up the curtains. Tiger is now sitting on a stool, looking slightly miffed, with tufts of fluffy pale ginger fur (not hers) on her sleek fat body. So who got the better of whom? This is not a very mellow way to start my morning, my dreamy communing with nature rudely interrupted. Hmm...
Pergola Rose Crepuscule
Now my fluffy Bird-Catching Beast is lying by my feet, displaying his disgracefully squidgy, scruffy tummy, trying to get back in my favour. How transparent! I think I need to get out into the garden at once, to try and recreate that happy, summer-garden feeling. I get really sad when my cats catch birds.
Lunchtime...
Oh boy. After planting many many annuals, weeding and watering my new vegetable garden, I have come inside to mentally and physically prepare for the start of the first cricket test between us and Australia. Eek! I am so nervous. The New Zealand cricket team cannot be relied upon to provide a hard-working gardener any rewards.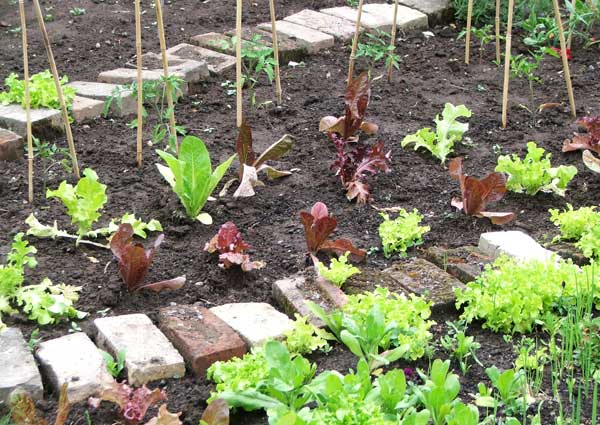 The Start of the Vegetable Garden
Gardening with annuals is really small scale. One is poking around in tiny spaces, hoping that the resulting flowery display will last longer than a week. And wondering (after two hours in the hot sun) whether it's really worthwhile. Hmm...
Friday 21st November
I'm having another timetabled day - three quarter-hour slots of the following activities, in no particular order: cycling with the dog, playing the piano (Schumann), bringing out the pelargonium pots (they've been in the glass-house preparing for their debutante ball day!), clearing the mess which I half-cleared from the water race three days ago (oops), reading my excellent library detective novel, and - this last one's really dodgy.
Lupins by the Water
I'm trying to draw (with coloured pencils) a proper map of the Wattle Woods paths. I've got a book called 'drawing garden plans', and they make it look easy - their curly pencil blobs actually look like shrubs. I've already spent ages and I have an amateurish page of coloured squiggles. And now to name the paths - help! I'm torn between the logical - 'main path, side path, back path' etc. and the whimsical - 'glass-house wiggle', for example.
Such are the 'busynesses' of a hard working gardener in summer. Oh - I'm also going to do put the hoses on and do some general gardening, probably weeding and trimming lawn edges. And all this will be completed before the cricket starts at 1pm. Like a good housewife (!) making the beds, washing the towels, mopping the kitchen floor, and doing the vacuuming before lunchtime...
Something That Fat People Do?
And later today I'm going aqua-jogging with my friend who is a teacher. 'What's aqua-jogging?' one of my friend's students asked. 'Oh - it's just something that fat people do' replied another. Hmm...
Mid Afternoon...
I've had a brilliant day - I've done something of everything. My piano is exciting - after struggling through Albeniz (in 7 flats with 2 double flats thrown in for good measure) I pulled out the Brahms Sonata in F Minor and it was so much easier (well, the first five pages were). So now I read my book and listen to the cricket - nice. I'd like to welcome the variegated pelargoniums to the house decking. Please enjoy your long flowering summer with us.