New Zealand plants nursery...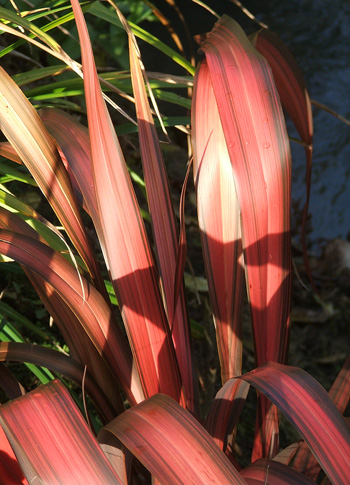 Red Phormium
I've just discovered a local native plants nursery where everything costs two dollars. Hee hee. Naturally I am doing my bit for promoting the use of native vegetation in the community...
Wednesday 8th July
Yippee! Sun! It's straggly, scruffy sun, though - very low in the skies, peeping through the trees in the Hump. It's still a bit too cold to go outside, but I have plans to revisit (third time) the sale price nursery and collect some more goodies.
New Zealand native shrubs are tough, evergreen, and textural - some look brilliant in pots, others are wonderful fillers or make easy hedges. Some of the smaller shrubs are divaricated, too - they're a messy tangle of tiny branchlets, and look quite comical.
I often put plants like Hebes in tiny rows of three or five, alongside paths, so they form a sort of semi-hedge. My garden overflows with spiky shrubs (Phormiums and Cordylines) so it's great to introduce some 'fatness'.
Right. Where's my dog? We are cycling around the big block. Well, I cycle, he follows. It's a dog's life!

+10
Much Later...
Blast. We made it down the road for fifteen minutes, and then turned back. Too cold! But I have done a small bit of energetic gardening - all of me keeps so much warmer when gardening. I've finished planting all the new shrubs behind the pond, helped by Minimus the squeaking kitten and Rusty the barking dog.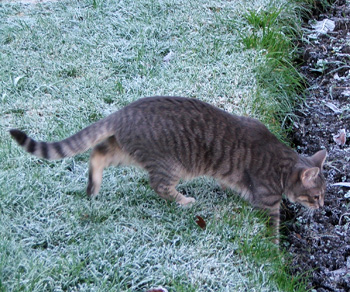 Frosty Kitten!
I shifted a stumpy log seat nearer the pond path, and gave it the 'I'm supposed to be here' look, planting some coarse Carex grasses on either side. I pulled out some disgracefully grey lavenders and planted the two dollar Rosemaries in their place. Greener - and nicer. This area was only properly pathed and planted last year - everything is looking great.
Too Cold
I wish the temperature was a tiniest bit warmer, though. It's too cold for much stopping to listen to the water gurgling into the pond. And I had to keep moving around, hopping, as I ate my lunch.
Do you know - I'm almost ready for winter to finish. The novelty of snuggling under bed-clothes with a cold nose has almost worn off. The garden colours are very subtle, with lots of dull golds (from the conifers) and browns (dead leaves, mulch, grasses etc.).
Winter Gunnera :

Most of my Gunnera plants have had their leaves die off. They're perennials, so this is OK.
I'd actually like July to fast forward itself. All my photographs look like they've been washed in a cold blue rinse. And I don't find it visually inspiring taking pictures of brown! Sorry about that. But I'm not grumping - honestly!
Six cats and a dog are snoozing in fireside chairs, my house is warm and cosy, and I'm going hiking up a semi-mountain tomorrow with my friend. We are going to 'discuss' long-distance walking the West Highland Way and/or the Great Glen Way in Scotland next year. I already have my list of minimal clothing to take, including a nightie which ingeniously doubles as a pub outfit for evening meals. Hmm...
Friday 10th July
Creak, stagger, groan... It's the morning after my seven hour hike up (and down) an extremely muddy mountain track, from sea level to nearly 920m (3,018.4 ft) and back. Be impressed! My friend and I were doing a trial plod for our planned long-distance footpath walk in Scotland. The results are as follows:
Results of West Highland Way Trial
Compatibility - 10 points (maximum)

Two oldish 'biddies' with great hiking legs, decent boots, wonderful senses of humour, great conversation (from the philosophical to the mundane), and whole-hearted enjoyment of cold wind, mist and mud.

Stamina - 6 points

Oops. This oldish biddy found seven hours of easy climbing too much for the aging knees. Only fifteen kilometers in one day - which way round does the miles-kilometers conversion go? Oops again...

Gear - 9 points

Brilliant merino thermals, the Moosey Gore-tex is perfect (light and strong), and my friend loves her puffy sleeveless down jacket. I think I want one...

Some Scottish Mountains
What am I going to do in the garden today? Ha! Absolutely nothing. I'm going swimming, and then I'm having a rest day, full of TV watching and cups of tea.
Lunchtime...
Aargh! The best laid plans of lazy gardeners... There is a (scheduled) power outage all day. Nothing in my house is going! No cups of tea. No TV. No watching the Tour de France (two days of which I've recorded) and ogling at the scenery for six hours. Blast. I think I'm having a day in the garden after all.
Rose Coconut Ice
New Things to Plant
I do have things to plant. A friend has presented me with a wonderful assortment of flowering Gooseberries and Cornuses, plus a white Banksia rose. I have a second Coconut Ice rose for one of the orchard rose archways. Guess I could prune some of the other climbers.
Right. My (stiff) knees, feet, legs, and hips can do this. And my dog loves working in the orchard - there are plover birds and pigeons to chase, and sometimes a pair of gliding native hawks high overhead. What beautiful brown birds!
Later...
OK - I've been pruning my climbing roses for two hours. I don't really know what I'm doing, but I take heart by the fact that many climbers survive years of neglect in old cemeteries. Surely my well-meaning nips and tucks (ouch) can't do too much damage. I have removed the oldest canes from the base (seems sensible), and been pretty severe on Parkdirektor Riggers.
Saturday 11th July
I've had an inspiring day. Firstly in a brilliant display of multi-tasking I read my new seed catalogue, ticking enthusiastically, while the Tour de France (recorded live, high definition TV) cycled its way through the Pyrenees. From my couch-helicopter (hmm...) I saw much wonderful scenery, and I want to go there. Two perfect frosty-winter-early-morning activities.
Vigorous Gardening
Then for four hours I gardened vigorously, the temperature hardly reaching seven degrees (Celsius). I dug out the Gunnera and Phormiums beside Car Bridge - tomorrow some 'men' are coming to build a new bridge, which I think gets a culvert. Then I worked in the Birthday Rose Garden - I pruned roses, weeded, and divided and replanted blue Scabious. I trimmed some Hebes and planted a Phormium at the corner of the Birthday Mural. I cleaned up the red Cordylines (which are a cold shade of plummy purple). One is sprouting again from the base - nice!
Winter Garden Colours
Now I'm inside, clean and scrubbed, warm and comfortable, thinking about Scotland's long distance footpaths. I've totally forgotten about my apres-hiking aches and stiffness. I'm going to buy some brand new hiking socks and some new foot-hugging boots, and keep on practising.