Bangkok Holiday...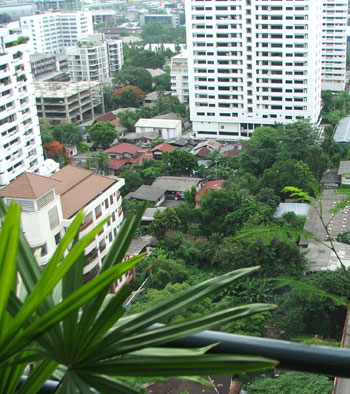 Green Bangkok
We are in Bangkok staying with Daughter of Moosey, in a 20th floor apartment with Bangkok noises all around - humming traffic, birdsong, and a crowing rooster (he's somewhere down there, at ground level).
Wednesday 30th June
I've been watching the riverboats on the klong (canal) below, and making ridiculous plans. Travel broadens the Moosey mind in the oddest of ways - I am determined to do some sewing when I get home (gardening shirts), and to totally clean up my house. Hmm...
The balcony garden is groovy - mainly potted palm trees, crotons, and a kaffir lime (no Bangkok balcony garden is complete without one, to quote Daughter of Moosey - she uses the leaves for cooking). Down below there's a big block of land without a high-rise, full of palm trees and banana trees. And the rooster keeps on crowing - I love that sound! Wonder if I can get a picture of him...
Thursday 1st July
Yippee for living on the 20th floor in Bangkok, air conditioning on at night, windows open in the daytime (I love that). The big open spaces of a humming city are noisy with traffic, birds, and that silly rooster.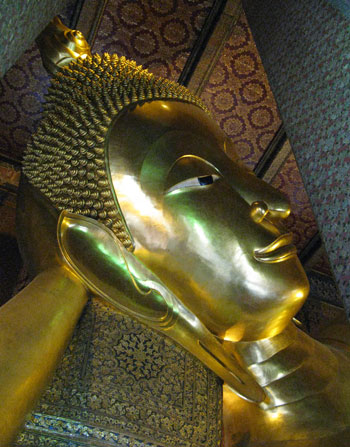 Reclining Buddha
Bangkok Travels
Yesterday we enjoyed one of those days superbly planned by Daughter of Moosey. Travelling on the sky train (BTS) and the orange river express (up the Chao Phraya River) we went to Wat Pho to see a huge reclining Buddha. He had mother-of-pearl stripes on the soles of his feet and his toes, and was totally squashed inside his shelter. He only just fitted.
He was a camera-friendly Buddha, too, which is warmly welcoming for a first-time visitor. I am honoured to present his photograph here, with thanks.
Then we had a groovy meal at a riverside garden called Suan Thip. I am hopelessly inexperienced with tropical plants - back home I'm an outdoors-only gardener, and tropicals only pop up as modestly sized indoor pot plants. Suan Thip had lots of delightful curving paths and outdoor shelters, and a small jetty out to the river. And lots of shade!
Tropical fruits are yummy. So far I've eaten green papaya, green and ripe mango, pomelo, rambutan, and mangosten (yum), and I've seen dragonfruit. At our restaurant we ordered a Pomelo salad, my favourite food dish so far. But I'm not forgetting the exquisitely soft-boiled eggs and gourmet mango smoothies served up by Daughter of Moosey each morning for breakfast...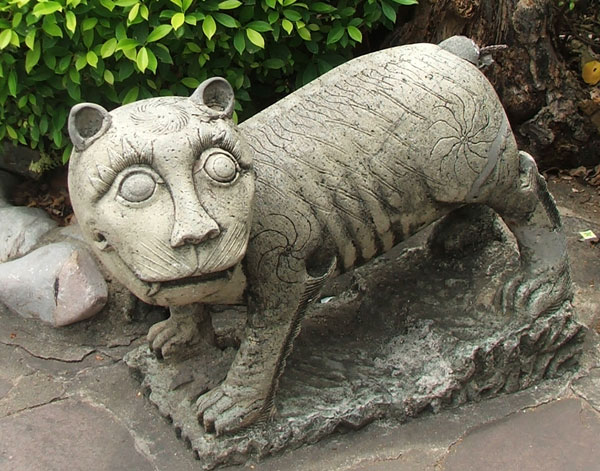 Stone Statue at Wat Pho
Today we are going to Jim Thompson's house (the Thai silk man) and then to a fabric shop. We leave tomorrow for home, and I am going to sew some apres-gardening shirts as mementos of this holiday. That is when I'm not busy tidying my house, sorting out some new photographs for my house walls, and transforming my garden from a random shambles into a structured thing of quizzical beauty (?) where the paths are swept clear... Oh dear. Blessed is the gardener who returns home full of ridiculously good intentions.
Later...
Ha! I am back home with material bought from Phahurat Market (Little India) and Sampeng Lane. After scuttling between the squillions of stalls we took a tuk-tuk back to the underground station - that was lots of fun! I've bought lengths of green material for my apres-gardening shirt, to remind me of green, leafy, foresty England (which might seem a bit odd).
Shrine
Friday 2nd July
Some words of wisdom, to quote Daughter of Moosey: 'Stay in Bangkok for three days or live here'. She continues: 'Or get out of Bangkok, take the train to Chiang Mai...'
Perfect timing - our three days are up, and we are leaving, flying home via Sydney. Home to the cats, and the dog, and the winter Moosey garden. Please let Tiger the tortoiseshell NOT have disgraced herself on the stair carpet. And little Minimus, who the house-sitter has renamed 'Minimus the Minx' - that doesn't sound promising...
So prepare for my usual list of high-flown (hee hee) good intentions - house and garden improvements, dog-promises (like two walks a day for Rusty), self-promises (usually mundane things like using hand cream), and soul-promises (play the piano each day, read more books, learn more new things).
Ha! I've just thought of two - take the time to make proper pots of leaf tea. And get an iPod and listen to decent music when gardening. And one more (really this should be saved for an in-flight activity). Stop rushing through one thing just so I can get to the next (and rush through it, too).
So it's goodbye to Bangkok's food stalls, vendors, snoozing street cats and dogs, and big-leaf greenery. Goodbye to the brow-mopping handkerchief and the air-conditioning.