London Holiday...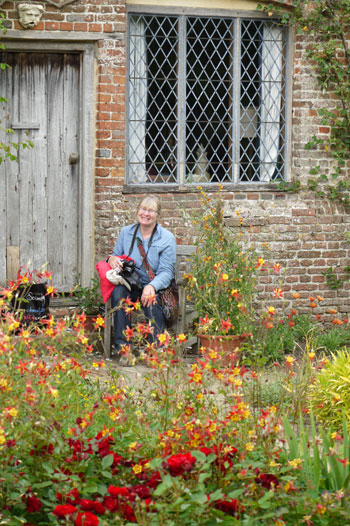 Head Gardener, Sissinghurst
Greetings from London, where I have already read two books - I am definitely on holiday. But wait - tomorrow I have big plans for a day trip to Sissinghurst in Kent, a garden that I should visit. It's a great excuse for some train travel (I love trains).
Thursday 24th June
Non-Gardening Partner thinks I'm batty - earlier today we went for a walk nearly to the railway station and watched the trains zooming underneath a bridge. These are boring commuter trains and the banks by the tracks are weedy, but I'm just as fascinated as I was a mini-Moosey in England. Eek - that's far too many years ago...
During our walks around the south-eastern suburb of East Dulwich I've seen a lot more non-gardens than gardens. The real gardens have surprising plant choices - for example, banana trees next to box hedges and double clematises, Banksias and roses in pots, variegated yuccas and fuschias. The non-gardens (which, of course, a gardener tends to notice) are sad, greenless places, parking spaces for plastic bins (and loose rubbish). All the while cars roar past.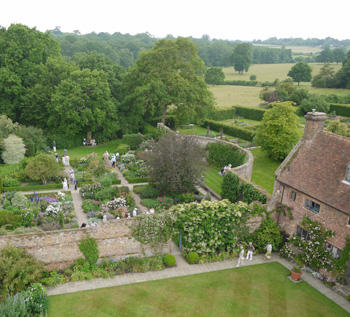 Sissinghurst Garden Rooms
Friday 25th June
Ha! A day of travel (train and rental car) and adventure - we went to Sissinghurst. So I can tick 'her' off my list, and hold my own in gardening small-talk. Finally I have walked through that 'famous white garden'.
I loved the planting details at Sissinghurst - I saw lots of 'new' plants and carefully pushed my camera into their leafy noses. I am not a fan of so many right angles in a garden, though I understand that I'm looking at history here.
Saturday 26th June
Today I've gone back to peep at the banana tree front garden, and it's even more amazing than I thought. Here's the list of plants crammed into three of these side-by-side gardens along with the banana trees (which are over head height). The gardener has to wrap up their stems some winters.
A purple flowering New Zealand hebe, a large Cordyline, a Phormium tenax (so big and uncouth for this tiny space), a Purple Cotinus, clipped box hedge, a Cotoneaster with red berries, a beautiful fancy Clematis with double smoky blue flowers, an odd Echium (like a Pride of Madeira with a bunch of smaller flower stalks off the main one). Curiouser and curiouser...
Banana Trees in London
At the market I bought a big book of prints by Pierre Joseph Redoute - thay are all old species roses, including a beautiful yellow briar rose. Indeed, the preface tells me that most are not around anymore. Pity.
Moroccan Broom
What did I feel like doing today? asked Older Son of Moosey, with whom we are staying in London. 'Nothing that has lots of cars or lots of people' was my reply. Oh dear. I am not so good at being a big city visitor. But tomorrow - another train adventure! NPG and I are off to Norwich for the day.
Sunday 27th June
Wow - a day of much travel - double decker bus, trains, underground, feet walking across London Bridge... And a lovely relaxing afternoon in a Norwich garden full of interesting and inspiring things.
I have made two lists (sorry about this). One consists of flowers and shrubs that I've seen flourishing on the railway embankments. I suspect this rather lowers their garden status (I am in England, after all).
List One - Suspected Low-Class Plants
Buddleias (oops - but butterflies and bees love them)
Verbascums (I knew that)
Pink Valerian (but white is OK)
Magenta Foxgloves (I knew that)
Red poppies
I wrote the other list while sitting in a relative's garden in East Dereham, filled with zeal and new purpose. Ha! These are things to do when I return home.
My 'DO IT' List, Serious Instructions To Myself
Vegetables - put some tomatoes in pots in the glass-house. Use Neem oil for spraying if and when needed, according to the life and death cycle of the whitefly. And remember to thin out carrots and parsnips. Follow up your seed sowing, don't just forget about things. And grow some early potatoes in a car-tyre tower with straw etc.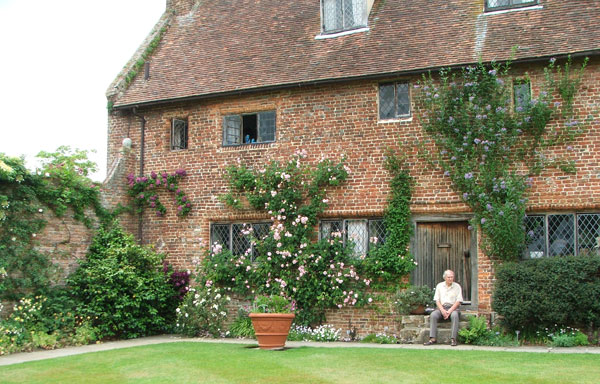 Man Waiting at Sissinghurst
Flowers - Grow your Sweet Peas properly. Use stakes and string, or whatever it takes. Check their progress. Divide up the red flowering Achillea - there are two clumps, one in the perennial garden and one by the pond. Achillea likes sun, so provide it with sun.
'Touch your garden with a light hand of control (like they do at Sissinghurst).'

-Moosey Words of Wisdom.
Seedlings - collect up all your self-sown Valerian seeds (probably pink, so ignore class status comment above). You are the Head Gardener, so you decide where they are going to flower. Do the same with Pyrethrum daisies. Touch your garden with a light hand of control (like they do at Sissinghurst).
Monday 28th June
Right. It's time to say goodbye to the cars and people of London. We are off to see many more cars and more people? We fly out to Bangkok tonight.