A wonderful hike in the Awatere Valley...
I'm back from my big hiking trip on the Awatere Tussock Track. My garden is small, mellow, and welcoming, my cats overjoyed to see me. Non-Gardening Partner is already glazing over, hearing how wonderful, amazing, grand, etc. it all was. Oh dear - and I haven't shown him my photographs yet.
Friday 27th April
Yippee for the Awatere Tussock Track, in inland Marlborough, by far the greatest trip of my senior tramping life, and one of the few trips which has left me semi-speechless.
I'm sorry, but semi-speechless I am. I want to bask and wallow a bit more, before applying the analytical brain and writing properly about the wonderful country, brilliant weather, great company, big adventure... You can see I'm in desperate need of some decent adjectives, for one.
Autumn Hydrangea Flowers
Some tiny home thoughts - my garden looks so small! The autumn mood I've returned to is beautiful - the hydrangea flowers changing colour, the Wisteria leaves fallen on the patio, the silly roses fiercely blooming, determined to be random. Lots of the leaves from my trees are down now, and the chrysanthemums are in full fluffiness. Little Mac the smoochy kitten seems to have gone up another size, and Rusty the dog is furrier.
Little Mac the Kitten
Saturday 28th April
Today I am raking leaves in the Pond Paddock. If this is all the garden work I do today, then that's perfectly OK. I am still reliving my hiking trip, plodding carefully over those ridgelines and strolling over the lumpy hills. Such memories! And later this afternoon, dear Non-Gardening Partner has promised to look at my photographs. I took over three hundred in three days. Oops.
Later, Dusk...
I've cleared all the leaves up - fifteen bags are now in a heap by the Pump-House. They're mainly Oak, with a few Maple and the first of the Prunus. I've also raked the path around the pond, levelled the surface, and placed a few more stones on top of the tiny wall. And all this while daydreaming about 'THE' trip in the tussock country. For the nth time I've regaled NGP with the glories of the hike, saying that he must come with me next time. He could easily get sick of hearing this!
Cregan Hut :

This thumbnail shows my hiking friend nearing the hut, on the Awatere Tussock Track.
It's been a true autumn day - the light fades early, and there's not a breath of wind. I'm wearing my merino hiking top in remembrance of the Cregan Hut, where I stayed for two cosy nights. Solar powered, too, and delightfully situated underneath the craggy mountains. Well, they certainly looked craggy from way below. I'm off in dreamland again...
Sunday 29th April
Back down to the Moosey earth. What should I do first today? Start seriously cleaning up the Shrubbery, I think. Dahlias in there have flowered, and they can be trimmed, even though there's only been one tiddly frost. But first, a cup of coffee, and a squeaky confession - I have been drooling over my hiking photographs. Big empty spaces, so unlike my compact little garden. Ha! Perhaps my garden is too small after all...
Much, Much Later...
Ha! If my garden were to get bigger, then my stamina and energy to work in it would need to increase. My garden days would need to be a tiny bit longer. Hmm... That actually appeals.
Masquerade Roses in Autumn
Today I've cleared the back of the Shrubbery, an area in which I don't often spend time relaxing. I've done silly little things like stripping off huge flapping pieces of gum tree bark, replacing path edge logs, and cutting down Pittosporums. Let there be more light! And there is, for next season's roses like Madame Leonie Viennot, though I despair that she is growing the 'wrong way'. As well she might - She is following the sun, whereas her fence-line points the other way.
Tiger the Cat :

Tiger is my most senior (and my fattest) cat.
Tiger the cat is a bit off-colour. For the first time in her life she's not eating. I will keep an eye on her - this is most abnormal behaviour. However, in a gentle patting and prodding session (to locate, for example, any wounds or abscesses) she just sat there purring. Maybe it's something she ate yesterday...
Monday 30th April
Tiger the cat is back, eating like a horse (?), checking all the other cats' food bowls for scraps and sneaking Little Mac's kitten milk. Phew! All is well. Tiger is better.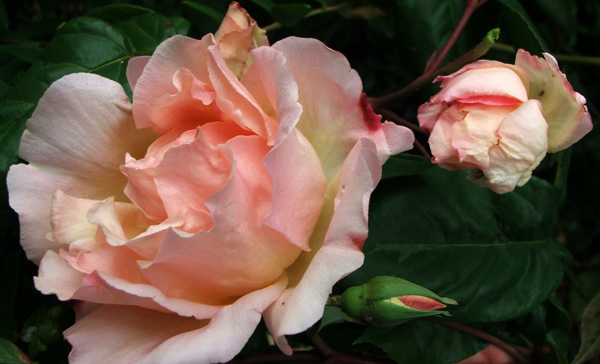 Souvenir de Madame Leonie Viennot
This morning's plan is to attack the piano, playing through Albeniz's Jerez and Schumann's 'Concerto without Orchestra' (Movement One). A part of me is still striding out on the tops, as I've bravely write up my Awatere Tussock Track trip. Alneniz will bring me back to reality, and shower me with sackfuls of double sharps and double flats in the process. Aargh! There are some things that hot morning coffee doesn't prepare a person for.
Much Later...
I've finished the front of the Shrubbery, scooping off lots of gum leaves and building up the soil with horse manure and old potting mix. The top of the Jelly Bean Border is also cleared. My achievements might seem miniscule, but that's OK. I've happily and proudly carted off twelve barrowfuls of mess. And my evening meal is already cooked - Moosey multi-tasking! Autumn warning - it's getting darker much earlier now. This has been my best ever April, and I've loved every day. And now it's over.