I love my garden...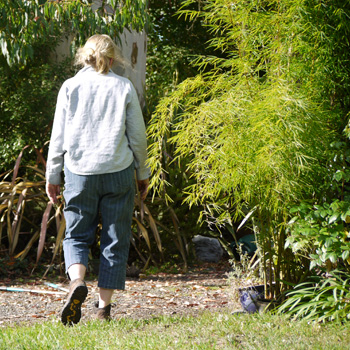 Head Gardener
I love my garden. It's the simplest feeling, yet delightfully complicated to explain without resorting to a huge list. Try taking a swirling mixture of the following:
Love of nature and the outdoors, the beauty of flowers, the feeling of the earth, the sounds of running water, the wonderful geometry of leaves, the wildlife buzzing, chirping, purring and barking...
Ah - that will be Rusty the dog, chasing an aeroplane out of the Moosey Garden airspace. Silly dog! But there's still more to loving the garden - I haven't mentioned the smells, and the movement of the trees, and the softness of the grass, and the amazing colours, and the light...
Sunday 1st April
No April Fools in this garden! Today I've been gardening rather gently, being in a somewhat thoughtful mood (witness the above ramble). The Glass-House Garden and the path behind it (leading to Rooster Bridge) have been slowly and thoughtfully cleared. Many beautiful autumn flowering roses have been close by, to enjoy.
Rugosa Rose Foliage
Some days a gardener doesn't feel like doing anything major, and today I've just been happy to be scraping around (on hands and knees) weeding and trimming perennials. Nor have I felt like filling the afternoon air with loads of smoke, so my bonfire has been equally modest.
Trimming Time
It's time to trim down the variegated Scrophularia, and I must apologise to the bumble bees who still adore this perennial with its tiddly little red flowers. The rugosa roses by the glass-house path are very 'hippy' now, and their leaves are colouring nicely for autumn. Ah, autumn! You are making good progress.
Young Minimus my grey cottage cat has been gardening with me. This is her territory, and to prove it she rudely chased Little Mac the kitten away. Minimus! Share the garden! Watching her, I'd love to be able to cat-climb trees. And I think that retractable claws would be brilliant in the garden - much more sensible than fingernails.
'A happy hydrangea does not live in a pot.'

-Moosey Words of Wisdom.
I've had a sensible make-over idea for tomorrow, namely to dig out of all the daylilies underneath the variegated Elm tree. In the beginning there was much sunlight, and the daylilies actually flowered, but recently they've been hopelessly grass-like. Removing them would make room for more hydrangeas - I have some which are barely surviving in pots. A happy hydrangea does not live in a pot.
Monday 2nd April
+20My goodness, Minimus has been smoochy this morning in the cottage. She loves me to bits! Sitting up in bed, juggling the cat, milk jug, and tea pot, I looked sleepily through the cottage windows at - yes! Autumn coloured leaves on the trees, which are framed by both windows. This is my second autumn 'living' in the cottage.
Lilli :

C'mon Lilli. I miss you!
So where is my Stables cat, grey Lilli-Puss? I haven't seen her for three days now, and if I leave too much food out, big fatty Fluff-Fluff just helps himself in the daytime.
I've just been for one of those 'cat-calling' walks with my dog, who must wonder what the fuss is all about. When food is concerned he always comes when called! And there's still no sign of her, though I found the afore-mentioned Fluff-Fluff, staking out the Stables gum tree. Hmm... Then ginger Percy arrived, as ornamental as ever.
The Stables Garden
Yippee for Non-gardening Partner who ran the big irrigation last night (without me asking). The garden may be slowing down, but I'm busy shifting and planting things. This morning's idea is to replant the Shasta daisies over on the edge of the Shrubbery, and the dug-out daylilies (they are a species double variety, that orange-terracotta colour) well up behind the pond in the sunny bit. These are rough garden areas, well suitable for mass-plantings of tough things.
Autumn Asters
Passive Piano
What I should be doing is some active piano practice before swimming. Unused to daylight saving, I've made an earlier-than-necessary start. What I am doing is rather passive (listening to Brahms's first concerto). Uplifting and inspiring, though. It never puts me off that proper pianists are light-years better than I am. I still love trying.
Much Later...
Hmm... It's taken ages to dig out the daylilies, and I'm not putting any compost on until I've done another, deeper dig for any roots I've left behind. I also see two hybrid clumps a little further around the edge, and these, too, will be coming out tomorrow. Unlike the species they haven't spread hither and yonder, and I'll find a prime sunny spot to replant them. Apart from the digging I've spread about six barrowfuls of compost, and planted a pot of dwarf hydrangeas near the apple tree.
Personal grooming issue - I decided not to have a shower, choosing instead to wash hands and face. And so I peered at myself in the mirror. Phew! Just as well - happily sitting in my hair was the hugest black spider - totally friendly, but the altos at choir practice tonight might not have appreciated him.
Tuesday 3rd April
Ah! I'm slowly digesting this morning's musical breakfast (Brahms's second piano concerto), giving me lots of time to plan my gardening day. Today I'm tidying up yesterday's loose ends. Those daylily clumps (by the way, nobody creates magic from minor harmonies like Big B does) are going up behind the pond. They will like it there.
Little Mac the Kitten
Lilli-Puss is Back!
I'm much cat-happier today - Lilli-Puss is back! There she was, purring, in her cosy bed in the Stables. I gave her the hugest breakfast of pet steak and kidney, plus some of the kitten's pet milk. I'm going to feed her morning and evening, and try not to leave any food in there for daytime visits by big fatty Fluff-Fluff.
A Little Bit Later...
Oh dear. I'm back inside, quite wet and cold from the lightest of drizzle. I didn't notice it at first because I was so proudly distracted. Nothing to do with planting the daylilies, though - I've been sawing down tree lucerne branches using the big curvy blade with the super-long handle. My puny older-lady upper-arms can use it! And it's now carefully wiped and put back in the garage.
It was all Little Mac the kitten's fault. I wanted him to enjoy his first gardening session, without young Minimus leaping out being nasty. So, after filling up the puffing little incinerator with gum leaves, I took the Iceberg roses over the water to the corner of the Stumpy (AKA Willow Tree) Garden, to plant them. Minimus doesn't come over here. It was immediately obvious, by just looking upwards, that many overhead tree branches needed serious pruning - fastigate oaks that didn't know the meaning of the word, for example - before I dug any holes and planted anything. And so I discovered yet another new talent, hee hee. Hope non-Gardening Partner doesn't mind.
Cercis Forest Pansy Tree in Autumn
Actually, there's more. I definitely want the tree lucerne to come completely down. That's a chain-sawing matter, and it's Easter this weekend, traditionally the long-weekend of the garden clean-up, partners included. And after that I'll plant the roses. Ha! The drizzle has stopped, so I'm going back outside for a dig-and-get-dirty gardening session.
Much, Much Later...
Oh no, it hadn't. Several indications of jolly decent drizzle:
It makes a continual noise on the leaves of the trees.
It dribbles inside the gardener's socks.
It drips through the gardener's fringe and down her nose.
Firstly, I planted the daylilies in the rough garden right up behind the pond, in front of the Chestnut tree, but out in the sun. Then I raked up five barrowfuls of dry gum tree rubbish from the path and garden here, and trundled them over to the bonfire.
Graham Thomas Rose
The idea was to encourage all my (wet) tree branches to burn. This worked, though I ended up needing quite a few loads of gum tree bark from the nearby Hen House Garden, and it took ages.
Roses, Roses...
So there was quite a bit of plodding around, and every time I passed Graham Thomas (a rose) I'd stop in my tracks. He is such a beautiful shape and colour. Another rose in the Dog-Path Garden also claimed my attention - it's a recycled anonymous rose, with its very first flower. The Cercis Forest Pansy is the reddest I can remember. Golden autumn leaves from the Dog-Path Garden trees fluttered down with the drizzle, and I got wetter and wetter. Happily wetter, though.
The white lace-cap hydrangea, still in its pot, is now in the garden place vacated by the daylilies. It's a much bigger shrub than I remember, and fits the spot perfectly!
So finally I've gone apres-gardening. I'm warm, clean, and dry, and I've been really good.