Brr...
I am a very lucky gardener to have water features in my garden - namely a large pond and an irrigation race flowing with beautifully clear (and cold) water. Autumn is definitely the time for some semi-immersive cleaning up. Cold water work. Brr...
Leaves and Reflections in the Pond

+5Rusty the dog has already been for a gentle walk down the road. His front-leg arthritis limp isn't any better, and he is under observation for a week. Then he has another short course of anti-inflammatories. And then, if there's no improvement, we return to discuss future permanent medication. He gets glucosamine every day anyway.
Salvia leucantha
Do the Dahlias!
Before I get muddy and wet I'm going to do the dahlias for winter - lift the pretty ones, arrange them according to colour and variety, and lay them gently to rest in cardboard boxes. And here's a thought - label the boxes! Superb forward planning, this. Seriously, the big floppy whites are scattered around a bit, and I'd like to have them all planted together for next summer. Ditto the reds, and I want to look after my new spiky pinks, which are in a rather exposed position, frost-wise.
Later, Mid-Afternoon...
So far so good, My garage is full of colour-coded boxes of dahlia tubers.
I've started my water work by digging some coarse green Carex grasses out from the edge of the pond. The sweetest little Gunnera plants have turned up in various places down the water race. I've been digging them out and transplanting them by the pond's edge. My pond Gunnera used to be spectacular - I guess there was more sun about in those earlier garden days, so to speak...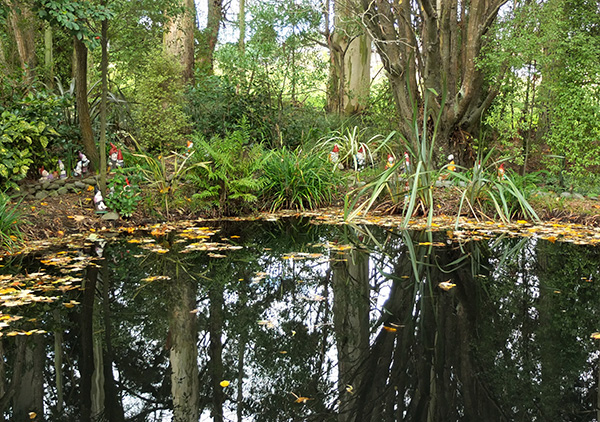 Gnomes by the Pond
+5I really enjoy gardening around the pond. It's a lively place, ringed with chattering garden gnomes and the occasional nosy cat (usually Minimus). The area smashed by the falling pine tree has completely recovered now. The variegated Pseudopanax shrubs are regrowing, and of course the (mainly) rugosa roses are OK.
Autumn Rugosa Leaf
So last September's big winds were just a little tickle-up. But please, no more! One doesn't realise how tall a tree is until it comes down on a piece of garden. Aargh!
Wednesday 21st May
Today I'm dealing to the coarse Carexes which are growing here, there, and everywhere along the banks of the water race. Some are so hefty I may not be able to dig them out - these will get sawn off near grown level. They'll resprout, I know, but their roots keep the banks stable, and the regrowth will be beautifully fresh. Any I can remove I will. And who let them grow here? Oops - me. Pretty silly, really. Turn my back for a few years and they turn into giant bully-boys.
Gunnera :

Giant Gunnera is am amazingly dramatic perennial. It loves growing and seeding by the water race.
I also have more self-sown Gunneras to remove. They cannot be allowed to grow where they seed themselves. Unfortunately all of this work will require much Moosey-muscle, plus semi-immersion in cold water. Oh well. I'll have some dry clothes ready on the bridge. Particularly socks!
Late Lunchtime...
Brilliant - three hours spent in and out of the water, and I've already dug out huge loads of Carexes. The great debate - whether to return for one more session, or just float around taking photographs. Trouble is, my feet and legs are now toasty warm. Some silly-lovely roses are still flowering, and its nearly June. And that means mid-winter!
Darcey Bussell Rose
I'll compromise. I'll take some photographs, pick up all this mornings rubbish, and then and only then will I change into shorts etc. and leap back into the water. And later I'll give full details of my day, including some censored comments on the ill-advised use of weed-mat in 2006 to stop nuisance weeds growing along the dog-paths by the water.
A Mess of Carexes
Two Hours Later...
I am so proud of myself. I did the clean-up, and four barrowfuls are now lounging underneath the Leyland hedge, drying out. Then I went back in the water near Middle Bridge (where the race is at its deepest) and dug out two of the hugest grasses. That awful weed-mat caused problems. At first I didn't think I could get them to budge. Perhaps Non-Gardening Partner would help me this coming weekend? No way! He wouldn't see the point in standing in cold water digging out Carexes.
So I told myself not to be a 'girl's blouse' (oops), but to 'woman up' and keep on slicing with the shovel. Finally - success! And I've got two more Gunnera pieces for the pond.
That's two full-on days tidying up my water features. Never again will I allow any coarse green Carexes to grow into garden bullies. And what can I say about laying weed-mat (I thought it was such a great idea) and covering it with stones on the dog-paths in 2006? '*****'! Insert appropriately rude five-letter word. For those of gentler persuasion, might I suggest a reasonably forceful 'Humph'.
Only the Beginning...
And it's only the beginning of my watery work. I need to try and finish before too much snow falls in the mountains. The river feeds my irrigation canal and pond, and soon the river will be filled with snow-melt. And there's a carpet of coarse green Carexes growing near the Gunnera in the Stumpy (AKA Willow Tree) Garden. Hmm....