Crescendo poco a poco...
My pianissimo gardening voice needs to increase in volume. The first week of February deserves this! So today I am really, honestly, going to spend the whole day outside in the garden. My gardening achievements will shout out, fortissimo.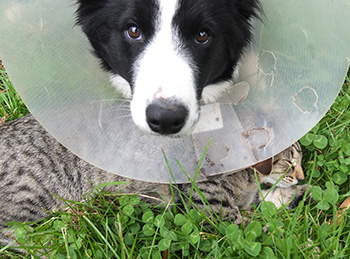 Winnie with Tiddles the Kitten
Tuesday 2nd February
It's a week now since Winnie's operation, and she's allowed to come outside with me and do her own thing. Which will mean her roaring around here there and everywhere, crashing her dog-bucket into trees and plants, and me crossing fingers that she's being sensible. Ha! A Border Collie juvenile, sensible?
I am looking forward to a long, controlled 'crescendo poco a poco' in my gardening. You see, there is much to do, and for the first day in many the temperature is clement. Today's plan involves a neat, straight line, in which I will point my trusty green wheelbarrow. My goodness, that barrow has wheeled a huge distance over the years! I'll start behind the glass-house, then trundle slowly along the back lawn, trimming and weeding. I will not deviate!
Later...
Seven hours work! And I've learnt something. I spent the first hour - doing what? Locating my gardening shoes (Winnie had hidden them in the middle of the Frisbee Lawn), unsuccessfully looking for my decent secateurs and hand digger (both vanished into thin air, or more likely composted), then trying to scrape out clover weeds with a week-willed bendy plastic hand fork, and trim Lychnis with the kitchen scissors...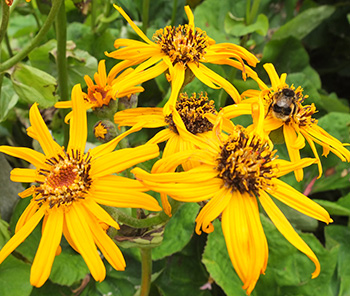 Ligularia Flowers
After such a dismal session, naturally I needed to regroup, with hot coffee and toast, and a severe self-talking to. Then I relaunched myself, complete with the kittens and the dogs, and the gardening mood improved. A good gardening day is mainly mental, particularly when the tasks are repetitive, and the February garden (with its gardener) so scruffy.
Thoughts...
Thoughts. Why, oh why did I let those Ligularias self-seed everywhere? And what about the sad recycled roses, smothered by self-sown Verbascums and Evening Primroses along the water's edge? They'll be reminiscing about their clay-baked suburban homes and sighing with regret.
I trimmed lots of Lychnis, dug a bucket of rogue potatoes, admired and dead-headed the happier roses, while the kittens poked around near the water (don't fall in!) and Winnie the puppy zoomed around the back lawn doing circuits around and over Rusty the mature older dog, yapping like a girl. Oops - she is a girl. I got so worried about her tummy stitches that after lunch she was banished to the dog crate. Rusty enjoyed his rest without the 'Pest'.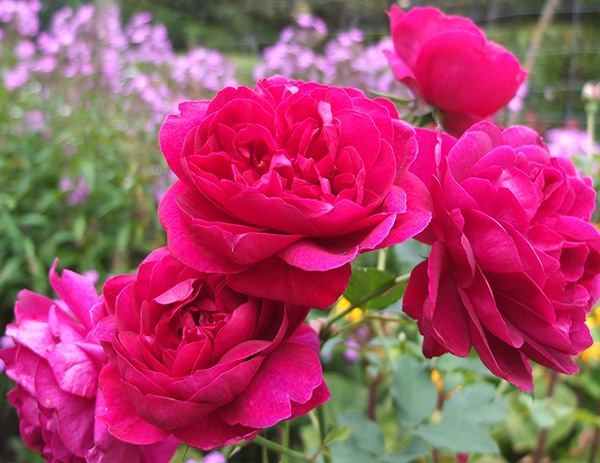 Darcey Bussell Roses
So what have I learnt? I'm not so sure now. If at first you don't succeed, try, try again? Kitchen scissors are really good for trimming Lychnis? When in doubt, stop for coffee? Anyway, I trundled about a dozen barrow loads to the dumping place as the day zoomed by. I also did a speed clean-up inside the glass-house.
Buster the Black Kitten
Wednesday 3rd February
There've been near gale-force nor-west winds (hot and dry) today, so gardening has been noisy and unpleasant. Would I like yet more pieces of gum bark to fall off the Eucalyptus trees and onto my lawns and garden? Well, why not? Be my guest, grr...
It's been a dogs-only garden day (possibly too wind-noisy for the kittens). I've been clearing behind the glass-house. But the place where I need to dump the mess is filled up with huge, heavy wattle tree logs. I've started barrowing them right across to the designated log-splitting place, and can only manage four at a time. One has to be extremely positive to get any satisfaction from this task. In between trudging trips the watering hoses need shifting, and then Winnie the puppy disappears and I decide I don't trust her. I call and call her but she can't hear me properly. I need to be 'up-bucket' of her, so to speak.
I'm always wishing the wind would stop. It spoils my mood, and batters the garden - the dahlias sway and swoop, some of the evergreens seem to shrivel up their leaves in front of my eyes. And more gum tree mess everywhere. Blast!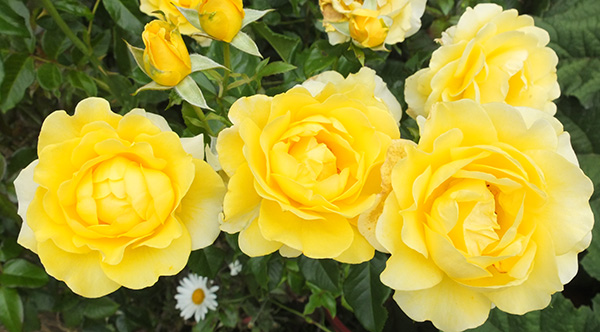 Golden Smiles Roses
OK. I'll shift maybe two more barrow-loads of logs, shift the hoses, then I'll dig up some spuds for the evening meal. Blast that wind! If only I could point my magic finger and shout 'Away!'...
Thursday 4th February
Aha! A day off doing something powerful for the soul and the legs - climbing up Mount Oxford. After nearly three hours my friend and I sat above the bushline, half an hour from the summit, the strongest of winds roaring round us.
Mount Oxford :

I have only climbed Mount Oxford once. Here's what I wrote.
It would have been very uncomfortable, but not impossible, to continue. But we turned back, down into the shelter of the bush. I could claim we were courageous, making a sensible decision to retreat from the exposed mountain top because of inclement weather. But there were a couple of other reasons which only women would understand. My friend was hosting her book group that night and she was running out of time to do the vacuuming. And the wind was so strong that conversation would have been impossible. Hee hee...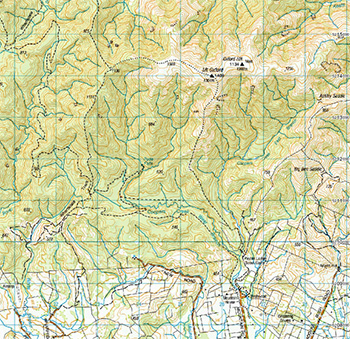 Mount Oxford Map
But it was a grand trip, and I'll be reliving each plodding moment for days to come.
Friday 5th February
Wow. Today my mountain-climbing friend transformed into my under-gardener and helped me barrow all the mulch into the Welcome Garden. A gardening task which I've been pottering away on for months, finally finished. Nice work!
As we trundled along with the wheelbarrows we reminisced about that steep scrambly spur, and the easy forest path further down the valley, and the windswept knob near the summit with the amazing view. And not one bit of either of us hurting, the day after. Legends!
Please note that Mount Oxford is over 1000 metres high. A nice chunky mountain, relatively easy on the eye and foot. Check out the map. Look at those contour lines! Wow! Be amazed at what a good pair of gardening legs can almost achieve.