Day-Fusion?
My days fuse together while this autumn weather is benignly warm. Today (I think it's Thursday) starts like all those other yesterdays. I get the dogs up at dawn, then with big Fluff-Fluff and Tiddles the tabby we start our first walk - around the driveway and then along the new forest path in the Hump.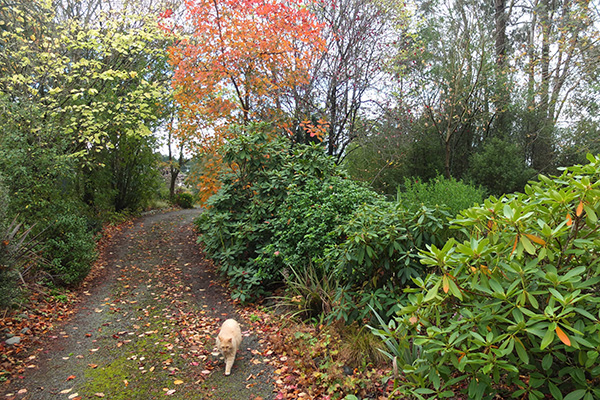 Fluff-Fluff the Cat in the Autumn Driveway
It's a simple circuit, which we all enjoy. We are doing something! The cats become honorary dogs, an honour they dream not of... Now the low autumn sun is peeping through the Hump trees (the leaves are dropping) and it's time to go to the dog-park. That's often the next activity on the list.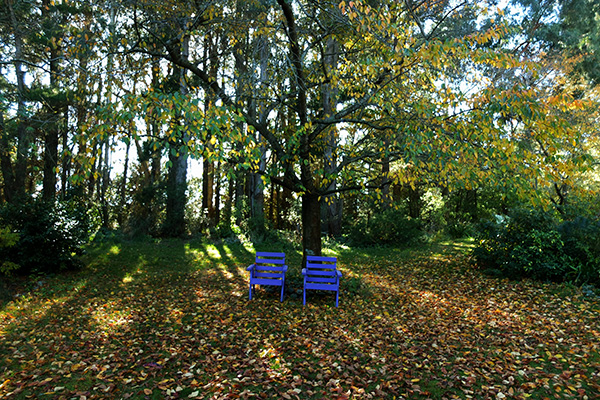 Autumn Morning Seats
And then - terribly exciting - my friend and I are having a pensioners' day out at the beach. We will also walk on the pier, and have lunch at a cafe. Then I will zoom home to the garden.
Gardener Writing
Much Later...
Dear Garden,
I am so sorry. An hour and a half on a warm afternoon spent tidying up the back of the Stumpy (AKA Willow Tree) Garden is better than nothing. But it's too windy, and all the mess in my wheelbarrow keeps blowing away. I pull apart some some Bergenias and big Fluff-Fluff plants himself in their new hole. I poke him, but he refuses to budge.
Winnie drags my dahlia trimmings over the lawn and then the Bergenia pieces blow away. Where-ever I kneel down I keep smelling dog poo. Aargh! On my shoes? Nope. Gloves? Nope? Knees? I give up.
More and more oak leaves flutter down on my head (this is nice). Then a few twiglets and little branches (not so nice). I've found squillions of new Lychnis plants, oh so healthy, ready to spring forth in spring. Will I allow this? Oh heck. Why not? Unless I am prepared to plant something else here.
Yours, etc.,
The Head Gardener
Well, I've got all that off my chest. And drunk a peach Bundaberg. I give up. Time for a spot of TV-Couch Cycling in Turkey. I'm looking forward to the Roman amphitheatres...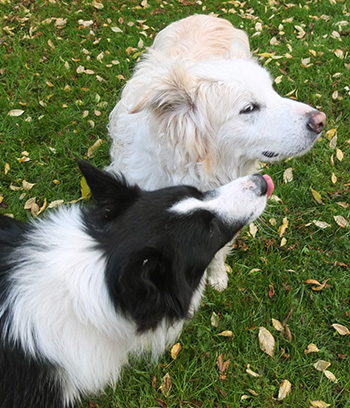 The Dogs
Friday 8th May
It's been a dog-day from go to whoa. First we went to the beach for the morning, and Winnie met her first waves. She was much more interested in chasing the sea-gulls. We had fun.
Then after a quiet lunchtime semi-snooze on the TV couch we went to the dog-park, where we stayed for two hours. Round and round we walked, as the sun sunk lower and lower. Dogs came and dogs went. We kept going.
There's a reason why I didn't do any gardening - that annoying wind again, roaring through the trees, blustering around the place like a grumpy old man. Now I have to employ all my sneaky skills to stay awake until a decent dog bed-time (namely, 9pm). So the idea is not to drink any wine and do some more TV Couch-Cycling in Turkey, leaving all the doors open. A clear, coldish head and all that exercise should do the trick.
Saturday 9th May
Some days in the garden it's just not fair. Not fair! I've just spent three hours doing - what, exactly? Digging up, dividing, and discarding old bits from a Shasta Daisy lump. The size of lump that would fit neatly into a baby's paddling pool. In other words, a very, very modest lump.
Shasta Daisies :

These easy perennials bloom in mid-summer.
I came outside full of puff, ready to weed the narrow border by the water race. After five giddy minutes I met this, the first of the Shasta daisies, its trimmed stems and new leaves intertwined with grassy weeds. OK, pull them out, I thought. No chance. Oh well, the solution is easy. Dig it up, clean out the grass, and replant. Quick and easy, eh?
Cat in a Basket
A New Gardening Rule
So now I have a bucket full of fresh daisy pieces and a new gardening rule, which makes me groan in dismay. It is as follows : If a perennial is nice enough to be photographed in full flower, then it is nice enough to be properly tended, which may mean dividing and replanting every three or four years. Aaaaaaaaaasrgh!
Tiddles!
Tiddles the tabby lolled in my weeding basket (putting it out of action) while Buster the black cat lurked underneath a Phormium and watched me work. Buster is a spy! She always sneaks around the garden. I have never, ever heard her miaow or squeak or 'chirp', either. And her purr is pianissimo. Miss Buster, Secret Agent Cat...
Do you know, I'm rather glad I've had to stop my work to go to a Madrigals practice. That bucket of Shasta daisies can wait until tomorrow. Trouble is, there are two or three more of these grass-infested clumps, all maybe eight years old. Humph.
If a perennial is nice enough to be photographed in full flower, then it is nice enough to be properly tended. -Moosey words of wisdom.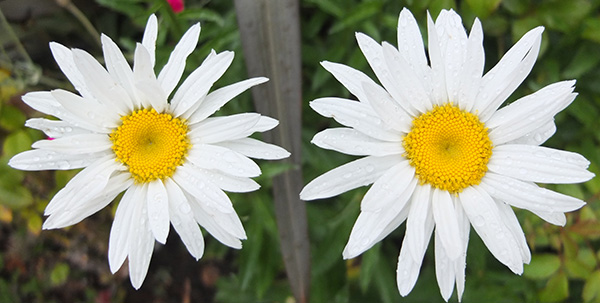 Shasta Daisies