Strike while the iron's hot...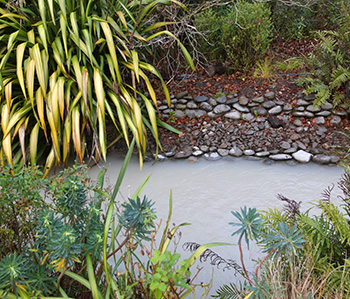 Stone Walls by Water
Garden-wise it's always sensible to 'strike while the iron's hot'. Like picking up horse manure when it's free, regardless of what (or who) else is in your car. or whose car you've borrowed and are driving. Oops.
Sunday 21st June
The flow in the water race has been cut off at the intake because the Waimakariri River is in wall-to-wall flood. This THE time for water race maintenance, even if it is mid-winter. So I've been sloshing up and down in the icy-cold shallows removing rubbish, trimming the final remaining Gunnera plants, and fixing the stone walls deconstructed by Winnie the dog. The water has been so cold, but my work is done. It's sundown, and my feet and fingers are tingling.
I was in the garden within half an hour of arriving back from a wee holiday break at Hanmer, where we had a nice, lazy couple of days. Alas, with drizzle and poor visibility, we didn't climb any mountains. There's really not much to report except cafes, good company of friends, and soaking in the hot pools. I missed the dogs dreadfully. That's the first time I've left young Winnie.
Happy Cats...
+10The cats are very happy that we're home. Big Fluff-Fluff attached himself to me in the garden - he wasn't going to let me out of his sight. He even jumped into the water race with me, getting wet up to his tummy, and I accidentally splattered him with mud. Still he purred and squeaked for joy. Somebody loves me - I wonder who?
The Gunnera is Trimmed
I've just popped over to the cottage to say hello to Minimus and turn on 'her' electric blanket'. Only two nights on her own, but all her food is gone, and she looks fatter. Oops. I've just noticed that Minimus has no stripes whatsoever. She's just plain grey with grey-white highlights. And probably, obviously, always has been. Shows how unobservant some people can be...
No Sign of Lilli-Puss
Just two dodgy things - there's still no sign of Lilli-Puss (my grey cat with stripes). And Tiger the tortoiseshell has pee-ed in the fruit bowl, all over the mandarins and lemons. Aargh! Rude old-lady cat!
The Water Race
Monday 22nd June
My local council's civil defence section has mailed me a winter weather warning - another cold front, with possibility of snow to sea level this morning. Humph. No thank you. Not required. Go away, snow, and drop yourself over the ocean, where you won't annoy anyone. Please steer clear of any mad lone yachtspeople.
Well, there's no snow as yet. But it's only one degree (Celsius), and the air outside is horribly still, the sky twenty shades of grey. The dogs and I are off for an orchard walk (I'll check for Lilli-Puss, but in a rather resigned manner). I'm pleased I finished the Gunnera yesterday afternoon. This morning the water race is flowing again - the water is knee deep, and looks awfully cold.
Just two nights away and the dogs are misbehaving. Earlier this morning both refused to eat their own breakfasts, but tried to push in on the other's. Then all Winnie really wanted was her orange frisbee to be thrown, while Rusty did his impersonations of a scary, snarling, rabid wolf. But as soon as Non-Gardening Partner left for work, we all calmed down a lot. You see, NGP is the nice big softie, whilst I am the big bad bitch. Dogs know these things!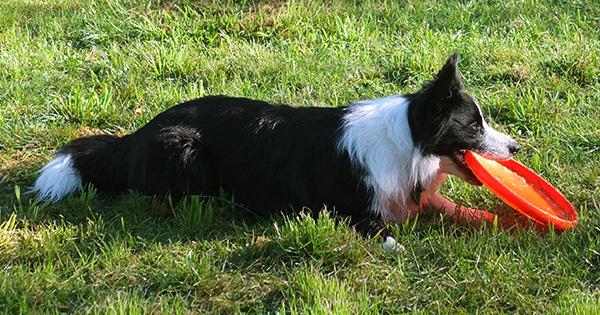 Winnie and her Frisbee
OK. I've washed my hair, and taken some wintry photographs of the garden. Now we are off to the dog park, whatever the weather. We're tough! Might need a hat to keep head warm, methinks. And we will probably be the only dogs there.
Later...
Yippee! Winnie's friend Lexie (another young black and white Border Collie) was there. Around and around they chased each other while Rusty and I plodded sedately along, two old friends moving to keep warm. It has been a cold day in the country, though, and the cats and I have been enjoying the wood burner. Outside on the patio the birds are eating a 'bird bomb' a day, and they all share the food - iridescent starlings, puffy blackbirds, little fluttering wax-eyes, and finches. Share the food! Learn from my birds, people could...