Nothing too glossy...
Rooster in Henworld
Tasks for this weekend, and the week to come - nothing too glossy, no major digging, no need to spend money, just good old plain winter garden maintenance. Something for the dogs - a new path! How very exciting! And fern trimming.
Saturday 27th June
The ferns are all turning brown, and they tend to plant themselves next to paths, so the ensuing wet winter flop makes things a little slippery. I would feel so silly if I tripped and fell. So soggy brown fern fronds are now added to the list of garden hazards, along with three zoom-past dogs, and cats (Tiddles!) who pounce on weeding hands. Ouch!
I didn't think there were any rose prunings underneath the Erica, where I was removing brown fern leaves. Oh, I see. A camouflaged multi-toed cat paw, ready to strike again. If you think that rose thorns are a garden hazard, try gardening with a polydactyl kitty! Actually, I'm sure that having extra toes makes Tiddles so sure-footed. I've watched her jump horizontally across separate branches of the Cordylines, just like an exotic monkey on wildlife TV.
But enough of this. Let's get back down to solid, boring wintry earth. Here's the plan.
Continue working on the new dog-path through the Hump.
Continue trimming all the ferns etc. around the house garden paths.
My biggest challenge will be to take interesting photographs of this ho-hum garden work.
Sunday 28th June
I've done more fern trimming (scissors are the best for this) and loaded the trailer full of tree rubbish from the Hump. Then I made a start on trimming catmint, etc. from the patio garden, while the bold little birds fluttered over their bird feeder above. Birds certainly bless a garden, in more ways than one (I'm thinking of the avian dispersal of seeds, here, hee hee).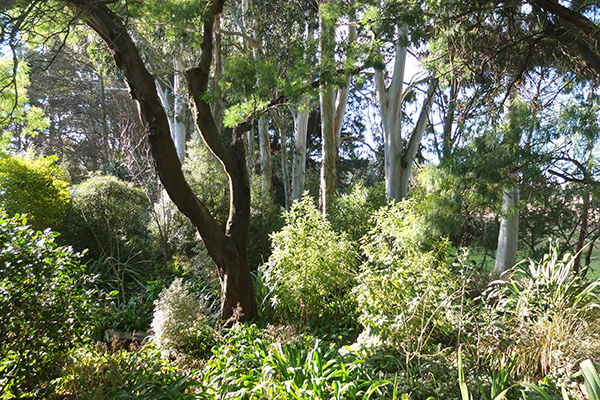 Winter Sun in the Wattle Woods
I've still only got half-way along the Hump with my new dog-path, but it's levelled and raked. I've dug some rough steps at beginning - no need to totter and wobble down the slope. Winnie spent two hours keeping me company - or, rather, dropping her tennis ball underneath my hands and waiting for me to throw it. Two hours! Obsessive little dog...
Miscanthus :

Here's one of my favourite ornamental grasses - Miscanthus zebrinus.
The more I trim the more I see that needs trimming, but at least my eyes are open! The ornamental grasses are ready to cut - I don't leave their stalks up in winter, lest I then forget them, and their new shoots get too tall. I remind myself that mid-July to mid-August is my rose pruning time, and I need to be ready. Roses! Ooh goody...
Monday 29th June
We've just been for a dog-walk in the nearby forest (not our own one), and my dear dog-walking friend is coming tomorrow morning to help me work on my own new dog-path. Nice! I've also done two hours trimming. I keep 'discovering' dog poo and wishing I was wearing my gloves (am a bit lazy). OK. A quick bite to eat (washing hands first, or course), and then back out there.
Family of Gnomes in Driveway Garden
I've found some interesting photographable things, too - a random selection of gnomes, metal chooks, shadows, and shining greenery with which to adorn this journal page. Enjoy!
The End of the Day...
Wow. I've done some pretty mean weeding. Heaps of clover which came in with some new topsoil had totally taken root in the Jelly Bean Border. It's out, and I've tried not to stomp all over the emerging daffodils. This afternoon I found heaps more dog poo around the big gum tree - almost standing on several lumps. This is unprecedented. So three dogs make twenty times as much waste product as two dogs do? They seem to. Or have I stumbled upon a secret canine toilet? Hmm...