Connected...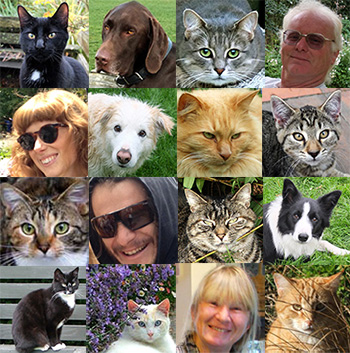 16 Contestants for Euro 16
I don't live in a gardening bubble. I'm connected to the real world out there. The cats and dogs are all in the house draw for the football tournament Euro 16. The winner gets a slab of steak. And I've voted for Phexit (the removal of over-sized Phormiums).
Monday 27th June
Today, so far, has been a Phexit day. I've trimmed the leaves off another huge Phormium by the water race, getting it ready for a vigorous axing session. I've already been in the water digging out surrounding fern clumps. This sort of thing has been happening for some days now. OK. One more session - there's just over one hour of daylight left. Pity about the cold feet...
Tuesday 28th June
Four hours poking around the water race (so cold) with not so much to show for it. Hang on, though - a small Gunnera clump trimmed, some waterside ferns chopped out of the Dog-Path Garden's dog-path - and I've flailed (?) the axe at the Phormium for half an hour.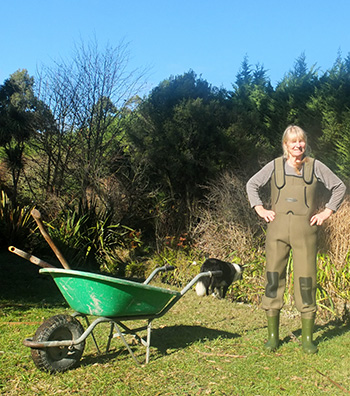 Me in My New Waders
Very hard work, this, with difficult angles and deeply entrenched Phormium roots. The trouble is that I can't stand in the water for longer than fifteen minutes. Now to warm up the legs and feet. Brr...
Wednesday 29th June
A revelation! On the way to the dog park this morning I heard a radio advertisement for fishing waders, sale price. Ha! So I have bought some. They are dull duck-poo green and look terribly impressive.
Will they revolutionise my water race cleaning up? I reckon so. My feet and toes are eager to try. I should be able to stay in the cold water for ages. Have explained to the dogs that I will definitely smell different. But it will still be me, the great dog-mother, in there. Right. Here goes. Cross fingers there'll be no more cold toes.
Three Hours Later...
Why, why, why have I never thought of this before? For over eighteen years I have been suffering, legs and feet chilled to the bone, standing in the cold water to garden the banks of the water race. Winter is always the time that I notice the messes and feel the urge to trim etc. Well, silly, silly me.
The Water Race
A Triumph!
It's a triumph. For the last three hours I've been in the water slicing out ferns. Slow work, but it was pleasant! Wow. Brilliant. Warm. Sensible. Clever. All mess cleaned up. Cup of tea. Yes!
Thursday 30th June
Aha! Another three hours in my froggy suit. Snug as a fisherperson in neoprene waders, I've been. I've continued cleaned up the section of the water race from the Car Bridge to Willow Bridge.
Ferns in Moderation
My next task is to remove two large cutty grasses from the edge of the Birthday Rose Garden (they are going to be difficult), then clean up the next large green Phormium. Then I walk away and re-evaluate. So far I've left quite a lot of ferns on the Stumpy (AKA Willow Tree) Garden side. I do like the green ferns, but in moderation.
Winnie has been 'helping' (not) by jumping for the ferns and carex clumps I've dug out. I've tried to throw it all into a neat pile, she's grabbed and pulled and run off with the pieces. Oops. Have just remembered that I haven't collected this rubbish yet.
The Same Me!
Big brown Escher still keeps sploshing up to me and sniffing at my suit. I probably smell like one of his chew-toys. Aargh! Escher! It's the same me in here as yesterday!
Escher in the Calendulas
All the non-furries have been eliminated from my Euro 16 draw. The quarter finals start tomorrow morning. May the best cat (or dog) win! And go Iceland (that's Escher's team).