Well-weathered and wiser?
Phormium Tenax
It's Easter. I've checked out two nursery sales so far, but have not been tempted. When I was a younger, more excessive gardener I could load up the car three times and still go back for more. But now I'm well-weathered and wiser. Because it's not what you buy that makes your garden great. It's how you look after everything.
I know this. Why? Because I haven't looked after things. I've let things get too big, not pruned shrubs when I should have, and allowed little self-sown darlings to become garden bullies. I've ignored warnings on labels about eventual size and spread, planting things far too closely together. I've laughed at the word 'invasive'. So who's been a naughty gardener, then? Hands up. Meeeeeeee...
But I guess that Autumn is as good a season as any for self-flagellation - at least the temperatures are clement, and the garden's veneer of scruffiness suits a down-to-earth, non-romantic approach. Today I spent ages getting next-to-nowhere cutting down a huge Phormium Tenax. Why is it getting the chop? Because it is ridiculously large, and is blocking the irrigation sprinkler as well as views of roses and rhododendrons. This is a species flax which I last trimmed in the winter of 2006. Nearly ten years ago. See what I mean? Hopeless. I have found a photograph of it, invisible, roots level with the surrounding ground.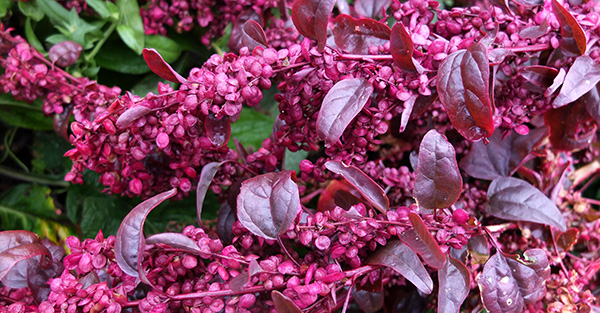 Red Orach
Scary random thought : an annual I've coveted for years is red Orach, a beautiful tall foliage plant. A friend gave me some seedlings, which have thrived in the Allotment Garden, where all my spares, rejects, and questionables are planted. They're now going to seed. Will I regret this? Hmm...
Good Friday, 25th March
Yippee. Well done meeeeeeee. I've had a great day. First of all we met our friends and took all the dogs on a morning forest walk. When I came home I went straight over to the large Phormium and started slicing, interspersed with throwing a tennis ball for Winnie. She drops it exactly where my hands are, so I don't need to move much - such a clever dog.
Hello Winnie
I just kept going - chopping, piling the leaves up, grabbing the mess and throwing it underneath the hedge, chopping some more. Then I took to the axe - whoosh, swoosh, kapoosh - and the flax is gone. Tomorrow I'll get Non-Gardening Partner to run the chainsaw over the lumpy flax root remains. One small oops - I threw my best orange secateurs underneath the hedge with a load of leaves.
Senecio :

This is an easy to grow native shrub with yellow flowers and 'sort of silver' leaves.
I found and trimmed two ailing Senecio shrubs (summer flowering with yellow daisies). With the flax gone there's now light and space for them to grow properly. If they recover, then great. If not, they can come out. And waterside fern clumps have also got the chop. These are self-sown, and the greenery will grow back.
Hydrangea and Fern
So here's a good-gardener task for tomorrow. I need to clear the Laundry Path. This will mean pruning the big Hydrangeas (this will be OK, even if rather early) and the Philadephus (this may not be - I should have pruned it in late spring, after flowering). And temporarily re-routing the top bit of the path so I don't have to prune the Daphne (it's totally the wrong time of year to prune Daphne).
Philadelphus and Daphne
Several clumps of ferns are also blocking access to my washing line. OK. Better to trim them than to trip over with the sheets and land in the mint. Which is living up nicely to its 'invasive' label, by the way...
Saturday 26th March
I've cleared the Laundry path (but I haven't picked up the prunings, oops). Accompanied by the dogs I've filled the trailer with excess flax leaves - they are going to the dump. I've never seen big brown dog Escher have so much fun. He could smell creatures (mice) underneath the flax pile, and spent a frenzied hour burrowing, snorting, and digging. Every time he came up for air I'd swear he had the silliest grin on his dog-face. Oh, the mouse escaped at the very beginning - I saw it run off, but I didn't have the heart to tell him.
Helpful Dogs
And finally, one of life's rather nice balancing moments : I've driven past the Easter Nursery Plant Sale three times now, without losing my resolve and going in. Today - a lovely surprise, as my friend has presented me with 'a little something' for Easter. Not chocolate, but three bargain bin plants. A Ceanothus (I lost my last one), a red daylily (the Allotment Garden looooooves daylilies), and a Viburnum (perfect for the Welcome Garden). Hee hee. Resolution and reward, without capitulation, I reckon.