Laundry Garden Path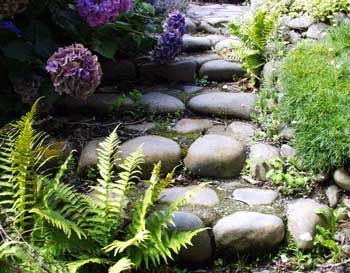 Laundry Path, Ferns and Hydrangeas
I use stones for edging all the paths in the garden, but the path that leads from the laundry out to the back lawn has stones laid in concrete. There are even some steps here with stones in their surface.
Rosemary and Lavender
The laundry path is one of the most beautiful paths in the garden, but it connects the laundry to the clothes line. Consequently its romantic ambience is well and truly lost.
Some edges of the path are overgrown with lavender and rosemary bushes. Brushing past these plants with their resident bees requires quite a pushy personality. The stone surface can feel a little wobbly at times, too.
The Top of Laundry Path
Ferns and Hydrangeas
Ferns have decided to plant themselves around the first steps by the laundry door. In Summer the oldest hydrangea in the garden flops its huge blue flowers all around.
A high stone retaining wall starts from these steps, with assorted herbs planted in it and more varieties of lavender above it. The Laundry Seat is built here in the middle of all the lavender.
After passing the seat the laundry path turns through ninety degrees, and there are three more steps up to the clothesline lawn. There is Daphne at the edge of the steps, and a set of Lavenders which surround a very brave rose, Sexy Rexy. Older shrubs crowd the steps, trying to push people into the Lavender bushes.
The laundry path is interesting to negotiate on a moonless night when there is washing on the line to be collected. You and the washing arrive back in the house smelling of lavender. Lovely!
stone steps and path