Love autumn...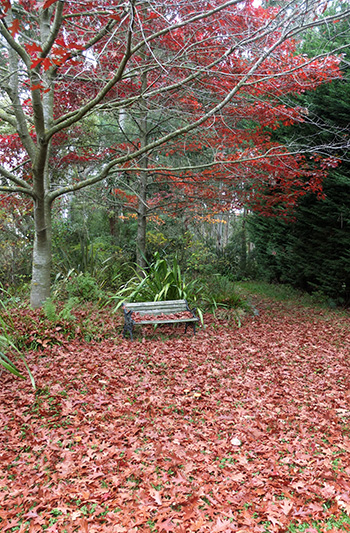 Autumn Oak Leaves
Autumn races along. Last week - wow! Look at the scarlet oak trees, beautifully red against the blue sky. This week - oh dear. There is much crunching underfoot. The green lawn has totally disappeared! Time to bag up the fallen leaves.
I love autumn...
And I love it. I love autumn doing its own thing, at its own pace. I love every moment, every day, every week. There's a lull, then so much happens seemingly overnight. Suddenly a tree I've been watching (and photographing) goes completely bald. The red Maples are definitely getting thin on top...
But those beautiful Cornus trees! My dogwoods are wonderfully coloured. I am so very lucky I planted so many dogwoods, back in the gardening day.
I didn't know...
There were so many things I didn't know about them - in particular, I had no idea they would be so modest in growth habit. But they're finally getting chunkier, and I've survived to enjoy their maturity. Yeay! And their autumn leaf colour, stylish spring bracts, and lush greenery of mid-summer.
Oops - I only chose them because of the 'dog' in their name. Not so well-researched, I was, back then...
Autumn Dogwood Leaves
And here comes the southerly (cold, rain, up from Antarctica, brr...). I've already been out and about, spreading out bags of rotted horse manure on my newly shifted roses.
I've been poking my camera rudely into rose blooms (sporadic, scattered), and lining up impossibly red dogwood leaves for 'the' perfect shot.
Yesterday...
Yesterday I did my obligatory autumn bonfiring session - yet another load of 'stuff' from out of the Hump. I rescued a cute green Phormium, which needs potting up. Thought - so does my motley collection of yellow and green striped Canna lilies (Bengal Tiger is, I think, the New Zealand variety name). None really flowered, and some were in pots too small, others has sprouted from a past year spent in the house garden. Cannas. Hmm. Not quite hot enough here.
Later...
It's rained rather well. Great for replenishing the aquifers, as well as helping my newly spread horse manure to soak into the soil.
Newly Planted Roses
Something that always takes me by surprise. April only has thirty days. Which means that May is starting tomorrow. And May is the transition from autumn into winter. Eek! Brr...