Such restraint!
Another Easter has passed, and again I've exercised financial restraint, avoiding all the autumn nursery sales. My garden does not need a batch of new, scruffy bargain bin shrubs. It needs a large dose of an energised and highly motivated me.
cricketers by the hedge
Over the long weekend I had singing engagements, and lovely house visitors, plus helping Non-Gardening Partner rake up and burn the hedge trimmings. The Olearia hedges which hug the back of the house are now beautifully trimmed. It's dull work, though, and one of NGP's least favourite garden maintenance tasks. Trouble is, if one ignores a hedge that needs trimming then the job quickly gets much worse. Hedges aren't silly.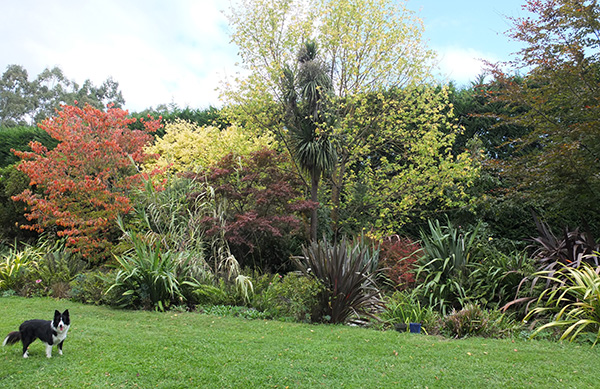 Early Autumn colours
Today I went back to my roots (actually down on my knees) with my hand diggers and scrapers, and weeded the small border along the back lawn. Creepy grass was semi-carefully removed, clover wriggled and jiggled into submission. I squirted 'It Which Shall Not Be Named' onto the dandelions. The dogs watched and waited for their sticks to be thrown. The trees in the Dog-Path Garden beamed at me from over the water, delightfully autumnal, leaves turning colour.
In this time of seasonal transition, I must give thanks to my garden's flowers. First of all, the roses. Although their blooms are scruffy and their leaves a bit black-spotty, many are still flowering beautifully. Then the yellow Solidago (Golden Rod) - I thought I'd eradicated it from the Allotment Garden, but pieces have survived and are flowering now. Phew! The honey bees love it, and that's good enough for me.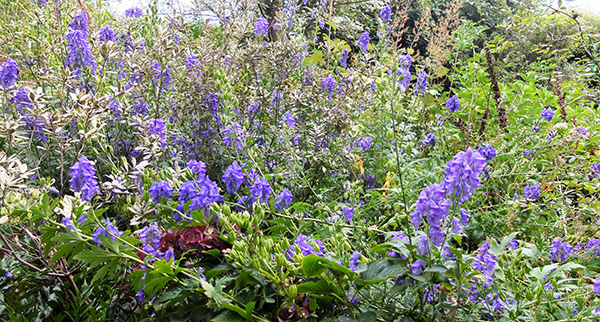 Aconites
Lastly, two flowers soon to be struck down in the first frost - the nasturtiums in the Allotment Garden, and the dahlias. Both continue to flower (and flop), the dahlias providing autumn food for the bees. And bright and brilliant colours for me. Memo to self : shift the single white dahlia out of the Frisbee Lawn Garden. It is too dry in here.