Moving mountains...
What to do first? Just keep on walking around the garden with black cat Buster and the dogs? Ogle at the rhododendrons, pull out more forget-me-nots, and trim the rain-sprawled Alkanet? No, no, no. What I have to do is move one of my mulch mountains. Shovel, spread, shovel, spread, shovel...
Saturday 3rd November
Blast! Back from swimming, overflowing with good intentions, I was! Well, so far I've been at the mulch mountain for one hour, shovelling in the fierce mid-day sun... Aargh! Have slunk inside to rehydrate and re-energise. I need my water bottle outside, that's what I need. And I need Non-Gardening Partner to help me. Men are jolly good shovellers, in my experience.
Will have a peep at my latest photographs, maybe wait for some cloud cover? Aha! Some pictures of Buster the cat, who loves watching me gardening in The Hump. She will be sorry to see the mulch mountain go (she sits on it, enjoying the decomposing heat).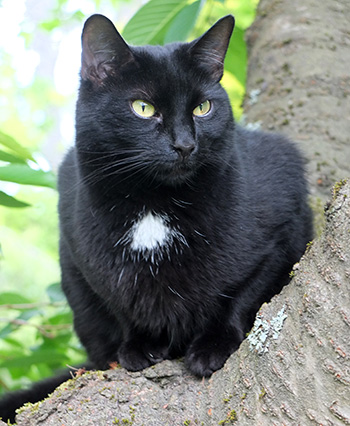 Black Buster
Blast!
Blast! Am back inside again, after just one more hour. Now a noisy, unpleasant wind is roaring around my garden. Anyway, I've shovelled more mulch and slurped water on the new roses and trees. I've edged the house side of the new rose garden with logs. Everything seem to be hanging on in there, so to speak, after being rudely shifted so close to summer.
NGP is forgiven for not helping because he has bought me a trailer load of potting mix. Eek! 0.4 cubic meters of the stuff. Ha! Good reason not to be lurking inside. It's mainly for my tomatoes.
Thinking Apres-Gardening...
Lovely. I have a 'new' cotton apres-gardening shirt, muted shades of sage green and sky blue, and I rather fancy myself (non-sweaty, with clean hair) wearing this with my pale blue stretch 'jeggings'. I have some lovely new library books to peruse, and some Organic Rose wine to try out. This I can drink with ice? Think so. It will be a struggle, but surely I can do one more hour's work. Yes? Don't you think? YES I JOLLY WELL CAN.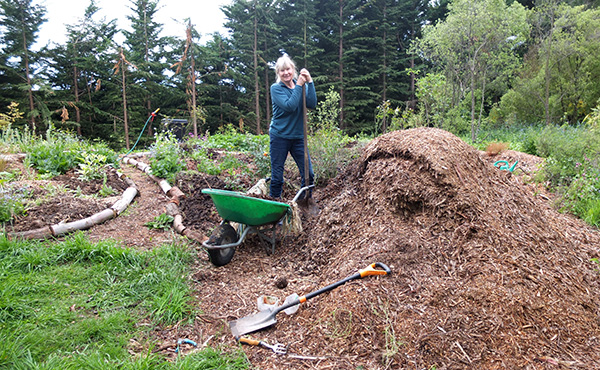 Me by the Mulch Mountain
And I did! It's now dusk, and, with a tummy full of food and a generous glass of wine, I can't understand why 'it' (the moving of said mulch) was all so difficult. Virtual shovelling is sooooo easily accomplished - one shifts a huge pile of mulch in minutes...