Flowers and Bees...
So many flowers, and so many bees - it's so easy to enjoy the garden. And lovely rain to help, falling rather gently, with no wind. Annoying for car-drivers in the city, I guess, but not for gardeners. Nothing wrong with wearing gumboots to a cafe, anyway!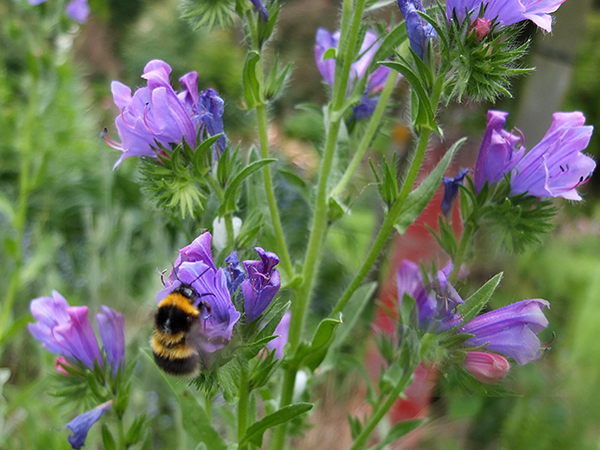 Bumble Bee on Echiums
The garden has been extremely well-behaved in the rain. Nothing really fell over, apart from a few big bearded irises. And after a few days of early summer sunshine there seems to be twice as much to do. So much growth!
Crepuscule Roses
One of my wide-reaching November tasks is to continue dealing to the Alkanet. It bulks out and smothers its neighbours. So I pull out sprawling stems, dig out what's got too big, and leave pieces of roots behind which will resprout in time for autumn bee food.
My flowering annuals can be planted into the soil-space thus created. Already I'm imagining a sea of frothy prettiness. That's the easy bit.
Later...
I've cleared the Allotment Garden, and it's taking ages. Scores of honey bees have turned up to reprimand me, buzzing all over the Alkabet in the wheelbarrow. 'Hey! Gardener! Leave our food alone!'
Allotment Garden Roses
Anyway, I've dumped loads of mess by the fence, and then loads of flower mulch (purple pansies and annual forget-me-nots) in The Hump.
Sunday 11th November 11th
Being thoughtful at morning coffee, Armistice Day, my mind in a private swirl. The dogs are enjoying their morning treats. Non-Gardening Partner is up there somewhere (points to the big blue sky) flying in his tiddley place. Whenever one flies overhead I wave madly, and the dogs bark. Pretty silly, this.
I've pulled out more Alkanet, today clearing the garden by the washing line. Again, clusters of honey bees are keeping a wary eye on me. The thing is - there are so many flowers, more than enough for you lovely bees. Trust me! I've also trying to pull out Cleavers. The Apple Tree Garden has always been Cleavers Central - when its interior was messier, the sticky trailing stems weren't so noticeable. Hmm. The Moonlight roses are regrowing nicely (I ankle-chopped them last year), and Aconites have spread throughout rather gaily. Poisonous and beautiful, they'll flower late summer. And the bees love them.
Such a beautifully colourful month. Nice work, November!