Shrubs can be sexy!
Shrubs can be sexy! Gardener seduced by shrubs. Heard sighing and sweet-talking a flowering Hebe. Seen making eyes at a deciduous orange Azalea. Flirting, bashfully, with a Berberis. Whatever next? Lusting after Lilacs?
A funny Lilac
Trying to now sound a little less frisky, lots of shrubs are certainly grabbing my attention. It's a delightful cross-over time. Early roses, mid-season rhododendrons, and a few late Camellias, all flowering at the same time. Not sure that my one surviving Lilac is worth an ounce of lust, however. Lilacs don't thrive for me. One flower and lots of dead wood does not make for a warm relationship.
We've had more lovely rain, perfect for my garden. Lots of the big irises have fallen over. Does this matter? Not a bit. The lawns are suddenly desperately long, with wild green fringes drooping over their edge stones.
Shrubs And Trees in the Dog-Path Garden
Yesterday I moved silently and effectively (and damply) through the gardens over the water race. I weeded, I trimmed, I collected mulch (old forget-me-nots) for the new Hump garden. I got a wet bottom - bending over and over doesn't suit my aching hip joints. Today at breakfast Mary rose (through the bay window) kept me company. She looked fresh and gorgeous. My roses are definitely on the move. Yeay! My rose romance is starting up all over again.
And I loooooooooove my horse poos lady. Why? Not only does she deliver bags each week, for my new garden in The Hump, but she is bringing me some more unwanted roses. And there's more. She'd noticed that there were no weeds in my garden - what was my secret? I could have hugged her (but my clothes were covered with sticky biddi-bids). Puffed out grubby horse-poosey chest. 'Oh, I just weed everything by hand' I said, modestly lowering my eyes. Yeay!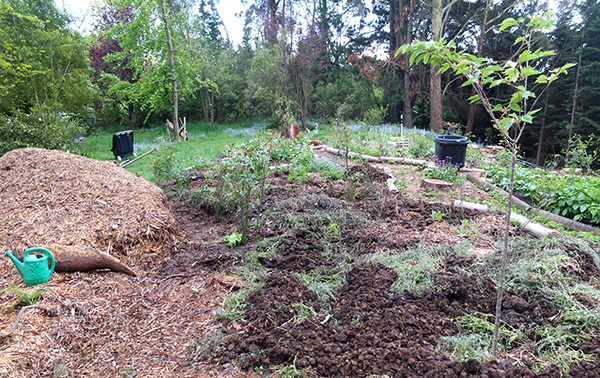 The New Rose Garden in The Hump
And so that is what I should be doing now, instead of crowing like an over-fed rooster. My garden is as lovely as it can be. There's enough Alkanet for the bees now, so all garden borders 'infested' with this weedy, welcome perennial forget-me-not are about to get an edge trim.
Later...
Great excitement! I had to go out to a lunch meeting, and on my return - yeay! Yippee! Six more roses, dropped off. And fifteen bags of horse manure. So I spent the next two hours shifting more mulch and planting and watering the roses. One has orange buds and is almost flowering, another has one pointy bud which looks like Double Delight. They'd better not sulk.