So sad...
Kowhai Flowering
Still September, only just. And today has been a simply beautiful day. I am sorry to say that I ran out of puff quite early in the afternoon. Mulch shovelling was my problem.
A problem?
But obviously it is not really a problem, since I am jolly lucky to have piles of mulch, handily located, composting nicely, ready to use. So what exactly was the problem?
The spade just wouldn't slide in properly. Awwwww! And then my shoulder started aching. That's soooooooo sad! Anyway, I spread fifteen more bags of horse manure, lengthened the path a wee bit, and planted some more roses and some Lychnis. All of this happened in the new rose garden in The Hump.
Now I'm back outside to shift the hoses. I am hoping that the Lilacs will do something this year - anything, even a token flower, would be nice - actually, staying alive would be much appreciated. So I'm watering the top of 'their' garden in the Island Bed. There's much more sun on this garden now, since the Hump trees have come down. Good thinking, yes?
Pile of Mulch
Saturday 30th September
Today I sorted out my mulch moving. Easy as! The trick is in the implement. It has to be a scoopy shovel, not a flat spade. If every one of life's little problems was as easy as that to solve, then whoopie! Simply try out a different shape, and hey presto, that sort of thing.
I also planted an edging of miniature Agapanthus around the new roses. And a wee Maple in the middle (it was in a pot, and will much prefer this garden location). It will be sheltered from the wind and the afternoon sun, by my reckoning.
Good news - Non-Gardening Partner has been mooching around The Hump checking the existing irrigation. Not so good - one of our chainsawing people has sawed through the main plastic pipe - at least twice. So in the afternoon (when I had to sing in a concert) NGP went off with the dogs to buy some replacement 'bits'.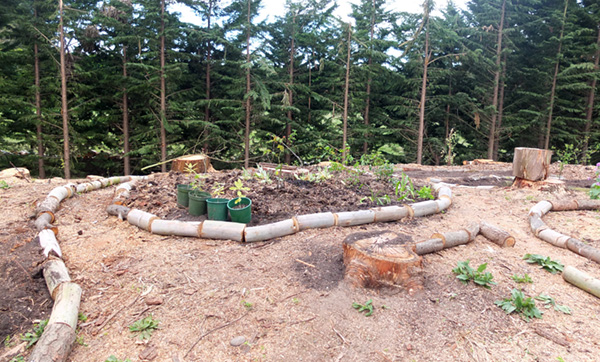 New Rose Garden in The Hump
My concert had lots of spring songs and poems, but to be honest I'd much rather have been experiencing the real thing in my garden. That's where my heart is, most of the time!
Thanks to the following things and people...
This is probably a good time to give a huge thanks to the following things and people, in no particular order : the wind, the birds, the horse manure, and the immediate neighbours. Thanks for your generosity in sharing and spreading so many weeds around my garden. How terribly kind. Really love the Cleavers, and those cute little parachute weeds whose seeds spring up and hit me on the nose. Loooovely.