A sad day...
A thoughtful, sad day. Tiger the tortoiseshell cat is no longer with us. She is buried in the new rose garden in the Hump. A solemn moment - kneeling in the dirt, laying her body gently in the ground, then plop! A tennis ball lands right on top of her, dropped there by Winnie the dog. Throw the ball! My goodness, my animals make me laugh and cry...
RIP Tiger the Cat
Black Fred also went to the vet this morning with a worrisome paw injury, appearing to have had an accident with falling furniture. Luckily there was no fracture, only a rather nasty foot abscess and a badly bruised cat. I'm off to pick him up shortly. I'm very sad about Tiger. But I did my very best to look after her these last few months, and that's all I can say, really.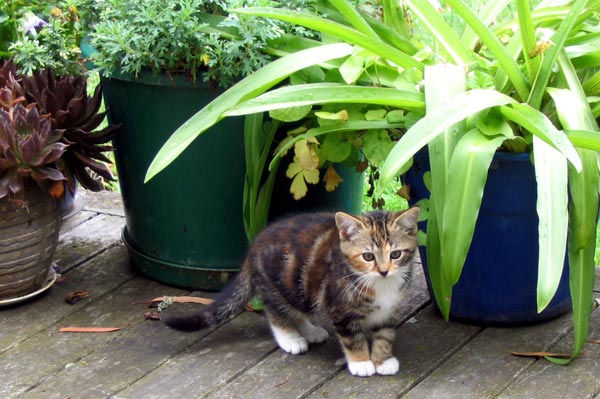 Tiger the Kitten by the Decking Pots
Later...
The dogs and I (followed by Red Fred, who keeps threatening to leap up my legs) have wandered around the garden a lot - thinking (me) and looking for sticks to throw (the dogs). One can never be alone, or lonely, with dogs and cats and a garden.
A feeling of spring...
There's a feeling of spring in the garden - both the sunshine and the angles of light feel warmer. The little wax-eye birds are squeaking over their bird feeder, rhododendron buds are just starting to open, the early prunus trees are in blossom above, and the first blue forget-me-nots cover the ground below. The lawns are green and lush - actually, they need mowing!
Right! Black Fred is back home, with a stylish camouflage bandage (long may it last) on his paw (stitches) and fleas (oops). That means we all have fleas, so to speak. He is in good spirits, and ravenously hungry, so I have prepared him a Memorial Tiger Meal (cooked chicken, finely diced beef, top quality cat biscuits, and pet milk). I've lit the log-burner and I'm just going to watch the sun go down and think gentle thoughts about the furry creatures I love.