Spring weeding...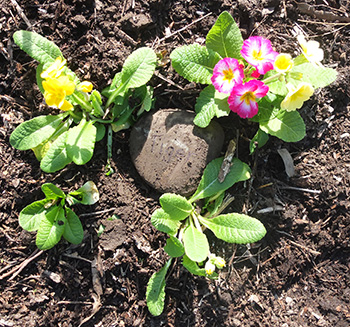 At rest
Today I worked in the rose garden in The Hump, keeping my recently dearly departed cat Tiger company. I scraped the paths clear and pulled up all sorts of lovely weeds, many introduced from the lashings of horse manure this garden has received. Hmm... Time to start some spring weeding, I reckon...
Sandy soil...
Sandy soil like mine (The Hump is an old sand dune) needs building up with organic matter. Local horse manure (pretty cheap) is full of seeds. I've been stung with some very disappointing (and expensive) trailer-loads of garden mix and compost from landscape places. Hello, fat hen, annual stinging nettles, and assorted grassy green things!
It's a lovely garden for Tiger to be at rest in - appropriately, blue annual forget-me-nots are starting to flower. Got my knees really muddy, could see a definite improvement - what more could I ask for? And I found some strange bulbs with fat, leek-like stems, growing in the main path. Are they actually leeks? No, maybe just some odd things I must have planted in here years ago. Who knows what? I finished my day by planting a barrow load of Agapanthus pieces below the path. There's still plenty of room for more roses, and annual flowers. Aha! Sow those seeds ASAP!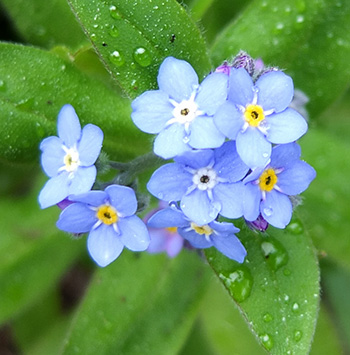 Forget-Me-Not
Two days later...
Yesterday, Sunday, was a singing in the city day. Two of my choirs were performing, so I zoomed around the streets, arcades, cobbled pedestrian areas, etc. dressed like an elegant black witch, clutching my conductor's music stand. I am not a city person, though - I can't find much joy in the new buildings and shops, even in the cafes (with their city prices). I know I should enjoy being in the airy, spacious atriums but I'd rather be outdoors with sky above and trees around me.
Today it's raining steadily, which gives me a chance to catch up on my photographs, and maybe write some new garden stories. The latest flowering rhododendrons are bright red - so precious after the drab green and browns of winter. Note that I haven't mentioned winter white - I hope that this latest southerly doesn't bring any snow floating down on my garden. Please no.
Tuesday 27th August
Beautiful blue skies today, after just one day of rain. Yeay! Black Fred is back from his vet check - his paw is healing well. Am about to have a coffee and a think about seed sowing. Surely this beautiful, sunny warmth is a sign that spring is almost here? Puts a spring in the gardening step and warms the gardening soul, it does. So naturally it will germinate my seeds?
Red Rhododendron in Driveway Garden
Later...
I've finished my seeds, and there are only about forty pottles - six of those are Orlaya seeds that I collected a few years ago (so they may or may not come to anything). Hmm... a most restrained seed order, this year. Finished my spring seeding - just started my spring weeding...