Trim?
So now I'm trimming the Anemanthele grasses - I always plant them too close to the lawns or the paths, and their feathery seed stems trip me up. It's already taking me ages to trim all the Shastas, and I haven't finished the Lychnises. Hmm... Trim, trim, trim...
Anemanthele Grasses
I've already cleared two barrowfuls of mess from the edge of the Hump Garden, popping in some dahlia seed-heads for variety. Can I see the difference? Nope! Is my garden overloaded with Anemanthele grasses? Not really. My garden isn't all that big, and I don't do huge mass plantings of anything. It's just that I notice them all at once, when they start seeding and sprawling over everything else.
Orange Ligularia Flowers
And the Ligularias are almost finished flowering. Soon it will be time to trim them as well. Aargh!
Later...
Two more barrowfuls cleared from edges of the Hump Garden, including weeds. But I don't seem to be getting anywhere, and I keep on finding Lychnis that should have been trimmed a month ago. I gusee that doing one thing well is how responsible gardeners operate. Oh well. But maybe I am just too visually fussy? Will take the dogs for a walk, and see if that makes my day feel less repetitive.
Dog Walking in the Pond Paddock
It's the same walk we always take. And our usual dog-race, Winnie running a hypotenuse through the Hazelnuts, Pebbles going round the two shorter sides, wondering why Winnie always gets there first, hee hee.
Old Master Rose
Tuesday 3rd March
Good morning, and what a morning it will be. First a light breakfast while watching the New Zealand Bachelorette, with the fast forward button and a heavy heart - my favourite bad-boy man did not receive a rose last programme, sob, sob.
Then I am off to my Silver Swans ballet class (have bought some new ballet flats, the flesh-pink colour of my ballet dreams). Then, to prove I have a brain, I will practice Bach's St John Passion (singing alto in an Easter concert). The garden (in which I laboured for over six hours yesterday) will wait until mid-afternoon. I can then decide what to do. Some trimming, perhaps?
Later...
No gardening. The dogs and I wandered around the orchard, I put the hoses on in the Allotment Garden and shifted them around, that's all. I thought about the Bachelorette and how ridiculous reality television is. And how silly the people are who watch it?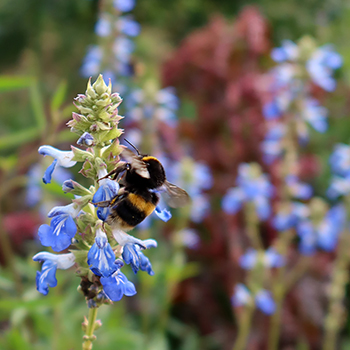 Bumble Bee on Salvia
Two days later...
Back in the garden today, trimming and watering again, getting nowhere, taking ages to do small, insignificant things : digging out daylilies which are in too much shade, dumping bags of horse manure, bucketing water, and so on. I've done four hours of nothing. But it's been enjoyably nothing!
Am surprised at Bach's St John's Passion. I think I understand Bach - how he writes, and why this work was written - but I'm not convinced. One of the choruses is completely over-cooked, contrapuntally speaking. And all those gap-fillers (smooth harmonic SATB chorales)? To me they sound musically irrelevant. Perhaps the audience is allowed to sing along with them? Oh well.
Rewards!
Right. Am going to reward myself by driving down the road and picking up some bags of wormy horse manure. Some reward! Then I'm going to soak my worn old feet in a hot bath. Nice. And shift the hoses again. Nice.