One of those funny moods...
The trees are so big!
Am in one of those funny moods where I feel small and my trees and garden feel really big. There's been so much growth, with so much rain and summer warmth. So I start feeling a bit unsettled, slightly out of sorts. Even my piano practice doesn't go as well as usual (left hand thumb keeps forgetting to go under). Oh dear, dear, dear me.
Have been wandering around for ages with my wheelbarrow, trimming what I see needs to be trimmed. It's never-ending. Because of the rain, lots of the tree branches are hanging down low, their leaves heavy with water. Shasta daisies and Ligularias are finishing flowering and look pretty messy. Easy to feel a bit moody - but silly to, really. 'Big' can always be an illusion, right?
So what to do? Have quotas - six barrowfuls of trimmings per day, for example? Get a gardener? No, BE a gardener. Squint at everything, ignore anything that's too worrisome. Look for the loveliness, pretend all the other stuff isn't there.
Naughty thought : swap Non-Gardening Partner for a gardening model? No, no. He's promised to do some chain-sawing for me when he gets home from flying.
Eat and drink something!
I know. Eat and drink something. Make some plum muffins, chill a non-alcohol beer, take outside, sit, relax, find a cat to talk to. Then wait for the trees to dry, the branches to lift back up, and the mood to go away.
Two hours later...
It's all good again. I cleared more mess, did more trimming, and then directed NGP to chain-saw down two scruffy Ake Akes and a Prunus from the Hump Garden. In a five minute flash he did the business. It looks soooooo much better! Then I did an hour of slow plodding to move all the smaller branches to the bonfire ready for burning. That's tomorrow morning's task. And now we are going for a swim (my feet are looking forward to this).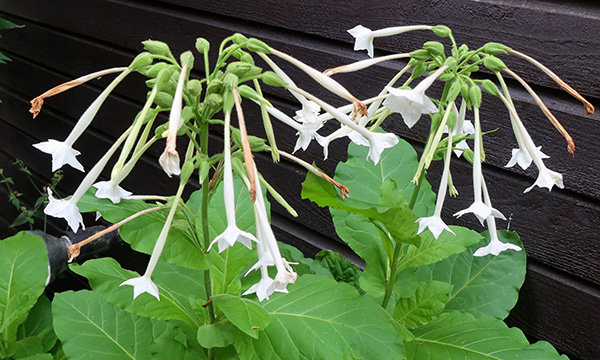 Nicotiana Sylvestris
You see, my garden isn't actually too big at all. It's just that sometimes my mind is a bit small.
Next morning...
Have been bonfiring for three hours. It's gone well, and I've been mixing up yesterday's lopped up tree branches with gum leaves and gum bark, and dragging more mess out of my dumping places. Stinky, hard work, and it always feels like I'm going backwards, burning mess I collected days ago.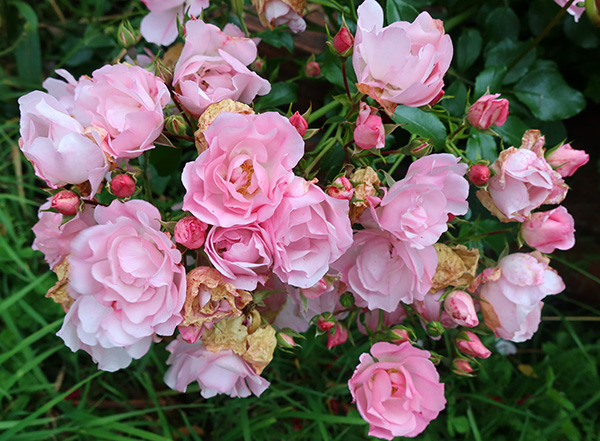 Even the roses are messy
And how sad am I? I can look at a pile of mess and actually remember which day and which garden area it came from. Eek! I'm off for a swim.