Dodging the drizzle...
Have spent the last few days dodging the drizzle and rain. Sneaking outside to do some gardening, keeping a low profile, hoping that the weather gremlins doesn't notice me and decide to drench me with water.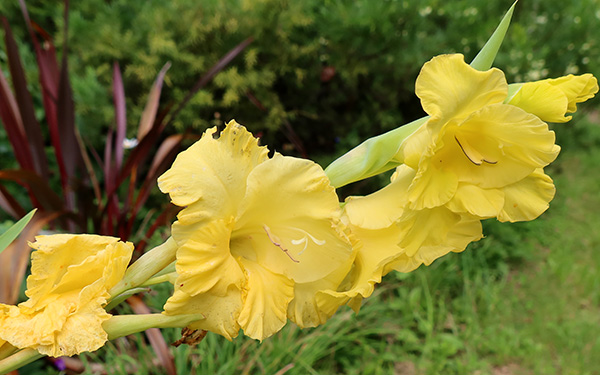 Floppy Gladioli
And today it's drizling on and off again. Funny, funny weather. Gardeners talk (and think) about the weather a lot, I know. And not only gardeners... 'Oh, hasn't the weather been lovely/awful? Unusually hot, windy, wet, dry, cold (pick one) for this time of year. And they (who, exactly?) say there's going to be more rain! But the rain is sooooooo good for the garden. You can't have too much rain (oh really?)...'
Yesterday afternoon the rain stopped, so I picked up the chopped pieces of Clematis from the Frisbee Lawn and threw them onto my bonfire. Then wandered over to the Hen House Gardens, checked out the chooks (all statues) in Henworld, and quickly collected three barrow loads of gum bark. Whoosh! Up she went (a girl bonfire, very interesting).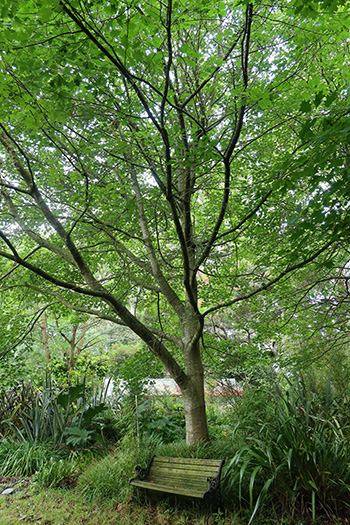 Huge Oak Tree
The Oak trees in this garden are huge. HUGE. Am not totally sure when that happened. Last winter they seemed rather modest, naturally : bare branches, none hanging down under the weight of excessively wet leaves. Now there is much to to duck under, and extreme summer shade, with just a few brave roses (Monsieur Tillier, and two rugosas - Agnes and a scruffy Rugosa Alba) battling on.
Green Astelias recently planted are growing well, though, and the Agapanthus and the Phormiums are really happy. It's a garden full of green spikes of differing heights. Extremely evocative and beautiful. Messy with self-sown Oak tree seedlings, but these can be easily pulled out with a half-decent gardener in attendance.
So today I'm thinking about cleaning out more of the gum mess. Will wait for the drizzle to lighten, though. Have just gone for a walk with my camera, wearing silly shoes (not my gardening boots). They're wet through. The skies are dark and glowering grey. Maybe no gardening today, then.
Monday 14th February
More rain. Wow! We are blessed with free draining soil and rivers a safe distance away. So my garden is once more awash with dripping foliage, flopping dahlias and gladioli, paths that drench the passing gardener with water. Great weather for daytime watching of the Winter Olympics, for playing the piano, and for going swimming. Not great weather for gardening.
Sorry, Lilli-Puss
Yesterday afternoon when we went for a swim Lilli-Puss (my senile old cat) managed to get herself shut out of the house. We came home to find her wandering around in circles in the driveway, totally drenched. Carried her inside, towelled her down (growl, growl), fed her up, patted her dry while she shivered. Oops. Thought I might have killed her.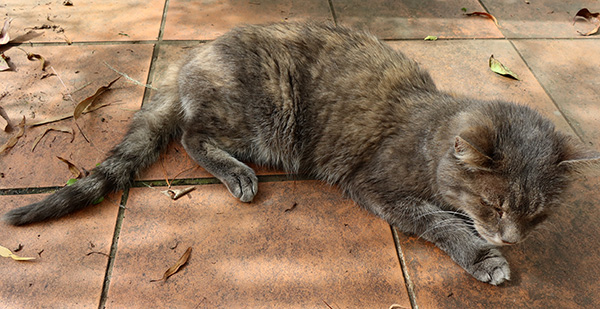 Lilli-Puss Snoozing on the Patio
On I go, to face the day. The most serious question - when should I vacuum the lounge carpets and mats? Answer : after I've done a decent amount of piano playing, and after I've taken the dogs for (probably) a walk - suspect the orchard paddock grass might be too wet for my new bike. But good news - there is sun and blue sky. Yeay!
The vacuuming can wait...
Another question : Do I really have to do the vacuuming at all? Have played Albeniz for nearly two hours, slowly but surely, lots of lovely notes and sounds, one more piece to go. Answer : Definitely not. Play some more piano. The garden can wait until tomorrow. The vacuuming can wait for ever.