Floppy dahlia time...
It's floppy dahlia time again. But of course there are solutions : stake them, or build criss-cross bamboo fences, to stop them falling over paths etc. and being a nuisance. Dahlias in the middle of the border can easily just lean against something else. But of course they don't.
Floppy Orange Dahlia
So I've just been trimming things in the Hump Garden and checking the remaining garden paths. Had to dodge lots of dahlias. Oops. And then I found two Mrs Oakley Fisher roses looking just as cross and sulky as they were in their last two garden positions. Planted them in the Hump Garden when there was space and light. Alas, have got it wrong again, poor ladies! They deserve better.
Dahlia Hanging Down
Monday 20th March
Today is Monday, the start of a new week. And, alas, the start of a certain garden activity which I dread. The fire ban has been lifted, and I have piles of gum leaves and bark which need a bonfire. They cannot be composted. So sorry!
So the plan is to go for a swim, then visit someone, then slink home - by which time it should be raining and I won't have to burn anything, hee hee.
Mid-Afternoon...
It worked! And now there's a bit of rain, and far too much wind. Have raked gum leaves off the top of the driveway and taken some bark (ha ha) off the garden by the dog kennels. Have half a bonfire pile, but won't start it burning.
Wednesday 22nd March
Ha! Two windy, stormy, rainy days later - obviously no pleasant gardening has been possible. Even more dahlias will have flopped and face-planted. Poor things! Pretty impossible to stay upright in wet wind.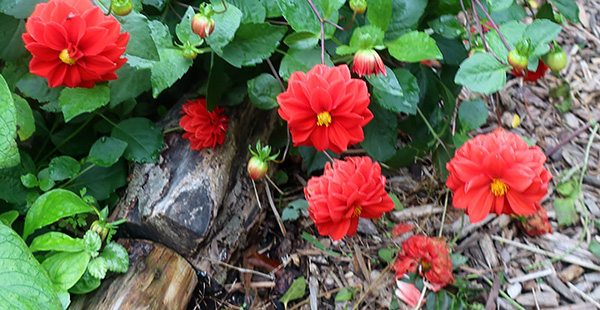 Dahlias on the Path
Last night was quite cold. I tried out a hot water bottle, but the rubber was oh so stinky. And I seemed to use up lots of energy trying to get the bed warm. Slept very fitfully, but it was a noisy night, with stormy southerly winds lashing the cottage and surrounding trees. Speckles my feral cottage cat was snug in the cat basket on the verandah, out of the weather. Minimus my domestic cottage cat was (naturally) inside on the bed.
Today I sorted it - the second down duvet is back on my bed, as is the electric blanket. Hopefully the storm (more like a semi-storm) has now run its course. Now I can be a gardener again. Go, you dahlias!