Goodbye, Yellow Wave...
A little gardening sentiment should soften the blow when the (normally gentle) Head Gardener is 'farewelling' some landmark New Zealand Phormiums. But flax rhymes with axe...
Warning - this page contains low level garden violence...
Yellow Wave - With Axe in Foreground
Goodbye, Yellow Wave Flax...
When flaxes get too big for their beds - particularly when those beds are supposed to be flowery, filled with summer perennials and roses - well, something has to give. And so the time might come when a budget Yellow Wave flax has outlived its usefulness.
Then it's axed. It gets the chop. Kicks the bucket. You get the idea.
The Replacement Yellow Wave
Better Luck Next Time
Better luck next time, Yellow Wave. Look, if only you'd stayed striped and kept at least a bit of yellow! It was your name, after all, which first drew me to you - or was it that you were on the sale table, costing one dollar? No matter - if only you'd learnt to droop those cute little leaves properly!
A Sneaky Rose Bully
You've been getting away with it for years, though - that sneaky spreading, reverting to plain boring green, and your general messing about. And the unthinkable crime - you were bullying the neighbouring roses, stealing their space...
If it hadn't been for one simple snow storm, and the Head Gardener wearing her spectacles as she toured the garden to check for damage...
Don't Be Sad
Don't be too sad, though. I have four little replacements for the gaps in the garden where four of you used to lounge and flop. I have pots and pots of your divided roots, ready to try again in the depths of the Wattle Woods.
And even more exciting news - some of your best-butchered bits are wanted for serious planting duty in a friend's West Coast garden! You are her favourite flax... And look - to show there are no hard feelings I've even written you a poem...
Poem
Goodbye, Old Yellow Wave flax
So long, farewell, adieu.
Forgive the knife and axe
Which chopped up bits of you.
New Yellow Waves - be wise,
Stay slim and true to type.
Control your adult size
And don't lose any stripes.
Assorted Yellow Wave Leaves
Big red flax by the water's edge - you, too, have been silently fattening yourself these last five years. The Dog-Path used to wind around and past you. There came the day when gardeners and dogs could no longer fit. You got away with it back then - the path was the casualty.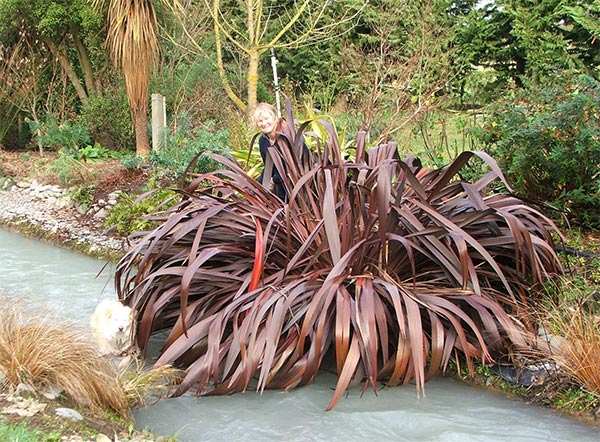 Big Red is Up
But then you lost all sense of proportion. Huge bits of you fell into the water, and you smothered the David Austin roses behind you. And you, too, were finally defeated by the snow.
Goodbye, Big Red...
Did you think I wouldn't notice? In the middle of winter? A flax which was suddenly three meters wide and half a meter high? Bad move, big red, bad move...
Big Red is Down
However, the Head Gardener is feeling generous. Your roots are reprieved, and you will be allowed - no, encouraged strongly - to resprout. Make the most of your second chance! Don't let yourself down again - no cowering, no premature drooping! Stand up for yourself! Be a Phormium Tenax! Or else...