Shrubs Along the Driveway
red flax - 2000
Plantings have changed down the driveway over the years. Some, like this early red flax (or Phormium), just didn't know how to stay in their place. Mind you, the Head Gardener did have a bad habit of planting shrubs too close to paths and driveways...
Flattened in the Snow
Oops - in the winter snow storm of 2006 the red flax was completely flattened. By then it had completely lost its red tones. Far too bulky to be growing so close to the driveway edge, it got the chop. Sorry!
Not daring to be different, I've replaced it with a later model - a hybrid with pink tones in its leaves. I'm hoping that this flax will stay pink. And just in case - I've planted an upright deep wine coloured flax on the other side of the Crab-Apple tree. Colour echoes, I guess - after all, there is a beautiful purple Cotinus just over the gravel...
Many of the early plantings are still going strong. An original pink flowering Escallonia still tries to drapes itself over the driveway. Several Hebes have been trimmed down and are sprouting back to a decent size. But over the years many new shrubs have joined the garden - subtle shrubs like Corokias, spring features like Forsythia and Choisyas, and a grove of beautiful spiky Astelias, to name but a few.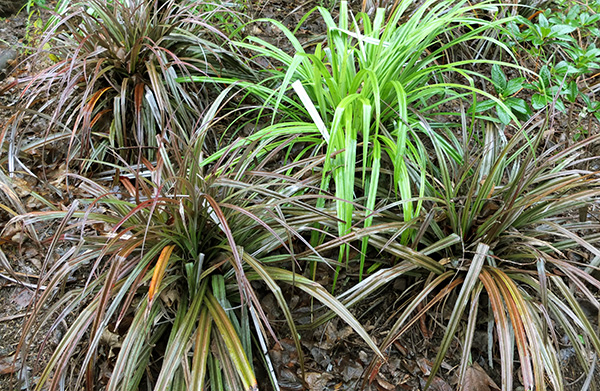 Green and Brown Astelias
And then there are the rhododendrons which I've moved here from other less suitable garden places. I just can't resist rhododendrons. And I've tried to be kind to them. If I had a dollar for all the bags of horse manure and compost I've spread on the Driveway Garden I'd be a rich gardener...