Self Seeding Plants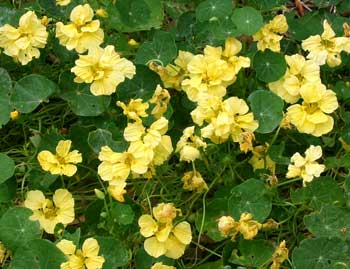 Favourite pale yellow nasturtiums
The scruffiness of my garden in March has nothing to do with the season, and everything to do with my carelessly orchestrated self-seeding programme.
I like to think that I am a sensitive gardener, in tune with nature and my environment, and also that I have a good sense of the natural. Thus I am proud of my self-seeding programme. My blue pansy mulch has been duly scattered in the Dog-Path Garden, and I value the large Korean Angelica for working hard and depositing its seedlings everywhere. I chop up Cerinthe with scissors when it's past flowering, and encourage my nasturtium patches using the same techniques. I'm giving nature a small selective helping hand.
But lately I can see a different side to things. I suspect that beneath every champion of self-seeding there lies a lazy gardener - a gardener full of good intentions and seed catalogues, yet incapable of delivering the required trays of plantlets, or of remembering to water them. And the results in my garden this Autumn have been a visual disaster.
Lime green nicotianas
Weeds?
All those yellow flowering euphorbia plants which looked fresh and charming in early spring are now full with seed-heads of their own, looking unpleasantly like weeds. My orange Eshcholtzias, such good doers, have sprawled with age and totally lost their impact.
Bowles Golden grass has taken it upon itself to be the ultimate self-seeder of the new millennium, but it looks uncomfortably like the lawn grass has spread into the garden border. This is not the look I want at all.
I could blame the bronze tussock grass for some of the general scruffiness. It has seeded happily in all the four corners of the garden, and I can't quite be bothered running around with a little shovel and pottles of potting mix to save them all. Next spring I'll wish that I had - after all, I am a true New Zealander, and tussock grasses are my heritage. Successful design with grasses needs the plants to be mature anyway, and my little offerings will take years to bulk out.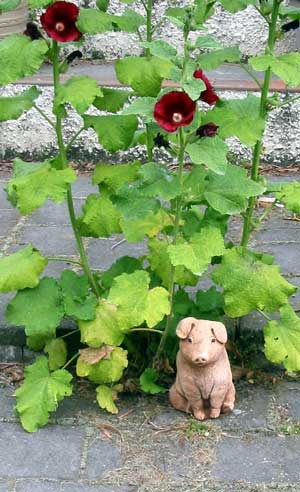 Hollyhock in the middle of the path
Alchemilla Mollis
And why won't my Alchemilla Mollis seed itself in the tiny crevices of stone paths, like it does in the British garden books? It's supposed to be rampant, but in my garden it's not even cute.
Whenever I try to germinate seeds from a packet, I get nothing. Does the seeding of Lady's Mantle have some symbolic association (similar to parsley) which stops it from procreating for me?
Successful Seeders
Mind you, sometimes the self-seeders get it right. The white Cosmos whose chopped up parents I scattered underneath the new Variegated Elm tree looks fluffy and decidedly pretty. It fills the spaces between the reject roses.
This is a bed of transients, some of whom were destined for the rubbish heap. The Cosmos makes them look better than they actually are - perhaps they could stay here? The fluffy white filling makes a nice change from swathes of blue pansies (the results of my indiscriminate blue-pansy mulching programme).
Hurray for Hollyhocks!
My self sown hollyhock in the middle of the front path can definitely stay. What courage and initiative it has shown to grow here! House visitors need to be flexible to get past this flowery obstacle.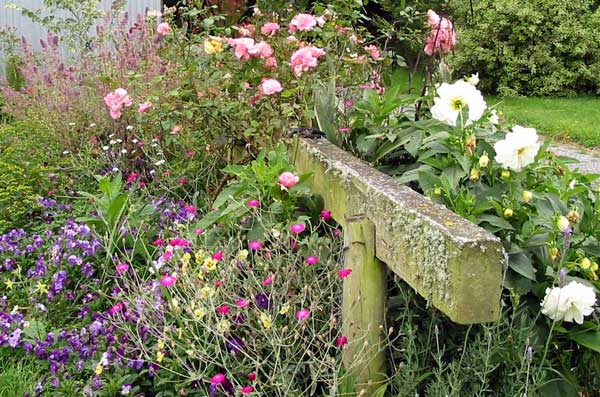 A mess of flowers
And next time I read about a gardener who claims to let self-seeders run the show, I'll know I've found a kindred spirit - and they're definitely not to be taken seriously.