Jelly Bean Garden Roses
In the early days, roses along the house side of the Jelly Bean Border would cover the fence-line with colour in summer. Phyllis Bide would start off with her fluffy pink and apricot flowers, followed by red Dublin Bay, yellow Graham Thomas, and the trusty white Iceberg.
roses along the fence-line - summer 2003
My early photographs show masses of blooms on strong, healthy shrubs. The Jelly Bean Border was generally sunnier then, and the Liquidambar tree above the fence was only a juvenile.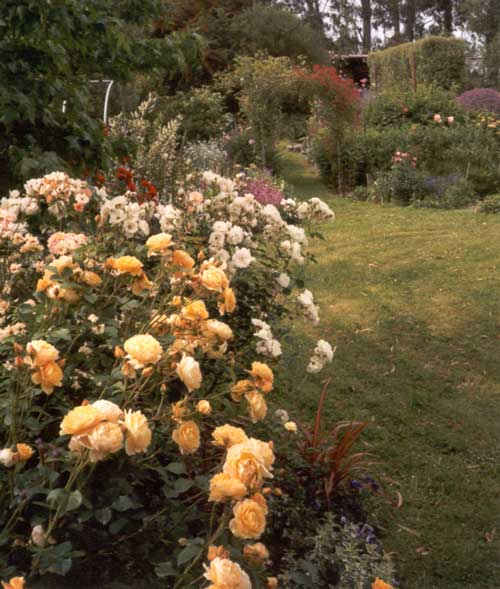 roses along the fence-line - summer 1998
Dublin Bay was an original planting by the fence-line. But, alas, this rose can get badly rusted in my garden, and this particular shrub is no more. I've reprieved another of the originals, though.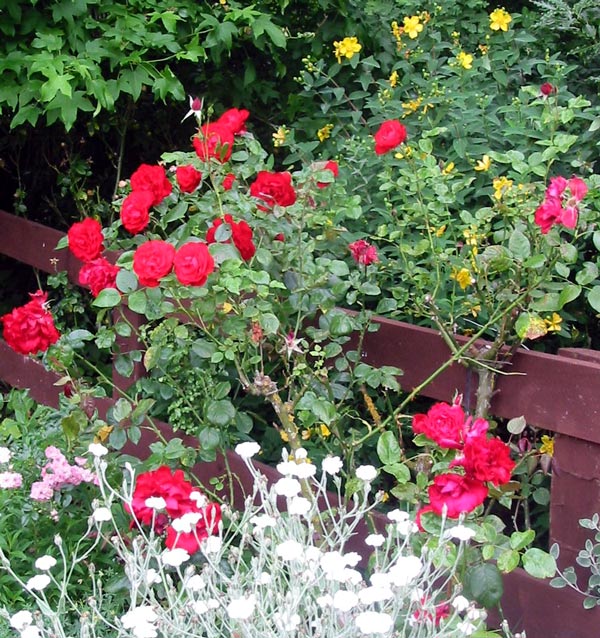 Dublin Bay on the Fence
Because the Jelly Bean Border is now relatively shady, the other original roses are not in a very good state. Maybe the big Eucalyptus tree on the nearby lawn is just too greedy for soil nutrients. Memo to self - some compost and some serious rose care this coming winter.