Early Hosta Garden
My first hosta garden was in the shady Jelly Bean Border, between the Lemonwood and the forked Cabbage Tree. Things started slowly with a few tiny mail order hosta purchases, plus some dwarf white agapanthus (which have naturally never flowered).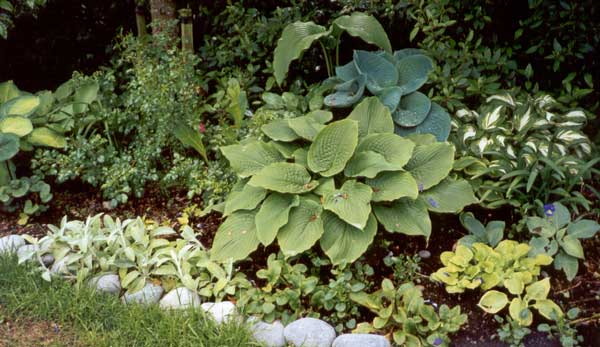 early hosta garden
In no time, the hostas bulked out. In early days of the Moosey Garden, new hostas were automatically planted in here (remembering to read their height). Unfortunately I then discarded their labels!
hosta and
pink rose
- 2003
The pink rose in the above photograph is a cutting grown pink Flower Carpet rose, which I planted in here when there was less shade. I keep meaning to remove it, but I love the colour combination it makes as it sprawls over this lime green hosta.
Sneaky Watering
The dappled shade of the Jelly Bean Border trees have always provided the perfect hosta location. But on the hottest days of summer some sneaky watering has definitely been required.
My Hosta Garden - Summer 2004
One year an orange-yellow flowering Ligularia appeared, self-seeded from somewhere else. It's been a good watering guide - as soon as its leaves wilt I know things are drying out. But...
The Future of the Hosta Garden...
Gradually, over the years, ferns have popped up along the border edge. These are bigger and bulkier than ever, and now tend to smother the nearest hostas. Oops. To be honest, this whole garden needs pulling to pieces, the soil enriching, and the hostas divided and replanted. That Ligularia should go, as should the coarse Carexes which have also bulked out, threatening to take over. And what about the Elm tree suckers?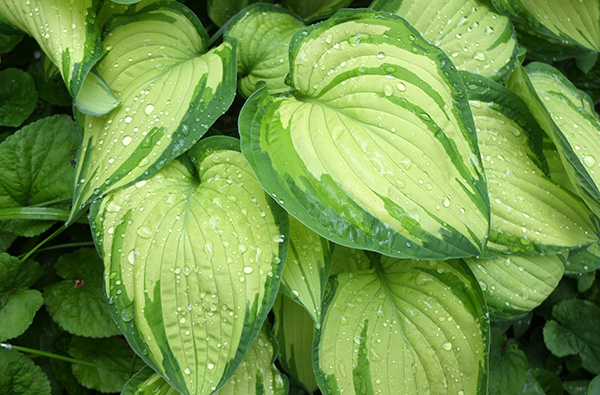 These Hostas Need Help!
Aargh! This is looking horribly like a disguised Hosta Garden Make-Over list. Oh well. It's late April, a good time for some garden action...