Canary Bird Rose
Every spring the species rose Canary Bird is the first Moosey rose to come into flower. It has a gentle spreading habit, and flowers at exactly the same time as the nearby cherry trees and the climbing Clematis Montana.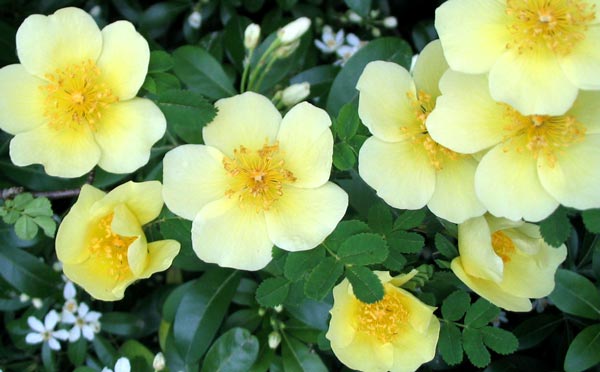 Canary Bird Rose
Canary Bird leans over a neighbouring Choisya shrub in the Jellybean Garden (which I can see from the upstairs rooms of the house). The Choisya flowers in late spring, too, and thus they make an exceedingly pretty pair. An inspired garden planting by a skilled time-conscious gardener? No - just a happy accident!
Canary Bird Rose Bush in the Garden
But seriously, I think the Canary Bird rose needs this type of support, otherwise the charming effect of its subtle lemon flowers could be lost. I never spray it or prune it, and so far all is well.
Canary Bird Roses