The New Hump Garden
A large area in The Hump was cleared in the winter of 2018. Trees were felled and chainsawed, pieces carted away to dry out for next year's firewood. Yippee! A brand new garden area for me, expansive, sunny, and free of plants and shrubs. Here was my big chance to prove myself as a proper gardener. I would start from scratch, create a new, super-stylish, well-planned and designed garden.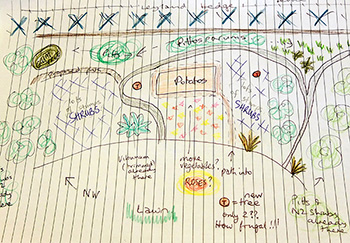 My First Plan
Fools rush in...
And most of all I would be patient and disciplined. After all, fools rush in. And often they rush into nurseries and spend hundreds of dollars on rhododendrons... So I restrained myself, got out my colour pencils instead, and drew a vague plan. Here it is...
My first task was to enrich the sandy soil with loads of horse manure and mulch. No planting anything yet. But maybe a few ornamental trees? I dug up a flowering cherry, a Cercis, and two variegated Maples and replanted them in The Hump, choosing their positions carefully.
Phormiums and potato patches...
There was plenty of space for three large striped Phormiums on the lower slopes, in front of a row of Pittosporum eugenoides. And some vegetables? I dug two rectangular potato patches, and divided up the planting area with long sweeping paths. Things were on the move - but nothing rushed, or haphazard.
So far, so good?
So far, so good. Now, could I make some planting decisions? Forget those rhododendrons. I planted pots of spring bulbs along the grass edge instead. And still I waited, watching where the sun reached, looking at all the views, thinking about paths and seats.
The Hump Gardens
In the middle of spring a friend gave me sixteen unwanted bush roses, which had to be planted immediately. You can guess what happened next. That very afternoon I created an oval shaped rose garden next to the potatoes. It was modest in size, surrounded by mulched paths and edged with miniature Agapanthus clumps.
New Paths in The Hump
Then I kept finding more roses in unsuitable locations. Naturally I had to dig them out and relocate them in The Hump, close to their friends. Oops. I'd been bitten by the planting bug!

Annuals, Dahlias, and a Cercis Tree
A host of 'spare' dahlias obviously had to go somewhere sunny, as did three large Miscanthus zebrinus grasses, and yet more roses. Another new path wrapped itself around the newcomers - a clever touch, this, implying that all this planting was well planned...
Then I was gifted yet more roses - New Zealand Gardener, Just Joey, Sir Peter Beaven... The front curve of the new rose garden expanded easily to fit them in. Well, why not?
Just one year later and I've relocated yet more roses, planted Courgettes in between them, and added clumps of favourite flowering annuals like white Cosmos and pink Lavatera.
Yet more roses...
Giant self-sown perennials (Nicotiana sylvestris and Verbascum) have taken over the potato patches. I've planted more large Phormiums (trying for a repeated motif here), and another ornamental Maple tree (variety Shiraz) has taken its chances in a bold midsummer move. Just last week I had to shift the paths to make room for yet more roses.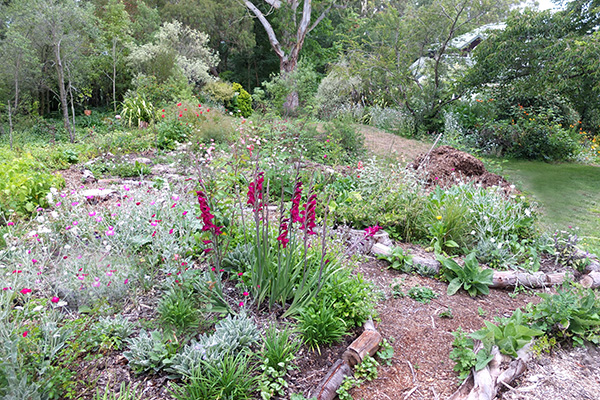 Flowers in The Hump
So in less than a year The Hump turned into a wonderfully sunny, sheltered garden full of interesting foliage and flowers, mainly roses. What next? More roses? Hmm...
Latest photographs...
Here are some of my latest photographs of this new garden. It's fast getting filled up!