Garden Potager
Early in my gardening life I made a resolution to have an aesthetically pleasing edible garden area, which I would cheekily call a potager. My vegetable garden was in disgrace. My family had stopped eating my lettuces. I'd made a series of dodgy vegetable decisions : I'd forgotten to plant the beans, and to water the heirloom tomato plants, and to pick the little courgettes before they transformed into monster marrows. I needed to be better organised, and take vegetables more seriously. Creating a potager was the answer.
Digging the Potager
I knew that potagers had brick paths and coloured lettuces, and both of these essential elements were already present. I would integrate these with broad beans, sweet peas, and carrots, in a designer frenzy. Gourmet potatoes and crazy bright purple beets would also line up, and I would experiment with oriental radishes in straight lines. Rather than abandon my heirloom tomatoes, I would control them. I would become the potager queen.
Cooking resolutions...
I also made some serious cooking resolutions - this seemed sensible and timely. My potager would naturally be filled with luscious edibles, so I would find ways to put green things into every meal. I would investigate stuffed marrows. Freshly pulled carrots would be served with all dips, lettuce would be disguised and inserted in unexpected places.
Old Tomatoes and New Roses
And as to practical matters, I'd dig behind the wood shed, shift the compost heap, dig some more, and create some paths. Seeds (organically sourced) will be sown. What could go wrong? I would stake, water, and nurture the heirloom tomatoes. Sweet peas on wigwams would appease my British garden ancestors. A pergola would be constructed at the potager's edge, allowing perhaps a couple of Crepuscule roses, and maybe a lavender edging, but that was all.
I dug and dug, feeling more and more righteous. Two old compost heaps were spread around and made level. I dug a bit more of the lawn, right up to the side of the wood shed - a hot spot perfect for the growing of scarlet runner beans. I laid out the brick "paths" in straight lines, angled to each other. I ordered purple beans and lettuces with crazy names.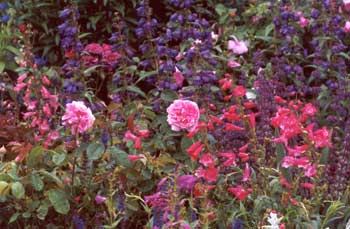 roses surrounded by perennials
Rose rescue!
At this point fate intervened. I run a retirement home here for roses. Whenever any friend complains about unwanted roses I arrive with shovel and trailer. So when a local friend had a rose clean-out, I knew I would say yes to every rose offered - a good excuse to widen a border, extend a bit of garden. Two trailer loads later I surveyed my new acquisitions - a Margaret Merril, a couple of Sexy Rexies, a Lavender Lassie, some Jayne Austins, a Penelope and a Mary Rose, a Pat Austin, one of the most beautiful English roses ever bred. And assorted others, anonymous, sulking from having been rudely ripped out of the earth.
That same day a rose nursery was closing down, and particularly cheap bare root roses were for sale. I bought - well - six or seven (maybe a few more, oops). It was the end of the weekend, there was one hour of daylight left, and I now had oodles of roses to heel in, lest they perish. A slight problem, to which the answer was obvious. The newly dug potager would provide the perfect place, until further decisions needed to be made.
So my potager became a rose garden...
Oops. And just like this, in a flash, my potager became a rose garden. Because I didn't just heel them in. They would have looked far too untidy - after all, a potager has to have an orderly design, even if it is being used as an area of transition. So each rose was planted properly upright, and mulched with compost and pea-straw.
Rescued Roses in the Potager
And then the weeks rolled by, new spring growth sprouting, and I didn't have the heart to relocate anything. Dig all those sweet roses out and replace them with gourmet potatoes? I don't think so! In fact, stray perennials and lavender bushes barged in to join the rose inhabitants, along with a mail order iris collection. And that was how my potager became a rose garden. The sweet peas never quite made it, nor did the purple beans. Let's face it - I'm a potager fraud. My roses had the last word.
Update...
Colourful rows of vegetables never, ever made it back, though I did use the space for growing gourmet potatoes. Eventually I built a Herb Spiral in the middle, and filled in the garden gaps with perennials and self-seeding annual flowers. I'm just not disciplined enough to have a potager in my garden. Sorry about that!