Gardening momentum...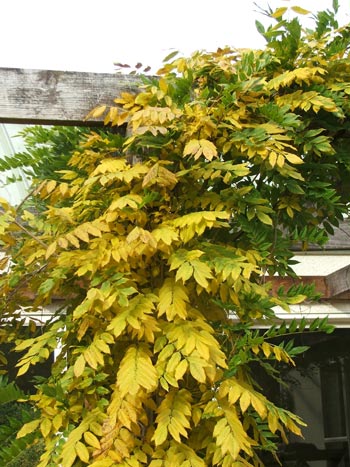 Autumn Wisteria Leaves
I am determined to keep my gardening momentum going after my super-active garden weekend. Autumn leaves are now off the trees and on the ground - I'm planning to make leaf-mould. I'm going to dig and chop back every day.
Monday 16th May
I will be tireless - all week! So much so that I have started a new journal page - so there is absolutely no excuse for non-weekday entries. If I have to go to work, I will scoot home fast and furious. There is so much leaf-raking to do that I won't even get my fingernails dirty.
Last of the Autumn Leaves?
Where's Autumn gone? Suddenly all the leaves are down. The dahlias are gone - burnt in the one night's frost we've had. Day temperatures are still perfect for gardening, though, and with my brand new secateurs and gardening gloves I should be invincible.
I have enough mulch for the winter blankets (at this time of the year I always think I'm putting the garden to bed). I have vision, and enough winter-warm gardening shirts for at least two changes per day.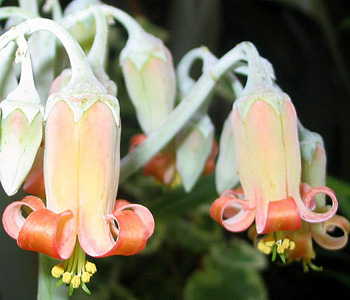 Succulent Flowering
Off Outside
Right - off I go outside. I know I will get sick of raking leaves. But I promise not to moan. It is time to look ahead, and prepare the whole Moosey garden for the cold days and nights to come. Five weeks until the winter solstice.
Lunchtime...
I'm back, with dirty fingernails - how does this happen when I've only been collecting leaves and pruning? And I was wearing my new gloves. Humph...
Anyway, I am now off to work, after a good morning's work in the pond paddock (and a long hand-scrub). I have five big black plastic bags filled with leaves, their tops tied. Showing my ignorance, I don't know if the bags should be airless or have little holes in them. I am optimistically expecting some - quasi-leaf-mould? - to create itself.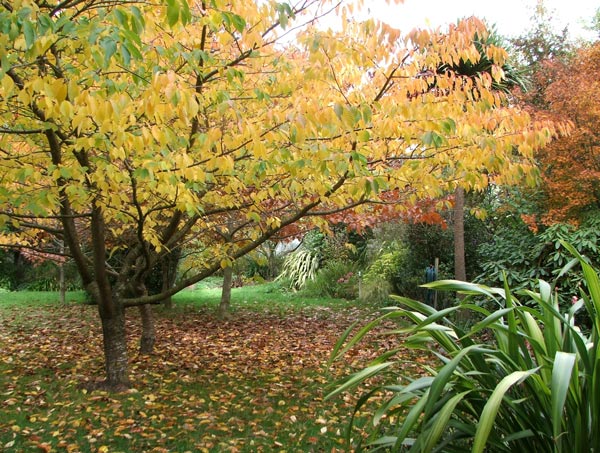 The Pond Paddock Cherries
Also the waterside grasses by the Oak Tree Seat were cut down yesterday, and I've cleared up the mess. Now this most original of Dog-paths makes sense - that is, it is passable without either falling into the water or into a large clump of cutty grass. Brilliant! These little improvements are what the great Moosey Autumn Clean-Up are all about. One doesn't need major excavations to feel progress. Ha!
'Do what you're paid for, do it well, then go home and garden.'

A wise colleague
My work friend has sent me a personal rule, which I would now like to quote. My hope is that I will read it every day this week (actually, every day that I have to go to work). She is very wise.
Except I've now come home and it's cold and raining. Hee hee! So I've lit the fire and fed the cats (Smoocher the sick kitten gets a sneaky beef meal). One could argue this has been the perfect day - gardening all morning, then off to work just as the rain came...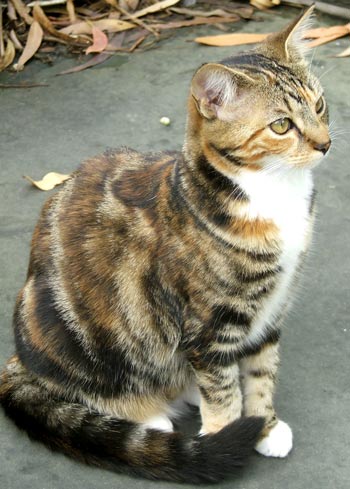 Tiger Kitten
Wednesday 18th May
The moderately merry month of May continues - it's still rather frost-free, a little bit of rain, a little bit of cold - no real problems (apart from getting muddy). I've still got daisies sitting forlornly in garden beds waiting to be scooped up and tucked safely in the glass-house. I still have mulch waiting to be spread on the garden - there's not much point mulching the back of a trailer!
And I have five big bags of my very first soon-to-be leaf mould - well, that 'soon' may be in a year's time - which I need to proudly stack in that glass-house, too. Hope it works!
Today I have to go to work twice, with a large lunch break. The plan is to race home in the rain and do an hour's lifting and shifting of the remaining half hardy plants. Surely I won't get too muddy just doing that!
Roses, Roses, Roses...
Then I have a rose catalogue to peruse. Hmm... I haven't read one of these for a few years. Nor have I ordered anything from one. I am rather tempted - it could be a reward for actually finishing my autumn burning, for example.
Would I like a Burgundy Iceberg rose? Too right I would! And what about one of my early plans (oh the innocence of a juvenile gardener) to have every single one of David Austin's roses planted in my garden? Perhaps I could write out a rose shortlist...
There's time for a short animal report, before I zoom in to work.
Short Animal Report
Poultry

Rooster has taken himself and hens to a distant location about three farms away. Eek! I wonder if they want him? Puppy has certainly cleared out the chook-problem, if it ever was a problem. I am so ashamed of him.

Cats and Kittens

I've decided that Mugsy the cat is getting a bit bony. So she gets sneaky food snacks, along with Smoocher (who is quiet, but going OK). All cats are enjoying the log-burner in the cooler autumn evenings, when there is much warmth and cat-harmony.

Puppy

Apart from the poultry incidents, puppy is really well. He has an incredibly long, hairy winter coat now. He is also digging at some secret location which I am yet to discover. Oops - hope it's not in the Hazelnut orchard!
Thursday 19th May
Hmm... It was just too wet (drizzly) and muddy yesterday. And today is much the same. I am home, in a work gap, to generally talk to the animals.
Stumpy Cat:

Dear Stumpy - such a faithful house cat.
For example, good morning to Stumpy the cat who always sits on my lap as I write. And to check on Smoocher the kitten, who seems very happy - he's putting on weight, and my new scheme to mix his drugs with his food is working well.
Never before has the Moosey pantry been so full of cute little tins of gourmet cat food (the 'tin de jour' is chicken and liver pate). Yum!
Romeo Rooster?
Rooster appeared at first light on the house lawn. I called to him in my most soothing voice from the balcony - 'Rooooster - Rooooster - Wherefore art thou, Rooooster?' and he immediately ran off through the Graham Thomas rose bush, with feathers flapping. Oh boy.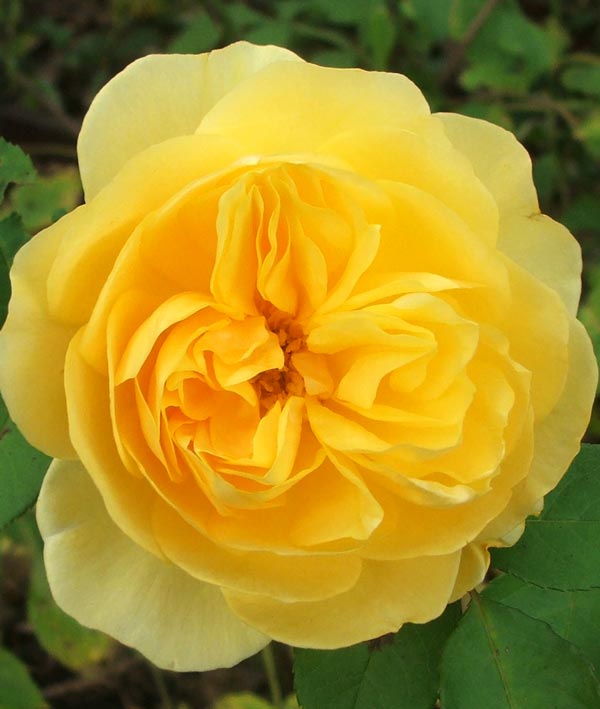 Graham Thomas Rose in Autumn
This diary seems to be turning into an animal life journal - but the weather is jolly wet! I have made one gardening decision today, though. The overweight flaxes I spent ages chopping (nearly) down all have rather nice regrowth sprouting from their bases - with the correct coloured stripes. I think I will leave them growing through the winter to see what happens.
Friday 20th May
Oops. Another drizzly non-gardening day. Puppy needs a dog-walk. Smoocher is at the vet for the day (he goes every Friday). I miss him! It's not raining now, but I'm too tired to do much of anything. I shall save myself for the gardening weekend.