Damage evaluation...
This morning, five days after the snow storm, I venture into the Wattle Woods for my first damage evaluation report. Aargh! I have been an extremely simple post-snow gardening soul - one hand-saw, one pair of gloves, one dog, one gardener...
Tiger - Let Me In!
Saturday 17th June
First, some fuel - a pot of tea and a tiny bit of live world cup football. As soon as a goal is scored I will be off outside. Cleaning broken trees with a hand-saw is like walking in the mountains. It's back to a natural slow, sure pace - where small things make even smaller changes.
Lunchtime...
Hmm... Wish there was small damage. There isn't. There is big damage. At least three Wattles are leaning ridiculously over, their roots ripped up and out of the ground. Huge gum tree branches are down. The water pipe intake to the pond has been broken, and water is gushing out, flooding the Pump House.
I've fixed the water problem, and sawed and dragged tree bits for two hours. Few Wattle trees are standing and healthy - and this entire garden area relies rather on two things - Wattles, and Woods! Forced change isn't always bad, though - I should look on the bright side? There will be much more sun and less competition for goodness and water from tree roots - so this whole garden area will be lighter, maybe even nicer.
Snow and Conifer
Conifer Confessions
Sensible woods would be deciduous, anyway - since these crazy South Island snow storms seem to have turned into an annual event. Or perhaps I could stock up with conifers - they seem to have no problems, they even suit the snow...
Right. Have just enjoyed a sentimental cooked English breakfast, in honour of London web-master's cooking for (recently) visiting mother. Time to return for part two of my gardening day. I'll take some photographs, I think - this could well be the most dramatic 'before-and-after' sequence ever camera-captured!
I'll concentrate on clearing up the gum trees - their wood is much softer to saw. Wonder if I should end the day with a bonfire? Then I would be all 'fired-up' for the rugby - go the All Blacks! And go Australia in the football World Cup!
Later, in Darkness...
I don't mean another power outage. Just that it's pitch dark outside and not quite 6 pm. Where has the moon gone? Humph - roll on the official shortest day!
Well, I did have a long burn-up, piling on heaps and heaps of gum tree trimmings. I dragged and wheeled and burnt stuff for nearly three hours, after trying to make a start on one of the downed Wattles (and failing). The chainsaw operator is home tomorrow - yippee! I will have proper help and proper company - as opposed to a barking dog (Rusty) and a lone squeaking cat (Fluff-Fluff).
The state of the Wattle Woods is quite shocking. There is now only one Wattle standing properly. I'm amazed that none of the glass-house window panes got broken. All the paths are blocked - even Rusty the Dog couldn't barge his way through.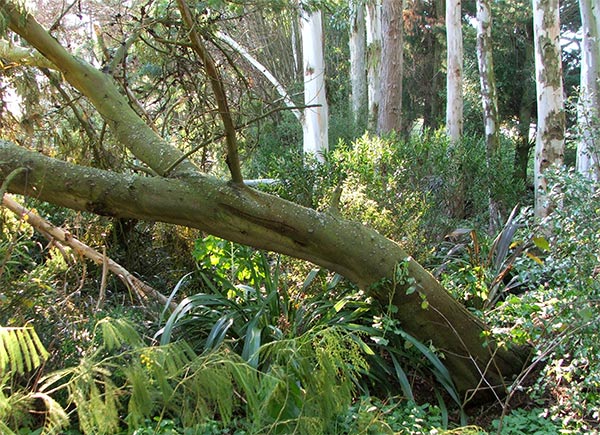 The Wattle Woods
Sunday 18th June
I have had THE longest winter burning session I can remember - I started at 8:30 am, it's now 3 pm, and heaps of my heaps are no more! The chainsaw has been purring away nearby, too - a delightfully musical sound when one's beloved garden is messed up with fallen trees. I am a tired, sore-handed, clean clothed apres-gardener - have just eaten a bowl of lovely Japanese curry, as one does, for a warming-up lunch.
Spuds and Sausages, Anyone?
Now it's coffee time, and perhaps a chance to reflect on a most satisfying day. Though if anyone has the nerve to tell me I would enjoy cooking some spuds and sausages on my fire I will scream - louder than the chainsaw!
Fire and Ice
And since there is little of literary value in the repetitive details of keeping a fire burning for - say, six and a half hours - that will be all for today!
Monday 19th June
It's terribly hard being a London webmaster, with possibilities of odd trips over to sunny Germany to watch football matches, while Mother Moosey struggles on down under - sawing in the cold, driving rain, throwing logs of frozen wood onto the wheelbarrow, dragging more and more burnable tree bits to well-located heaps, wrecking yet another pair of gardening gloves...
Oh, dear me! Feeling sorry for self, are we?
Rusty the Dog has been dreadful company, too. Fantails have been flittering around me like birdy Tinkerbells, hoping I'll stir up some insects. Rusty races at them, barking like a mad dog - he thinks he can catch one? As much chance as catching one of those pesky planes he escorts noisily out of Moosey airspace.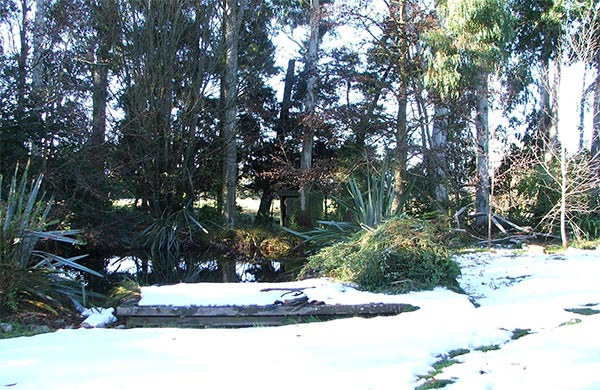 The Pond Paddock
The Welcome Garden is now cleared of rubbish. Good news - both the little Kowhai trees at the end of the Hump (opposite the Welcome Garden) have escaped damage, as have all my newly planted New Zealand natives. It's not because they're tough - more likely because they're still small! Casualties are two Olearias and a Phebalium - is that the right name? It's a tall thin evergreen (actually, ever-variegated-lemon-and-green) tree. The shrubby bushy tree on the corner of the driveway is also much reduced in size - but was in need of a major pruning. There is much more light, and I expect my new plantings to respond with masses of greenery!
Tuesday 20th June
I won't write much - actually I shouldn't write anything! I am sulking, my hands are sore, and I am sick of burning gum tree rubbish. It took me so long to get the fire going (was even contemplating using an accelerant) - when it did finally 'take off' I felt obliged to keep it going for hours. Humph.
Oops - nearly forgot. Happy Birthday to the London Webmaster! Please ignore my petulant anti-incendiary outbursts.