Back home in the winter depths...
I am back home, down in the winter depths of the southern hemisphere. Nothing has changed much in my absence, and there's quite a lot more mulching to do. My plants are remarkably colourful, considering it's winter.
Friday 2nd June
Good morning to the Moosey cats, dog, family - and the Moosey office! I am back from my short northern hemisphere adventure. Without wanting to be rude to the English weather, apart from the sun setting about five o'clock, and the lack of leaves on the trees - well, if I close my eyes, it doesn't feel all that much different back here - how rude!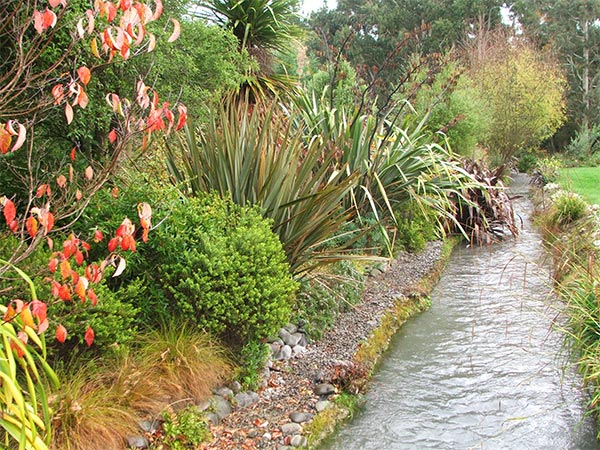 The Water Race - Nearly Winter
Already the old animal order is re-established - young cats on the bed, old cat in the bed, fluffy cat balanced on the balcony staring in, dog desperate to go outside (there may be left-overs on the cat food plates). I have lots of things to do - fallen leaves to rake up, a glasshouse to tidy, friends to catch up with...
It's lovely seeing all the brown colours of winter. I think I've been dismissive and rude about brown. The brown tussocks, for example, look wonderful, like brunette shampoo models with freshly washed, shining hair. Confession - my hands and fingernails are clean - I haven't actually stepped out in my gumboots in the garden yet. My excuse is that it's been drizzling.
Tomorrow's Garden Plans
I have big plans for tomorrow, though. I wonder if I could use the synthetic weed-mat in the Welcome Garden, under my mulch? I've returned to witness the prettiest covering of soft green shoots (grass) peeping though the areas where I ran out of newspaper. And I have rather a lot of weed-mat left over - it was purchased for the water race bank, and clearly I was having trouble visualising ten meters.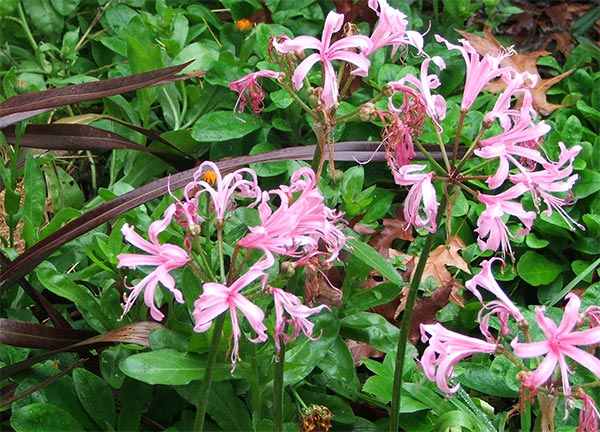 Flax Leaves
And, in honour of all the thousand and one London red cordylines in pots that I met while on holiday, I intend to spruce mine up, and attempt a decent photograph. Thinking back to London, I can't quite believe how many of these spiky New Zealand heroes I saw - in pots, in yards, in hanging baskets, in borders, and so on. Whereas there were very few tussocks (my plant of the day), and few of the coloured flax hybrids I was expecting. Oh well.
I had a brilliantly wonderful holiday, and it's also brilliantly wonderful to be back home. Nice.
You're Always Welcome!
Saturday 3rd June
Well, I'm up and ready. Except that it's still rather dark outside - my birds are just starting their squeaky singing. I think it is a little early, by winter New Zealand standards, to be doing anything external. How many cups of tea can a gardener drink, impatiently waiting for the morning to arrive?
More Mulching
First task today is to fetch a trailer-load of mulch from the back of the ram's paddock. This requires some 'sheep-juggling' - half the flock will go for a walk down the drive to the roadside paddock. Trust me, this will be their sheep-highlight of the month - with no 'stings in the tail' (meaning bottom-cleaning, hee hee). Then a huge bale of mulch can be carted down to the Welcome Garden, without the ram getting loose with the wrong ewes.
Starting at the Welcome Garden - which isn't very welcoming yet, and should have as its working title 'The Neglected-Disappointing-Afterthought-Garden' - I will make my mulching way down the approaches to the house, looking at details through a visitor's eyes. I will pretend I am seeing everything for the very first time. Maybe there will be strategic placement of pots (red cordylines? Aargh!) to add to the bleak winter interest. Actually, native New Zealand plants look jolly good in pots - in spite of excessive overuse of certain cabbage trees by trend-setting London gardeners.
Then, and only then, will I report back, with photographs of my winter progress (sounds like an English queen who got the season wrong). Hmm... It's definitely getting lighter and noisier, and the sky through the Hump trees is pale pink. Very nice. Time for a second cup of tea.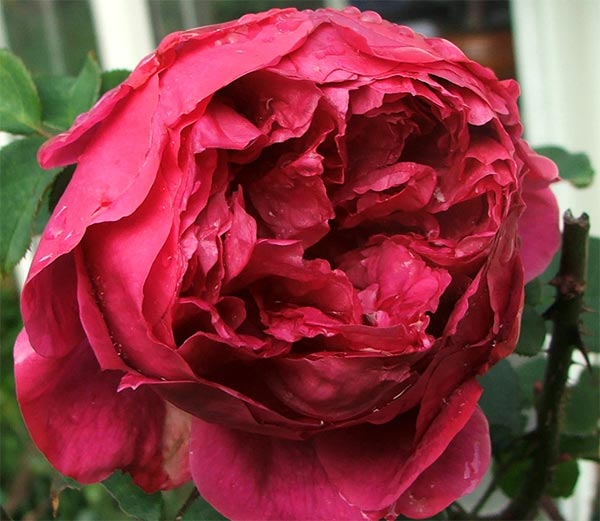 Othello Rose - Still Flowering
Later, Lunchtime...
Brrr! A little sun, no matter how low in the sky, would be nice! I've been potting things up and trimming the ivy by the back driveway. The mulch has now arrived - better get back outside. I've been gardening without gloves, just to feel that dirt again, and my fingernails are filthy. Hee hee...
Not Much Later - Darkness!
I feel as if I've started ten different mini-projects, and am nowhere near finishing even one. I have a big bale of mulch at the fork in the driveway, ready to be ripped up and distributed. I've laid some weed-mat in the Not-So-Welcoming-As-Yet garden, but I'd much prefer to be using newspaper. It seems silly covering weed-mat with rotting straw.
My Glass-House :

The Moosey Glass-House always needs cleaning up. It's a messy place to work in.
I've started to rake the leaves nearby, and have trimmed and weeded the Driveway Border. Now its lawn edge needs a sharp shovel - tomorrow, task one. Task two is to pot up the germinated seeds in the glasshouse. Success - my sweet peas are growing. But what on earth do I now do with them? Keep them under glass, or put them in the garden? I suspect the former.
I've trimmed the Driveway flaxes. More pots of daisies and succulents have been taken into the glasshouse. There is much leaf mess in the Pond Paddock to rake up and bag - that will be tomorrow's task three. Task four will be to collect some edge stones from the river for the Welcome Garden. Task five involves planting some ivy in there - why not? Aargh - the more I think about the weed-mat (which took ages to lay) the less I like it. All these plans and the weather forecast tomorrow is for rain - the true test of a winter gardener.
Eek - The Middle of the Night
Right. This is a first. Sorry about this. It's 3 am in the morning - the head gardener is wide awake, snug in her winter bed, worrying about the weed-mat. Worrying (in a nice way) abut the Welcome Garden. More questions zooming around her head than British bumble bees zooming around the London Rooftop Garden's lavender. So, sheepishly (silly adjective), I have made a cup of tea, and regrettably the only way to compose self for sleep is to formulate a better plan and write it down. At 3 am. Briefly I wonder how many other gardeners have done this. Ha! Don't all answer at once!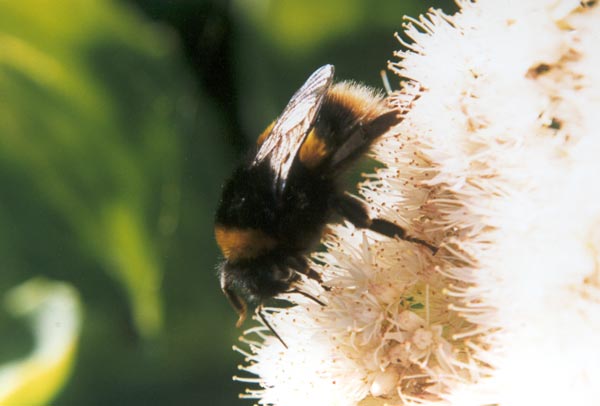 A New Zealand Bumble Bee
The weed-mat cannot stay. It isn't the natural way to create a garden border. I have gardened a whole life-time trying to be loosely organic, and cutting the choking plant holes in the black plastic felt so wrong. No. This cannot be. So the first decision is made, and the weed-mat will be removed at first light. There is definite merit, however, in laying weed-mat under paths. So a small, random, weed-matted path could loop in towards the fence-line. Problem - try falling asleep while struggling to visualise a brand new path, trying to 'see' the best shape, the entry and exit points - not to mention its philosophical purpose! Aargh!
Winter-Flowering Hebe
New Plants!
Which brings me to something else - new plants! This whole area needs planting with natives. Hebes will be nice, planted close to the driveway edge, while Coprosmas, Corokias, Flaxes and Pittopsorums are tough enough to live in the interior. Some Renga Renga as an edging, and maybe some silver Astelias and (hee hee) some red cordylines. Ha! Maybe a sextet of trunkless red fountain cordylnes - not one single specimen sighted, by the way, while in London. So a trip tomorrow to the little nursery which sells good smallish natives - let's not be greedy, let's give the plants a good chance to develop their root systems...
I have three very puzzled cats walking all over me as I write. The cat-mother is awake - is it breakfast time already? Right. I think I've put my problems with the Welcome Garden to bed, so to speak. Time to do same with myself. Goodnight.