Nude rhododendrons - aargh!
More and more of the rhododendrons in my garden are in flower. Later this week I'll be busy visiting some 'proper' Azalea and Rhododendron gardens. Nice - but I hope the strong winds have left some flowers on the shrubs. Nude rhododendrons - aargh!
Percy Wiseman Rhododendron
Tuesday 22nd October - More
My own garden is looking rather nice, I (modestly) think. It's full of green growth - almost time to pull out the plain purple Honesty plants. They've been filling spaces wonderfully, flowering on and on for weeks. The variegated ones (both purple and white flowering) can stay on longer. My new Percy Wiseman rhododendron is flowering in the Driveway Garden, the Wisteria on the patio pergola is now in full flower, and luckily the flowering cherry trees in the pond paddock still have their fluffy pinky-white blossom.
It's been a quiet day. I've watered, positioning the hoses, and filled the trailer with pine logs. I've chased the hens out of my garden. Bird brains! Hens cannot be herded, and that pesty little brown rabbit watching me from the orchard paddock was almost the last straw.
Spring Canary Bird Rose
Tomorrow I'm off walking up to a saddle in the foothills. Apparently we trudge up through rhododendron forest - not native, of course!
Wednesday 23rd October
No, I'm not off to a rhododendron forest - I'm back from a morning vet trip with B-Puss and my car boot is full of - oops - roses. A new Mary Rose can invigorate my namesake in the house garden, I have a standard Margaret Merril for the Island Bed and a cute little rugosa hybrid called Corylus.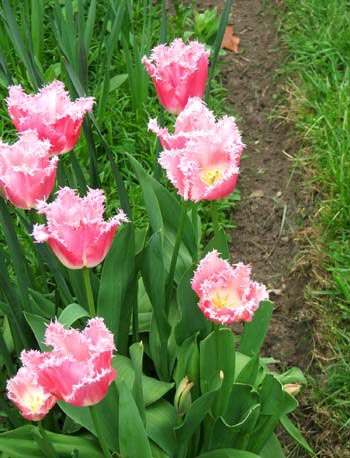 Tulips on the Edge
The hoses are on, and my dog is bored - he wants some garden action. Hmm... Pine tree logs and hoses to shift. The wind is howling in the high trees - my garden is well sheltered at ground level from these ridiculous nor-westers which huff and puff and blow trees down. No more, please!
Thursday 24th October
Hmm... Twice yesterday my chooks got themselves on the wrong side of the fence - my newly mulched paths are obviously chook-magnets. The wind was so noisy, and my big gum tree almost dropped a medium sized branch on my head. I planted all the roses in the Island Bed near my random pink tulips, and then I came inside in a semi-sulk to rest, drink coffee, and try some Mathematics problems. Which I couldn't do either. Oh dear...
Late Frost...
But how lucky are the gardeners who procrastinate and don't plant out their tomatoes and lettuce seedlings when the newspaper says they should? That is, last weekend? Last night there was another late frost, while my lucky seedlings slept, safe and sound, sheltered behind the glass-house. Hee hee! I walked over my slightly white lawn to feed the hens this morning and giggled.
Today in the garden I will try a 'little-of-everything' approach. A little weeding, seeding, feeding - and of course some reading, on one of my garden seats, enjoying the country ambience. Cross my blue-garden-gloved fingers there will be no wind.
B-Puss
Saturday 27th October
I am sorry to say that my white cat B-Puss was buried in the Hazelnut Orchard yesterday morning. He was suffering from lung cancer, which the vet says is 'quite common' for cats.
Oh dear. I will miss seeing that flash of white out of the corner of my gardening eye. B-Puss, desperately trying to catch one of those pesky pigeons, or a flying tree leaf which he thought was a bird. And such a bright white - not such a good colour for a hunting cat!
Good Bye B-Puss
So it's goodbye to dear B-Puss. That's 'B' for Brilliant.