Same old story...
At the beginning of February I remember making a serious New Month's Resolution to work really hard, and finish absolutely everything that needs finishing. Well, it's the same old story - I'm lagging behind! And the weeds just love me!
Friday 16th February
Happy belated Valentine's Day to all my human loved ones, for two days ago. And to all the loved plants, trees, flowers, shrubs, bulbs, corms, tubers, grasses and seeds in my garden. And, last but not least, to my cats and my dog, and possibly my chooks (not you, rooster, since you charged me two nights ago).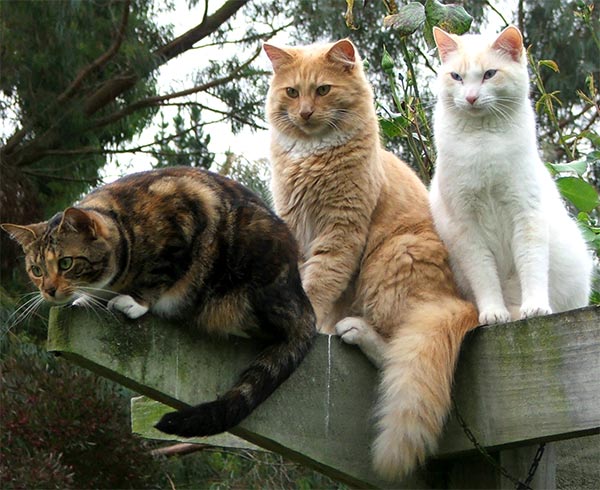 Three Cats and a Pergola
I've had a busy couple of days - the women's triathlon draws near, though my support crew expert (non-gardening partner) says I should be 'tapering off' my training. Hee hee. Today I have the whole afternoon to taper off and listen to the cricket - and hopefully make some garden progress. I'll be laying newspaper and mulch, weed-mat and stones. Not all at once on top of each other.
My Weedy Garden
The garden's been irrigated, and the weeds are showing their appreciation by popping up everywhere. But I don't mind - weeding is therapeutic - isn't it?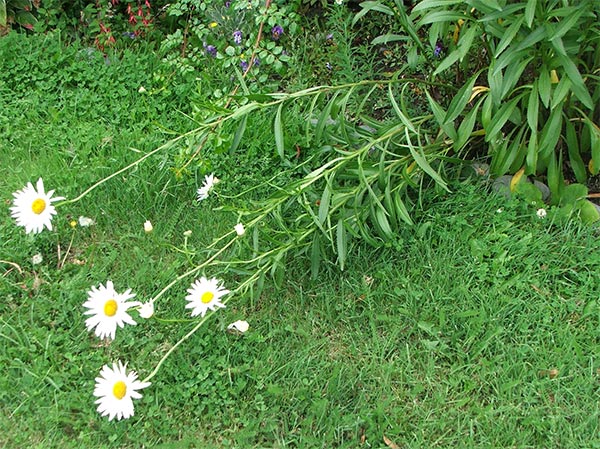 White Summer Daisies
Later...
I've been semi-good. I dug some damp ash off my burning heap, and spread it on the garden by the glass-house, plus mulch. Then I did some speed weeding in the Birthday Rose Garden, ripped out and cut up the pansies, and scattered the bits around like the garden self-seeding fairy. Now I'm inside to seriously watch the cricket on TV - it looks like we are finally going to win a game. As a patriotic New Zealander I must be there!
Saturday 17th February
Hee hee. We beat Australia at cricket. Nice. Now, today in the garden will be best described in two words: continue mulching. I am always mulching! It's great for the garden, not so exciting for the garden journal! But wait - I should be able to write a whole scientific article on this noble gardening activity, if I am a serious gardener. Hmm...
Buff Beauty :

You can see this beautiful rose in my rose pages.
It's lunchtime and I've spread five more barrowfuls of damp ash, and covered it with mulch. It's a dirty job, so I did some water race weeding to wash my feet. Now I've run out of weed-mat, and it's lunchtime anyway, so I'm having a coffee break. I've found a happy little gorse seedling colony, thriving underneath the Buff Beauty rose by the water's edge.
My Birds Do Have Brains!
Thinking of things watery, I've been concerned that my chooks on their free-ranging days in the Hen House Gardens haven't known where their drinking water is. A flowing stream, a gentle slope, the noise of trickling, gurgling water versus six bird brains. Phew! I saw them all drinking out of it earlier this morning. That's one less worry! I refill the water in their run, but it evaporates quickly and gets dirty too.
Pink Fuschia
My triathlon is tomorrow, plus a big Botanic Gardens Plant Sale immediately afterwards, then another cricket match to listen to - what a day it will be! But for now, today is what matters. I need to return outside and conquer this gorse colony. Back much later.
Much Later...
I have gardened for over six hours. The gorse has gone. I've completely finished a new part of the water race edge, using old feed bags instead of weed-mat, and covering them completely with stones. It looks great! It's a lovely time of year to work on the borders which edge the water race, because the water's quite warm. Also I can see where things, for example the hostas, actually are. Just a few little observations, though.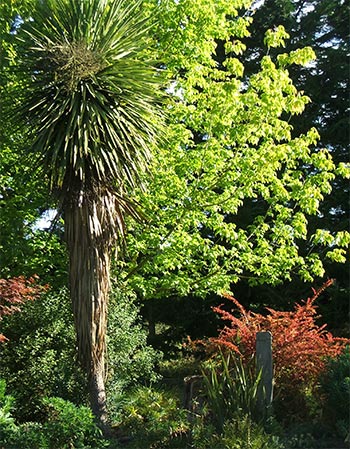 Sunny Foliage
Sun and Seedlings
Hmm... While weeding the water's edge of the Birthday Rose Garden I noticed two little sets of seeds. Good news - the purple leafed Ligularia has thrown a lot of seedlings around, mainly on the steep bank. They have purple leaves - nice work! And now for something rather scary - there are lots of cute little Gunnera seedlings, each about the size of a small bird. When they're tiny they have the sweetest little leaves! What to do? Panic? Reach for the spray? Or make yet another Big Gardening Mistake and let them grow for a few years? I'm far too much of a softie!
Sunday 18th February
Ha! I am apres-triathlon, which was heaps of fun. It was foggy, and I really enjoyed the biking. It didn't matter that at least twenty ladies with - ahem - larger frames than mine pedalled past at the speed of light - there were about one thousand of us in the race! Anyway, I'm home, feeling rather sleepy (five a.m. start), but determined to garden all day. Hee hee - I'm going to wear my women's triathlon medal!
My plans are simple - I'll work my way along the water race, doing what needs to be done. I have a new roll of proper weed-mat. I'll weed and trim the lawn-side edges of the Hen House Garden, Middle Garden, the Dog-Path Garden and the Willow Tree Garden. Hope that rooster doesn't get too pecky. Yippee! I am a super-triwoman-gardening legend.
Monday 19th February
Yesterday, like the New Zealand cricket team, I was a winner! I wore my triathlon medal all day, and worked hard in the water race. It was beautifully sunny, and warm, and the water felt lovely. Even my rooster was nice to me, and we won the cricket - what a grand day!
New Year
Photographing Roses
Eek! B-Puss is insistently cleaning my fingers as I type. Covered in white cat hairs, I am off on a photographic adventure - my mission is to take large pictures of the Sam McGredy roses in the Botanic Rose Garden.
I will pop into the pool en route and swim for a kilometer or two. Then perhaps some sushi for lunch - and hey! How about some choir practice? Another busy day of retirement, and I haven't even mentioned the garden. Hee hee.
Lunchtime...
I'm back, my camera full of Sam McGredy roses. Lots of the rose beds were full of his roses - I think he's quite important! Things I didn't know - that he bred Moody Blues, for one, and the pink New Zealand rose called Aotearoa.
Odd - the gardens were full of older ladies carrying handbags and little canvas seats. They weren't sitting down anywhere, just scurrying around - wearing their summer three-quarter pants. A retirees' convention? Water colour painting group? A Garden Club? Aargh!
I've just had a rose idea - I could start digging a totally new rose garden, and fill it with Sam McGredy roses. Then hybrid teas would be better represented, and my research and photographic assignment would be aptly rewarded. Hee hee. Right. It's time I did some gardening. February is almost over - it's such a sneaky, short month, and I want to finish first! I think I feel like standing in the water race - in the shade!
Yellow and Red Rose
Tuesday 20th February
Rusty the dog is puffing and panting at me - I have promised him a Great Dog's Day Out, starting with a bicycle ride before the sun burns off the low cloud cover. Then we two will be gardening friends - I will finish my waterside weeding and mulching, and pick some plums (he likes to eat plums - oops). Already the first Moosey tomato (finally!) is sitting proudly on the kitchen bench.