Secret strategy...
Secret strategy - if I start a brand new page in my gardening journal, I will have to spend the remaining three days of February gardening madly. Otherwise I won't have anything to write about.
White Clary Sage
Monday 26th February
I've already done one hot hour raking up gum leaves from the lawn, and trimming and dead-heading the flowers in the Island Bed - dahlias, my Sally Holmes roses, some frothy Gypsophilia, more stinky Clary Sages. It's coffee time, and I am soooo excited. Can one make an Excited About The Following list? It doesn't quite fit the sentiment - so it will have to be paragraphs. Bad luck!
Well Done Taj-Dog
Firstly in a moment of what my friend calls 'simpatico', just as the Moosey Team are organising their sponsorship of local stray cat rescues, our dear departed Taj-Dog has his picture featured on a pet rescue newsletter in the USA.
Go Taj-Dog! :
The USA pet rescue people - Yakima Valley Pet Rescue - have a fabulous colour newsletter and a fabulous web-site too. I am so proud of my dear old dog - I'm off to his Almond tree in the pond paddock to place some flowers. It's been a while since I concentrated on some serious Taj-Dog memories!
What Plant Am I?
Secondly the Moosey Team gets a silly idea, and act on it! Our What Plant Am I? Questionnaire is out there on the home page and in the internet cosmos. I've played the quiz over fifty times, and I still keep getting surprised.
Peachy Pink Roses
Being a Rose
Being a rose is my most happy ending - of course, roses are universally loved for their beauty! Daughter of Moosey is a slightly weedy and annoying perennial Agastache - oops! She's not so impressed...
Calendars
Thirdly, the Moosey calendars are also about to be launched. I went a bit silly designing and printing garden calendars for personal Christmas presents. Just me, no graphic designer, no professional production - simple home-grown calendars grown from seeds and cuttings. Or, practising my spam-speak, a chance for the Head gardener to show off her brilliant garden, wonderful roses, beautiful cats and dog, and intrepid New Zealand hiking journeys on her days off. Hee hee. That's free hee hee, by the way!
Already I'm planning more - annual flowers which are so scrumptiously colourful, variegated plants for the foliage connoisseur, flowers with insects... These calendar ideas need to be organised into their own list! Hee hee again...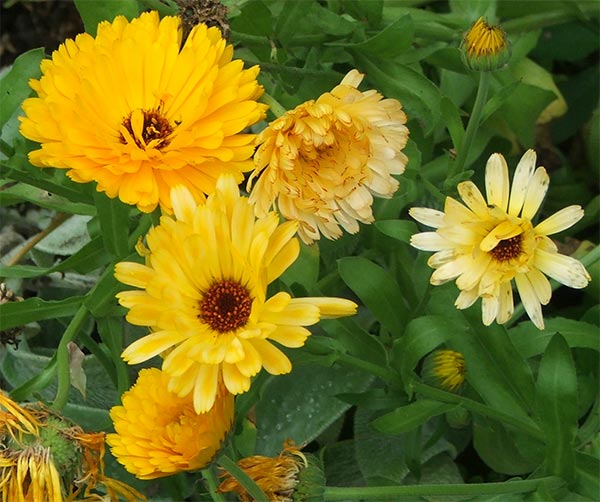 Annual Calendulas
Later...
Now it's mid-day and ridiculously hot - I suspect too hot for serious gardening. I'm shifting the hoses, and watering the pot plants - that'll have to do for a few hours!
Tuesday 27th February
Yesterday was very hot - I did return to the garden after staring at the Oscar film stars walking the red carpet on TV for an hour. Hmm... Raking the paths in the Wattle Woods was much more satisfying. Today I'll be able to burn the millions of gum leaves thus created.
Poultry News
My rooster looks disreputable - he's down to two remaining tail feathers, giving him a rakish, fat-bottomed look. And he pecked me again - that's me carrying wheat and greens, and the mashy remains of a plum crumble. Ouch! Bad bird! A rabbit has been busy digging holes underneath the chicken run fence.
Rusty :

Rusty the dog is quite often in disgrace...
And a couple of days ago there was an incident with Rusty the Dodgy Dog, who 'fetched' one of the black hens, and deposited her in the grass by his kennel. There she sat, dazed and confused but unharmed, covered in dog slobber. Oh dear. Maybe there's a dog-behaviour pamphlet out there, entitled 'Learning to Live with Poultry'. More Moosey vigilance is required - sorry, hen! I've cleaned out your Hen House as penance.
Wednesday 28th February
Eek! Goodbye to the February garden. There is so much that I meant to do, which I haven't done... And Wednesdays are walking days... Oops.