One muddy hour...
I've been back from my holiday now for over a week. Gardenwise I've only spent one muddy hour in the patio garden cutting back the Nepeta. This is simply not good enough!
Thursday 12th July
It has been very wet, except for two consecutive days with six degrees (Celsius) of frost and the limpest, lamest sun. I've been walking around the garden with Rusty the dog every day, but so far the urge to stop awhile, kneel gracefully and weed or trim has evaded me.
Rusty the Winter Dog
Welcome to My Garden
I am not uninspired, though. My Fine Gardening magazine talked sternly about the first, welcoming garden - I always knew that simply erecting a 'Welcome' sign wasn't quite good enough. So when the rain and drizzle stops, there's one of my first jobs. The rugosa hedge can become part of this area, too - I thought inside the front fence-line. Nice to have found a place for it - but do sheep eat rugosa leaves? I bet they do! However they are only on this patch of grass when passing through...
Yesterday I even went to the local library to get some garden books out. Fireside reading...
I also realise that July is passing, and I should start pruning my roses. With over three hundred, one has to start early. As I prune I can check positions, shift if necessary, and then spread some compost. Winter spraying, too, would be beneficial.
Do you know what I should do? Get dressed in old thermals, light the wood-burner, organise two complete changes of clothes to lurk on the back porch and by the front door, and just do it! I have explained the plan to Rusty - he can be a gardening dog again, after ten days of kennel and fireside house boredom. I can do this! In fact, I can jolly well do it twice, or three times this morning!
Late Morning...
Ha! I did two hours of successful trimming and pruning. My cheerful garden helper (daughter) wheeled the wheelbarrow and was entrusted with the edging shears to prune the flower carpet roses. I am tidying up the house gardens first. After a warm-up and a coffee I'll return to dig out the clump of bronze fennel, and shift the new Gruss an Aachen rose. See - the thermal gardening plan has worked!
My Winter Garden
Friday 13th July
A black day for some of my overlarge grasses which had planted themselves in the rose gardens around the house. Out they all came! Today I had almost the perfect personal winter day. I swam over a kilometre and didn't get bored. I had a delightful breakfast with daughter and friend. Then I gardened for two hours, pruning, working my way slowly around the house gardens. Then I played the piano and actually thought it sounded good. Finally I returned to the garden - another successful wheelbarrow full of rose prunings and trimmings.
Olive Oil Hand Cream
I am putting lashings of olive oil hand cream on my hands - particularly thumbs and index fingers, those digits which do all the garden grabbing. The trick is to apply before each session as well as after. Hmm... It's taken me over ten years of sore hands and rough skin to work this out? Just to spoil (ever so slightly) my day - the rubbish pile wouldn't burn, even with newspaper dosed with diesel. If this is the only thing that goes wrong in a day - well, well, well!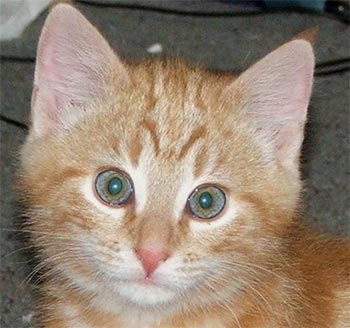 Percy the Ginger Kitten
Saturday 14th July
I've had another beautiful day - first some gardening, driving to the snowy mountains, laughing at Rusty the dog skidding on the lake ice to fetch a stick - then more gardening (now the Hypericum is trimmed back from underneath the house-side archways). And I have gardening plans galore. I think I'm slowly getting back into the mood, after wallowing in the warmth of my world trip memories for a week or so.
Nine Cats
Because having nine cats (oops) could be considered excessive, the three new foster kittens have deliberately been given a low level of impact in this journal. They are friendly and leg-rubby, love climbing trees and bouncing across the gardens and the lawn.
In the evenings they change into sleepy, full-tummied fireside cats. Really, they are so easy to look after! And they adore B-Puss, my adorable white cat, and he likes them...
Dear Smoocher :

Smoocher the cat spent such a short time with us, and left such a huge set of furry memories! Percy my ginger foster kitten is actually a cousin of Smoocher's.
Percy reminds me of Smoocher, my dear ginger cat who died young of lymphoma. Hissy Puss, or Histeria, has turned into my best friend, while Lilli-Puss has the loudest rattling purr.
She's still a bit nervous about the dog, and the other house people. Lilli has slim long legs - I think she's absolutely beautiful. But I would, being her human mother-cat...
Go The All Blacks
Go the All Blacks in the rugby, by the way. Daughter has bought some beers to watch the match with, and I am cooking a drunken chicken, which involves indelicate placement of a beer can. Enough said.