Too cold to garden?
It's mid-morning, with low sun, an early morning frost, and the air temperature is only five degrees (Celsius) - brr! Too cold to garden? Possibly, but not too cold to visit the local nursery!
Still Flowering!
Thursday 19th June - Three Days to Mid-Winter
Today's winter gardening plan involves tidying up the garden at the end of the new bridge, called (unimaginatively) Willow Bridge. Except that the ground where I wish to dig is still frozen. Blast! I feel like a change of scenery, having spent a gardening lifetime in the gloom of the Shrubbery - well, the last few weeks, anyway.
John Clare :

John Clare, named after a poet, is still trying to flower for me in the middle of winter.
And I feel like seeing some non-green colours! Thank you to the pink English rose John Clare and the unknown yellow perennial daisy for being the only big colour flowers in the whole garden.
A semi-scientific book on hypothermia reckons that digital skills are impaired when the temperature is less than eight degrees Celsius. Ha! A good reason to lurk inside and drink more coffee, hee hee.
But I can't waste a dry day. I've been outside standing (shivering) on Willow Bridge, and already I have some sensible plans. My English Elegance rose get moved over the bridge into more sun, and some patches of daffodils which are now hidden almost underneath the bridge wood need to shift quickly. The little Hebe hedge moves in, and it's done! Nice work, woolly scarved and gloved Moosey, winter gardening legend.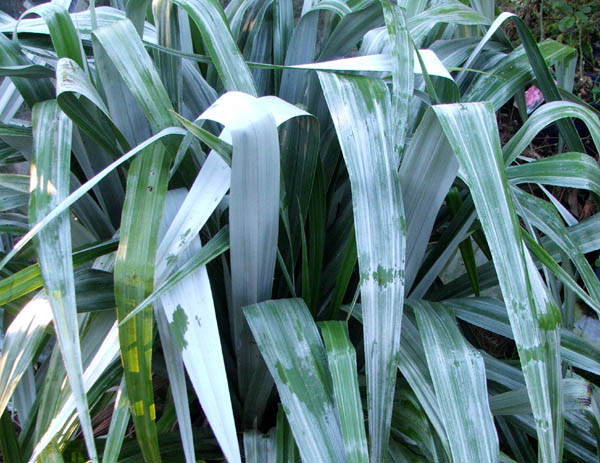 SIlver Astelia
Two Gardening Hours Later...
Brr! That's two hours closer to the mid-winter's solstice. I've laid stones for the path which comes off the bridge, planted hebes, shifted and planted roses, and found a place for Senora (Senor?) Meldon, a small leafed rhododendron gifted by a friend. But soon after the sun went down, I went inside.
Earlier at the supermarket I bought a new bare-root rugosa rose - Hedgerow Beauty is its name, and I've never heard of it. Nor has anyone else in the Google universe (except the growers). But more to the point, I've planted this rose by the water race, where it will enjoy sun and fresh air. If bored, it can attack the lawnmower man.
I know which garden area I need to work in tomorrow. I'm afraid it's a long, muddy-knees weeding assignment in the Willow Tree Garden. I've just seen heaps of coarse green carex seedlings for recycling, with dandelions and tenacious, healthy networks of clover for the compost heap.
Friday 20th June
Webmaster Son :

Yippee! Older Son of Moosey, AKA Webmaster, is medium-old (or should that be medium-young) with a birthday today.
Happy Birthday!
Many happy returns for this summer's day in faraway London. Meanwhile, waiting for the shortest day, shivering and rugged up in thermal layers, Mother Moosey (that's me) is celebrating with a mulled birthday wine. Rusty and I have just been for a foggy walk, it's nearly dark, and it's about three degrees... Brr...
Big Pink Rhododendron
Today I weeded and fiddled around for a couple of hours in the Willow Tree Garden, until my hands just got too cold and my nose started running. I've pulled some Stachys apart and replanted pieces along the lawn's edge, and dug out all the rogue carexes, replanting them in proper grass-clumps in the middle of the garden.
Room for Rhododendrons?
Hmm... There might be room for more rhododendrons, now that I've removed the standard roses and chopped down the Escallonias (which don't seem to be resprouting, but no matter). A few more shrub roses would need to move out to make sensible space. This isn't a spectacularly sunny part of my garden...
Good Dog News
Exciting news for Rusty the red Border Collie - I'm making him his own personal dog-agility course. After a few slack years I've decided he needs more to occupy his dog-brain, and I need to play my part. Yesterday I taught him to 'lie down' - he got it in about five minutes, and all today we've been practising. This weekend we'll start some jumping and maybe some slalom weaving. I have a library book which tells me what and what not to do.
Rusty the Dog with Tiger the Cat
Ah! Finally I'm warming up. I love my garden, even if I don't do much in it and complain about the temperatures. After all, tomorrow is the shortest day!