The worst winter month?
OK - so today the weather has turned nasty again. But this is to be expected in August - some even suggest it is the 'worst winter month'. Aargh! Just when I (and my tree frogs) thought it was time to celebrate spring...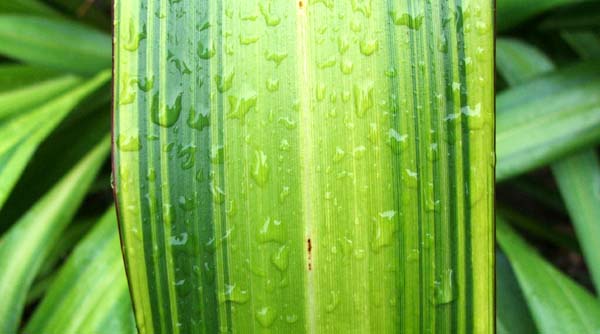 Wet Flax Leaf
Friday 8th August
Anyway, over the next two weeks I have the Olympic Games to enjoy. I'm happy for rain (not snow) to pour down on everything I've planted and shifted. From the warmth of my house I can admire the freshly mulched Shrubbery and watch for more spring daffodil bulbs between races.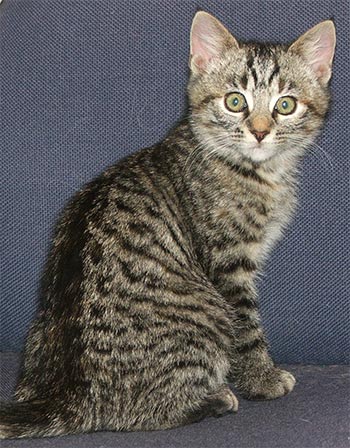 Histeria as a Kitten
Hot Cat Company
One thing's for certain - hot cat company is guaranteed whenever the log-burner is lit in the daytime. Histeria the Tabby (who hissed and spat at me for weeks when she arrived at Mooseys, and I won't let her forget it!) is the most relaxed of my fireside feline loungers. In those early, difficult days I thought she might just make the grade as an official hay-barn cat, no more. Well, well, well...
The Tree Frogs Are Back!
Well, they were last night. There was a massed male chorus of frog-chirping echoing down the water race - I could hear them from inside the house. How many? At least ten distinct 'chirpers', though their canonical celebrations might prove to be a little premature, temperature-wise - it's three degrees Celsius and hailing...
Saturday 9th August
Eek! Came downstairs this morning to two things - firstly snow fluttering prettily down outside. Secondly my cats were busy inside tormenting a very slow rat. Well, the cats with brains were - I watched Mugsy my disabled cat sit down next to the rat, who sat up on its back legs. The two creatures then made friends, calmly sniffing noses.
The younger cats then took up where they left off - enough said. Finally, with a well-executed slog sweep (a cricket shot) I batted the rat out the open door into the snow.
Olympic Gardening
Today there really should be gardening of Olympic proportions, as this is the first day of games competition. We'll see. Hopefully the snow flurries will stop, and I can get organised. I'm off to feed the hens (and the sparrows, starlings, finches, blackbirds, magpies, hawks, pigeons...)
Flowering Wattle Trees
Sunday 10th August
I am not going to list all the Olympic events I'd like to watch today. Suddenly I am terribly interested in rowing, men's gymnastics, and women's weightlifting? No - I am going to garden. Yesterday's weather consisted of blustering patches of rain, and/or sleet, with struggling sun in-between, so it made sense to go couch cycling from Beijing to the Great Hazy Wall of China (watching the men's road race). But today is a different story!
First Pink Camellia :

The first Camellias to flower are a delicate pale pink.
Firstly, I'm off on a buds-to-flowers mission. There might be more Camellias to see, and definitely some miniature daffodils. It's important to keep the gardening eyes wide open - weeds can be so visually pushy.
Which area of the garden should I work in today? How random am I allowed to be? What do I require Non-Gardening Partner to do for me? How many silly questions can a procrastinating winter gardener come up with before she slurps down her second cup of coffee and goes out there?
This Coffee is Cold!
Honestly, sometimes - just sometimes - gardening journals (and the images they contain) can be a little counter-productive.
Monday 11th August
Hmm... I could win an award for the most intelligent dithering ever known to gardening man-or-womankind. For I have been 'fixing up' the Stables Garden for the last two days, and so far I have dithered about the following:
1. Three Large Toi Tois

Semi-trashed by last winter's snow, scruffy and not very nice.

2. The Bay Tree

Misplaced, if it grows any higher than my knees (which it will).

3. Irises

Must be planted where they will enjoy the sun and not get trodden on.

4. A Trellis?

I haven't ever had a trellis. My two spare Easleas' Golden Rambler roses could cover the trellis and then reach for the Stables roof and the sky.

5. A Path?

When a garden border looks shapeless and silly, my first thought is to push a path through it...

6. More Roses?

Ah yes - this one comes up rather often...
I ended up sort of sorting things out. Irises and new spare bush roses are in, Toi Tois are out - they dug out rather easily. The Bay tree and a red toned flax have been moved. I have weeded and trimmed flaxes and filled in holes with rotted horse manure.
Easleas Golden Rambler
Scrapped!
My path idea has been scrapped - the first rule of paths states that a path must go somewhere sensible and useful. The second rule states that if a path is incredibly mysterious and interesting, then the first rule doesn't matter. Sadly neither of these rules applies.
And since Easleas Golden Rambler is such a healthy thug of a rose, I will ask NGP about a rather solid trellis. Would he like to 'engineer' one? Hee hee...
These are my first retirement Olympics - today I've been listening to swimming races while gardening. I've been to the gym, and when in front of Olympic TV have taught myself to play Sudoko (which is puzzlingly easy, using the Great Moosey Mathematical System). Now I'm off to ladies' choir practice - my goodness, it's all go, go, go. What a great retired day I've had!