Hens, waterwheels, and cricket...
Hens, waterwheels, the cricket, and more great gardening plans will happily fill up my weekend. Wish my head-cold would depart, though - the garden is far too full of the non-romantic sounds of snuffling, sniffing, and sneezing...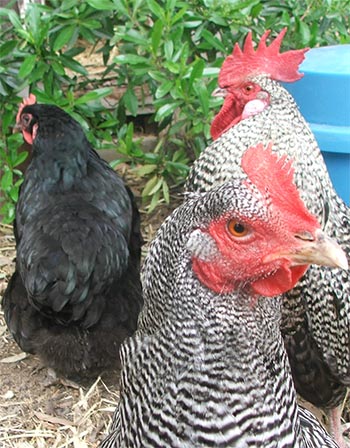 Hens and Rooster
Secret Hen's Business
This morning I have some secret hen's business. My friend's new pure-bred hens are not laying, so I have concocted a small ceremony (with a corn cob, some rice, and a poem) which I will conduct this morning by her chook house - to egg them on, so to speak. And no - I am not barking mad - not quite...
Egg-Laying Poem
My pretty hen,
When, when, when?
When's the day
You're going to lay?
You're a chook,
You peck and 'pook'
You preen and scratch
And chickens hatch...
Get in that nest.
Do your best.
Shake a leg!
Lay an egg!
Saturday 4th April
Hmm... sorry about that. Today in the garden I'm almost ready to move down the Wattle Woods. I hope this coincides with gurgling water, powered by the waterwheel, moving down the Wattle Woods stream. That would be so nice - all my plantings make more sense when the water flows. A stony, dry-stream bed and dry ponds are my second choice, style-wise.
There are, however, just a few Henhouse Garden matters to attend to.
Replant white irises.
Dig out dead rose.
Plant flax.
Plant pelargoniums in concrete trough.
The circular garden called Henworld needs a quick sprucing up, and some new Silver Beet (chook-food) planted - will have to get seedlings from the nursery. And I need two more Choisya Sundance shrubs. But first - where's my cup of tea?
Spider
Much, Much Later...
I have had another brilliant day. I've cleared the Wattle Woods almost as far as the Pump House. I've been wheeling out rubbish and burning - I've also dug out the old grasses at the back of the glass-house. Non-Gardening Partner has a trailerful of stones ready to plop into the water race - a current encouragement for a stronger water flow through the waterwheel. Tomorrow we will try this out! Scary!
Sunday 5th April
The waterwheel is going! Slosh, slosh, slosh - what a wonderful noise. I've had the whole day off - sometimes one just gives in to a cough and a cold and semi-sulks on beds and couches. Sorry about that.
Monday 6th April
Right. Today I am back, with apologies about not keeping my sulking session private. I have several important little details to attend to before I continue the Great Gardening Sweep. Firstly, the Hen House must be cleaned out. Will any of the visiting ladies peep inside my chook house? You betcha - these are country women. Fresh barley straw will impress. Naturally I will start and finish the Hen House Garden tasks, itemised on Saturday 4th April's list (see above)...
Then I need to do some contour engineering on my Wattle Woods stream. None of the water which sloshes out so strongly at the start is reaching the little pond at the bottom of the Woods. I'm sure I can recharge the local aquifers without compromising the ornamental design of this watery feature...
Autumn by the Water Race
Then, if I've still got enough 'mind over matter' (mind over splutter) left I will organise the Pond Paddock edge of the Wattle Woods. This is cosmetic gardening - slicing out a squillion Lychnis seedlings ( I am truly grateful, but I don't need you all), and so on. I'm sure this edge would be perfect for Lavenders and tough roses. And more irises. Sure I'm sure! Well, this morning I'm sure...
See - I said I was back!
Much, Much Later...
In fact, to be absolutely precise, SEVEN HOURS later... This certainly must be the longest gardening day I've ever had. Wow! So much achieved with only three major coughing fits, and a couple of serious nose sniffs...
New Gloves and Potting Mix
Have I done the Hen House chores? Yes. Have I weeded the edge of the Pond Paddock? Yes. Have I cleared vegetation and old gum leaves from around the Wattle Woods stream? Yes. But the water is still not reaching as far as it used to. I have also weeded the Graham rhododendron's wee garden and done the following (near the glass-house):
And, as a final touch, I've cleaned out the glasshouse itself. I know that visitors peep inside such things... It has been a very proud day. Hurray for meeeee!