My very first senior gardening moment...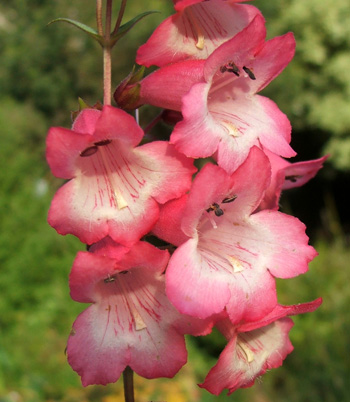 PInk Penstemon
Eek! Possibly my very first senior gardening moment - the first of many? Sitting reading my detective library book, lingering over the breakfast pot of tea - then I remembered the Big Easter Nursery Bargain Bin Sale, which had been going for - shock, horror - over an hour without me!
Friday 10th April - Good Friday
I grabbed Non-Gardening Partner and we ran! Well, we drove, and then he pushed the (three) trolleys to the check-out. So I'm back with a carload of Lavenders, Choisyas, Verbenas, Daisies, Coprosmas, a huge Miscanthus, a Sophora, some spiky succulents for pots, Cistus, a green Cordyline, and some lovely Saxifrages with rather large leaves... Fancy forgetting! Bargain bin hunters understand the need to be relaxed and early...
Saturday 11th April
The Garden Club Visit preparations are in the final stages. It's taken nearly four complete weeks to get around the whole garden - doing things properly, of course. Imagine being a real open-to-the-public garden. I wouldn't do anything but garden...
Gunnera Still Going Strong
During the last two days I've been working the 'home straight' - doing the house gardens, the Shrubbery and stone wall, the Island Bed, and so on. Not bad, not bad... Today I move sideways into the Pond Paddock, replant the big flax and reorganise the pond's path (casualties after a visit from a truck and digger). My Easter nursery sale bargains need to be planted (when in doubt, plonk them in a bigger pot).
As a foliage fancier, my new Saxifrages look nice - their leaves are big enough to look really, really interesting. I will check the label before planting - wouldn't want to lose them. One final word - restraint. It's the second day of the giant Easter Nursery sale and I am not going back to see if the bargain bin has been restocked. I am far too busy.
Hmm... Late Lunchtime...
The Pond Garden is done. The waterside path around the pond is clear - none of the ladies should trip over a rogue flax leaf and fall in, or get their heads spiked by a rugosa rose cane. I've planted Pelargoniums, Lavenders and Cistus shrubs - and found the perfect place for the three dollar Miscanthus - in behind some golden variegated Coprosmas. There is much golden foliage in this garden, and I remember how light and beautiful the shrubs look in the depths of winter. Winter! Aargh!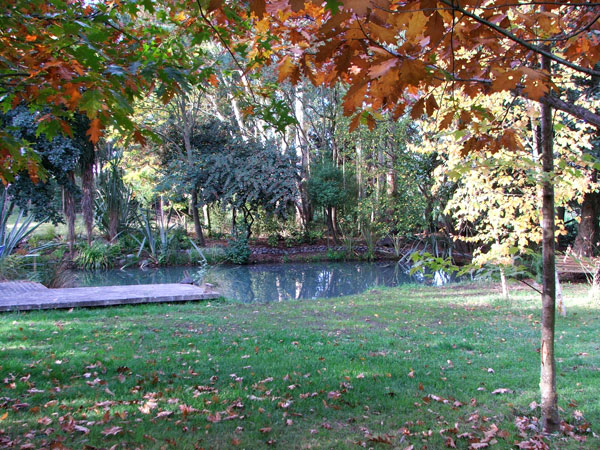 The Pond in Autumn
Now I await the arrival of Non-Gardening Partner with lunch and kitty litter - rewards (human and feline) for a long, busy morning. Yippee! Perfect timing - he's here.
Wattle Woods Path
Much Later...
I've cleaned up the bottom little pond where the water from the waterwheel is supposed to end up (it is not the waterwheel's fault). My Garden Helper thinks I could put the Moosey castle sculpture on a wee island in the middle of the pond. Nice idea - I'll do it.
Sunday 12th April
Ha! It's lunchtime, Easter Sunday. I've been pottering around in the lower Wattle Woods, poking at the wriggling stream, clearing old grasses out, and thinking... Non-Gardening Partner says that the water race has been rather clean of late - there is no silt. Siltier water will plug up the stream bed and my ponds will fill (in fact they may even flood). I am to be patient. I can do this.
Earlier today I dug along the edge of the Ram Paddock to remove the long scruffy grass. Much nicer! The Shrubbery and the back of the Jellybean Border instantly look tidier. Then we popped back to the nursery sale - it's been my habit in past years to check the bargain bin at least twice. Today I have more Lavenders, a huge disreputable drooping red Cordyline, plus some interesting 50 cent perennials (a Rogersia, a dark leafed Geranium, some tall red hot pokers...)
+10
Well done and congratulations to Tiger the tortoiseshell cat, who came out onto the pond decking and provided jolly decent lunchtime company. She purred, and chirped, and rolled around sunning her expansive tummy. Tiger never usually comes this far into the garden - this could be a new beginning, Tiger reinventing herself...
Much Later...
Ha! My new strategy is to finish gardening one hour before I feel too tired. These last days I have struggled into the house late, showered, and gone all sad. Only the most unsociable of gardeners gets away with going to bed before, say, seven o'clock. And tired, sad, old gardeners have no business writing droopy sentences in their journals. This way I have enough energy left to greet the late afternoon, enjoy a cup of coffee (rather than desperately waiting for the caffeine to wake me up) - and write lots (oops).
The Castle :

The Moosey castle has been slowly disintegrating in my garden for over ten years.
Alas - my castle cannot really be shifted, since the moss is the only thing holding it together. It's an heirloom, surrounded by ferns and hostas. Sometimes it's really hard to find in the greenery! I should try to glue the little broken turrets back.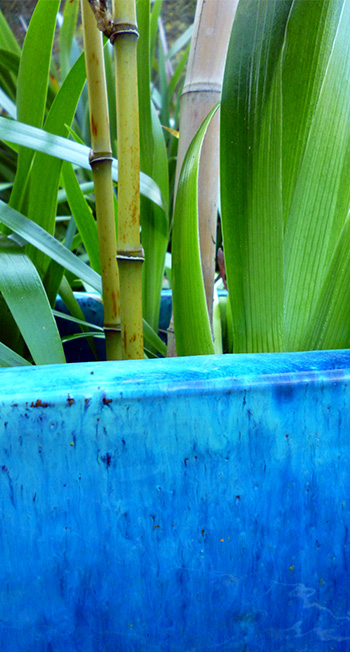 Green Bamboo in a Blue Pot
Tidier
The wriggling Wattle Woods stream is tidier - I've pulled apart two large Renga Renga clumps and replanted them, and trimmed the dead leaves off streamside flaxes. And I have spied the perfect place for a new path - a large Fountain grass (well past its best) marks the starting spot. The path will wander in at right angles to the main path and arrive at the wriggling stream. I might look at doing that tomorrow. Might.
One Day!
So I have one day and one morning until the Garden Club visit. Ooooo - that's pretty exciting! Time enough for all those last-minute things (apart from building a new path, that is) - removing dog turds from the lawn, gum leaves from the patio pots, spiders from underneath the garden seats, scooping up plastic pots (and stray garden tools) abandoned on the edge of a path, rolling up the hoses (we don't want anyone to trip up now), cleaning the house windows (aargh!), vacuuming the downstairs (aargh!), and dusting (aargh!).
And putting flowers in the bathroom and loo. No problem!
Monday 13th April
The big cats are quietly crunching their dried cat-food. Minimus, the upsized grey kitten, is lolling in her cat basket with her toy mouse. My first cup of hot tea tastes wonderful. I would much, much rather build a new path than vacuum the downstairs and do dusting. Phew - that's settled then.
Today I need to plant the following stragglers:
Two Pittosporums - in the Wattle Woods, please.
Remaining Lavenders - Pond Paddock, sunny side.
Red Hot Pokers - back of the Jellybean Border with the others.
Bamboo - corner of the garage.
Giant reed - back of the pond.
My garden must look relaxed and gently planned, so all other bargain bin pots of plants need to be stashed somewhere immediately obvious, if that makes any sense. I will take lots of pre-Garden Club photographs - I might even try doing a video (scary!). I will find my edging shears and do all the lawn edges.
Much, Much Later...
Again I'm feeling great - finishing my work just a little bit earlier than usual. My gardening day has been weird - I discovered a couple of small garden areas that I'd totally forgotten to weed. The Stables Garden and the Elm Tree Garden needed a quick whizz-over. Underneath the Elm tree I've dug out daylilies which had spread too far, planted a pair of pretty foliage Coprosmas, scraped out a million weeds and chopped off a thousand variegated Elm suckers. Further along underneath the washing line I did a quick rose trim (ouch). Minimus the kitten helped me - this was her outdoor 'home' when she was a woodshed kitten (and a 'he').