Beautiful...
Wow. A new week, a new page, and I can't remember the garden ever looking so good. Out come more and more roses, accompanied by the descriptors 'beautiful', 'extremely beautiful', 'incredibly beautiful', and the more colloquial 'oh so very beautiful'. It's rose time!
Sunday 15th November
I've turned into a small-time rose sprayer - I have a puffy plastic 'Fungus Gun' (which is a bit dodgy) and a more organic 'Beat-a-Bug' bottle, perfect for dealing to any rose that needs it.
Rose of the Day
Today's shortlist for Rose of the Day is as follows:
Corylus :

The rose Corylus is named after the breeder's name. She's a Hazel.
The rugosa hybrid Corylus, shining pink flowers and soft feathery green foliage: I love this rose all the year around - foliage and red rose hips definitely do the business off-season. This rose looks real!
Woodshed Rambler :

The Woodshed Rambler has been a feature of the late spring garden for years and years.
The faithful Woodshed rambler, fluffy apple-blossom pink and white: This unknown rose came with the label Cornelia, which it is definitely not. Cornelia wouldn't ramble! It also blooms intermittently later in the season. We won't mention those thorns...
Star of Holland :

Yet to be allowed its own rose page in the roses section - I'd better fix that!
Etoile de Hollande, putting on its first real show in the Orchard. It has such a soft, draping form, though my shrubs are not as fragrant as they should be. That's according to a distant nose memory... Another, planted against the Pond Paddock Archway, has been very slow to get anywhere.
Westerland :

The climbing rose Westerland has its own page in my roses section.
Westerland, leaning against the house, pink, apricot, yellow, tangerine and peach all on one bush. This rose has variety in flower form, too - from sharp and pointy buds to flat and fluffy flowers. And its autumn colours are magnificent.
And the winner is... Rattling snare drum roll, fanfare of tootling baroque trumpets...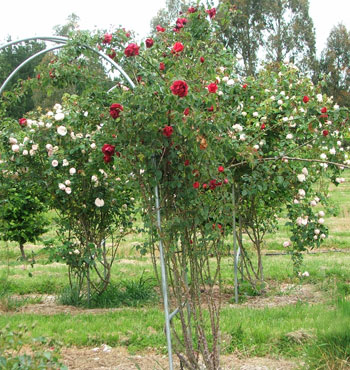 Star of Holland
Etoile de Hollande
A romantic red beats the pretty pinks today, even if its perfume is somewhat subtle... Blame the nose!
First thing today we are off to buy me (note that the different pronouns are a subtle indicator of which wallet will be used) some replacement loppers. Then, hopefully, the remains of the hedge can be organised, shredded, and spread onto my Orchard roses. I'll put their drippers on, too. I love growing these roses out in the middle of the paddock - there are thirteen archways, none of which can really successfully be walked through (ouch) - but who cares?
Right. I have more plans for today. I'll weed out more forget-me-nots from the house gardens and get the hoses on. And the Wattle Woods need weeding, mainly along the sides of the paths. So, without further ado, off we go shopping (I might be sneaky and leave my wallet at home).
Early Afternoon...
I will not stay long inside. The shredding is becoming tedious, but because I am basically a conscientious Non-Gardening-Partner-Partner, so to speak, I'm going back into the orchard to do some more.
Yippee for My Vegetable Garden!
As well as funding the loppers, NGP has organised me a hose which reaches the vegetable garden. This will be the first ever year that I have such an obvious necessity. Surely my tomatoes will show their thanks in the usual manner... Anyway, the beans and peas are up, as are my spuds. Even with the extension I dug in winter the space is only just big enough, too, And my little English Lavender edge-hedge is a pretty touch.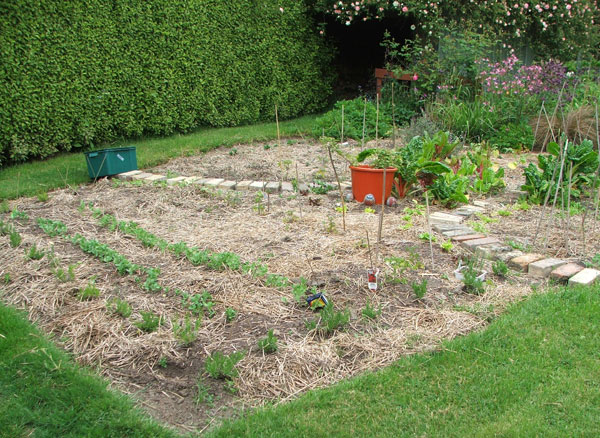 My Vegetable Garden - Spring 2009
Right. Back into the mundane world of garden maintenance action I go.
Mary Rose and Sport
Later...
All the rose archways are weeded. Another pile of branches is ready for the shredder, whose tyre blew up with a loud pouff! NGP has bought some bits for the irrigation, and we've had an encouraging (not nagging) talk about the non-rotating waterwheel.
Gardener from North Wales
A visitor is coming all the way from North Wales to see the garden in February. I've told NGP that no gardener flies half way around the world to see a waterwheel which is not going round and round. His reply is somewhat off-putting - how many thousands of dollars do I want to spend on a waterwheel with properly mounted bearings? He's got me there...
I've had a brilliant day. And New Zealand has qualified for the next Football World Cup - only 32 countries do, and we are one of them. This is brilliant news. Guess who was far too nervous to watch or listen to any of the deciding game last night? Hmm... Me. I really am a hopeless sports fan.
Monday 16th November
Today I'm going to do an hour of 'this' and an hour of 'that'.
This - weeding forget-me-nots and dumping them.
That - preparing hedge branches for shredding.
Simple - no comment or explanation required. But first I'm going swimming. I can 'practice' my choir songs in the water (imagine a trail of musical bubbles).
Shaker's Prayer Iris
And tomorrow I take a deep breath, produce a plate of shared finger food (I am not good at doing this), and go off with the local Garden Club. Aargh! We are visiting an Iris Nursery and a six-dollar entrance garden. I'd better see six really groovy things that I like!
Much, Much Later...
Success! I did everything. The roses are inspiring. The yellow Banksia is dripping tiny lemon petals down with the wind. I think I deserve the day off tomorrow, but I'm not very good at Iris Nurseries - I find rows of rainbow colours a bit over the top. I may not buy any.
Tuesday 17th November
I bought a yellow flowering Louisiana iris for my pond. And I took lots of pretty pictures - of ponds, and ducks, and roses...