Normal spring transmission...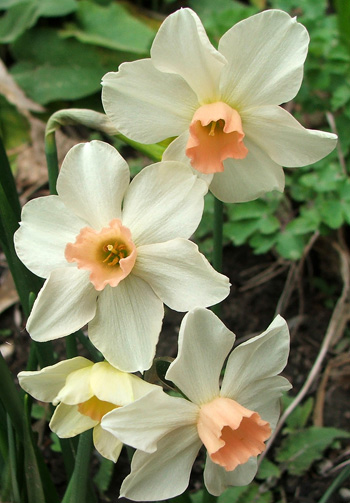 Miniature Daffodils
Well, well, well. Normal transmission for the spring of September 2010 is - dare I say it - resumed? The aftershocks are lessening in frequency, the two pet lambs seem to be doing OK in their lamb creche, and more and more daffodils are flowering.
Friday 10th September
The new patches of mixed daffodils I planted last autumn are looking beautiful. I've also found a sweet little clump of miniatures with apricot-red trumpets. Rhododendrons, too, are starting to colour up the borders. More of the prunus trees are in blossom overhead. The garden looks fresh, with very pretty green colours.
Early this morning I stopped in the middle of the Hump to touch ('hug' would be too flamboyant a word) one of the huge gum trees while an aftershock rumbled through. I got thoroughly wet from drippings off the swaying branches. What a weird experience - my big trees moving, but no wind. The earth reminds me that I am still very, very small. But that's OK. Small and happy is just fine! As long as I stay thankful...
A Dog-Diet!
Rusty the dog's food intake is being severely monitored. In fact I will be using the 'D-D' word, Dog-Diet. At the vet he weighed in at twenty-six kilos - far too heavy. He's been pinching cat food, raiding the compost, and getting far too many left-overs. And he's up to something disgraceful, suspiciously disappearing off into unknown places in the garden. This is often followed by a day of dog-diarrhoea... Eek!
Coral Roses :

All the so-called Flower Carpet roses are great little roses. I grow many different coloured varieties.
So what to do in the garden today? Firstly I'm planting the Sally Holmes roses on the sunny side of the garage. She's a pretty pink and white, and should enjoy the space and sunshine. Perhaps some of the coral Flower Carpet roses could go underneath the garage window. Naturally this all mean that the garden border will have to be widened.
When the day warms up I'll bring the pet lambs out to stretch their legs. Already I can see mental differences - the wee girl lamb is much brainier and comes when called, while boy lamb is random, all over the place. What? Where? Who? Me? Food? Where?
Two Pet Merino Lambs
At the moment they are called 'Big-Lamb-Lamb' and 'Little-Lamb-Lamb' which may seem rather uninspired. But remember - this family has a cat named 'Fluff-Fluff', and these double names are really easy to call out!
Saturday 11th September
Would Rusty the dog like some white Flower Carpet roses planted in the Lavender garden by his dog kennel? Not much point in asking him, I guess...
Back to Normal for the Garden Gnomes...
My city is slowly getting back to normal after the e-quake (or the 'you-know-what', to sound a bit Harry Potterish). Seven days on and it's now become a well-run emergency, where infrastructure has proved to be relatively sound and much pre-planning has worked. The demolition experts, the engineers and builders are very busy, and local geologists are standing in paddocks, grinning from ear to ear. Apparently the underlying river gravels have always hidden the fault line...
+10
+10
+10
+10
+10
+10
+10Every morning I wake up wise and thankful. I've managed to sleep OK, my house isn't shaking... Oops - it did just then, strongly enough to send the cats running for the cat door. Dear things! Five minutes later and they're back peering though the windows on the patio. I'm forever apologising: 'Sorry your house is misbehaving again, cats'. All living Moosey cats deserve some Most Valuable Pet Competition points for adaptability...
Head Gardener and Pet Lambs
Grow Strong, You Lambs...
I've moved on to slightly worrying about the pet lambs (grow strong, big and little lamb-lambs - grow strong) and thinking where to plant my new roses, of which I have an excessive number. Ideas - all the Icebergs can go together by the water race in the Stumpy (AKA Willow Tree) Garden - tall white roses near the flowing water will be nice. The yellow roses (there are nineteen) perhaps would like to be together in the Pond Paddock Gardens.
Perhaps my friend would like one? We are meeting for sushi this morning, and I'm sure I can spare one. She has a 'Faun Garden' with centrepiece a bronze statue on a plinth - he's a famous Pompeii faun.
Late Lunchtime...
So here's the plan. I've carefully planted five white roses and weeded in Rusty's Lavender garden. The lambs have been out in the sunshine on the grass, with lots of sunny photographs taken. I've pruned the roses in the middle of the Birthday Rose Garden, and now feel overwhelmed by the weeding I have to do. When in doubt take a break, make a drink, and allow self five minutes of written ramblings.
Self-Sown Cornflowers and Pansies
The decisions are really silly - whether to keep all the self-sown cornflowers and pansies and weed around them, whether to carefully dig them all out and then whoosh through the garden, or to whoosh through the garden oblivious to all. I rather prefer the middle course - it suits my nurturing yet practical gardening soul. And guess what? Five blissful hours since the last aftershock. Ha! And I'm not afraid to mention this. Ha! Ha! Ha!
Lamb Walking Around the Frisbee Lawn
Later Still...
I've burnt my rubbish, trimmed grasses in the Stables Garden and weeded. The lambs have been fed and have been for a walk around the Frisbee Lawn. The grass was too long for little lamb who kept getting stuck. Fluff-Fluff has met them and is very friendly.
Camellias behind the Garage
I've said hello (as one does) to the Camellias behind the garage and taken some pictures - enjoy!