Canada Holiday...
Head Gardener on Holiday
The Moosey Journal is proud to present its first 2010 summer holiday instalment, compacted from pages (and pages!) of personal scribble in a travel notebook.
Saturday 19th June
Long flights across the ocean (and across the USA from coast to coast) chasing the sun are really easy - when they're over! And the first proper night's sleep in a proper bed - magic! And the first summery sights in Hamilton, Ontario are startling - cherry red sweet peas on a fence-line, pink roses, light green forest trees...
This holiday is designed to have a slow pace, with lots of time to walk and think. The cats - what is young Minimus doing? And Rusty the dog, socialising in his kennels with the other holiday dogs - he'll be happy? Of course. And already, after only three days in Canada, I've seen enough front yard gardens to be inspired and make my first Moosey garden plan.
My First BIG IDEA
The Elm tree garden is the proud recipient of my first BIG IDEA. It's changing its style completely when I get home - I'm thinking semi-shade foliage plants and more ornamental grasses. Some pink roses, including Mutabilis, are leaving for sunnier spaces, as are the shaggy white Shasta daisies and the perennial Penstemons. The big spreading clump of species daylilies can also exit, and go in the new garden behind the pond. Ha!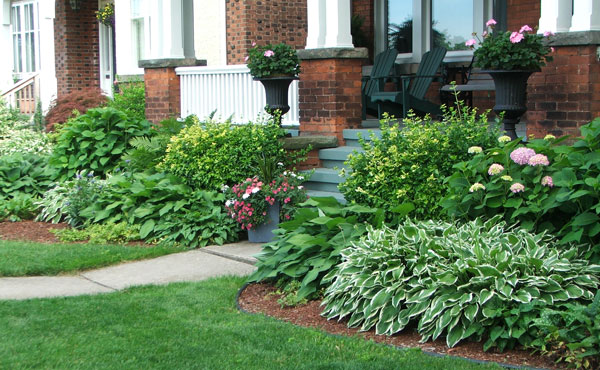 Hamilton's Hostas
So far I've only really had the opportunity to do some city street wandering. I find the variety of front yard plantings quite fascinating, and no irate home-owners have charged out to ask me why I'm taking pictures of their special patch. Gardens which can be admired from the sidewalk are surely used to all this attention, anyway.
On the Personal Front...
On the personal front, I'm pleased to report Non-Gardening Partner's donut count after three days - still a big fat zero. Hurray for the Moosey Shape Up For Life Campaign! But I'm still not very good at bouncing small talk around. I start off doing well, then people ask about New Zealand and I wander off into the patriotic sunset. Then follows a dreamy silence. Oh well. I'm trying my best! And I've also seen my first red Cordyline, squashed into an urn on a front porch. Nice!
Tuesday 22nd June
This leg of my holiday involves much personal inaction (much time is spent sitting around reading and drinking cups of tea). I've enjoyed some solo-wandering around the local roads looking at garden plantings. And yesterday I visited two parts of the Hamilton Royal Botanical Gardens - the Laking Perennial Garden and Henrie Park. Camera on, notebook out, and yes - I found some exciting things to take note of.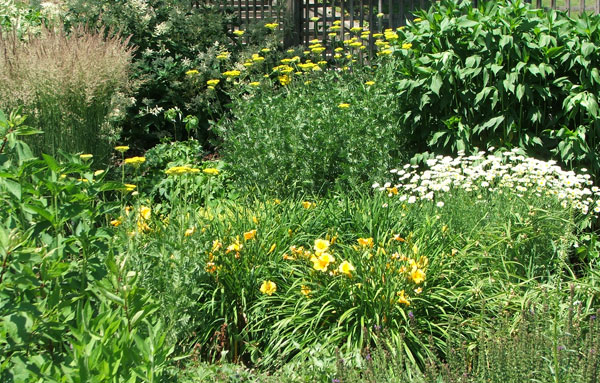 Grasses and Perennials
In the Laking Perennial Garden the state of the plantings in Summer's Great Progress varied from scruffy to splendid. The irises and peonies were finished, their shaped beds overfull now with weeds. But many tall perennials (like the Persicaria) were showing off, sporting big, fluffy flower-heads. Ornamental grass clumps, over waist-high, were shining magnificently in the warm sun. Calamagrostis and Miscanthus grasses - yippee! I recognise you, and I'm so glad I grow you. And I'd love to grow you others, too - but maybe you're not allowed into New Zealand...
Red Scrambling Roses
Enjoying the Roses
It's the very best time for enjoying the fresh colours and shrubby shapes of the roses. Floppy scramblers and well-measured upright hybrid teas, North American favourites and David Austin's English beauties - all these roses were in good health and fine bloom, with space to breathe.
Memo to disorganised self - somewhere in my garden there lurks a David Austin's Cottage Rose, and also The Friar. I recognised the flower form and the petals in a rose bed, so let the simple act of writing these names down spur me into positive ID action - please! Let me be better organised, rose-wise.
Cannas
The best thing I saw in the Botanical Gardens was really quite simple, and surprised me. Pots of Canna lilies with subtle striped leaves, just like the varieties I grow, were completely submerged in pots in a rectangular reflection pool.
What a beautiful idea - I could do that in my own pond! The straight line symmetries would be missing, and the calm reflections would be a bit wobbly, but this is about the plants, right? Obviously these Cannas love being underwater. I didn't fully understand that. Ha! A gardener who thinks she knows everything is once again brought down to gardening earth.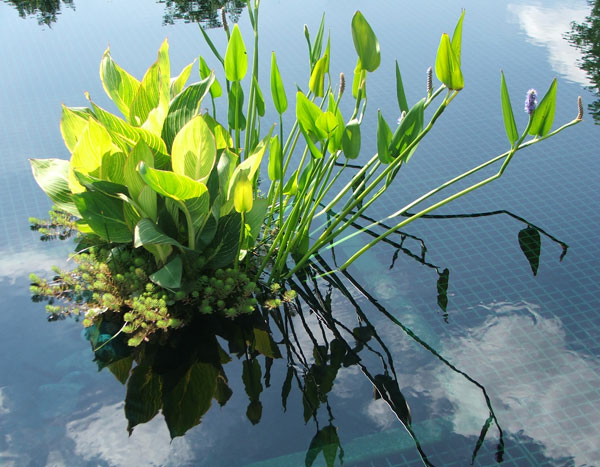 Cannas in Reflection Pool
Goodbye Canada
Well, I'll be saying goodbye to Canada later today and heading for London. And great personal news - Non-Gardening Partner's donut count still stands at zero. This has never happened before when he's visited Canada, and I am very proud of him. Perhaps his Canadian relatives, secretly peeping at this journal, have read about the Shape Up For Life Campaign? Oops...