Low-Key Christmas Gardening...
It's nearly Christmas, and I've been neglecting the garden. No, that's not strictly true - I've been pottering quietly around it. Low-key gardening, I'd call it. The 2013 Moosey Calendars featuring the garden, cats, and dog are done. Phew - the world is not going to end after all...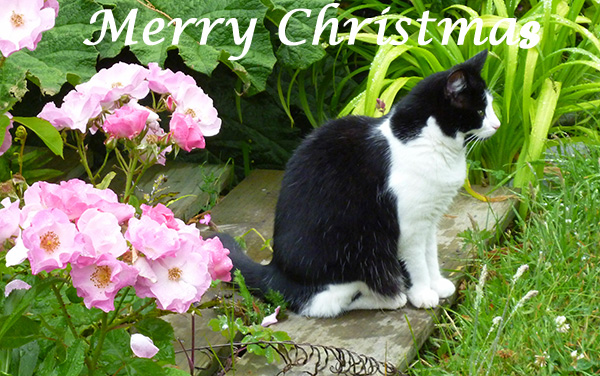 Little Mac by the Pink Roses
I've spent lots of indoors computer time creating these calendars. I always look forward to this. It'd fun trying to pick the best garden photographs from the whole year. As usual I have squillions of pictures of Fluff-Fluff the cat (big, fluffy, caramel coloured, terribly ornamental in the garden) and Little Mac (cute, kitten-sized, with her mad eyes). Sadly there are less of Histeria the tabby (dark-striped and totally garden-camouflaged). And my dog Rusty has exactly the same goofy expression in all his photographs.
2013 Moosey Garden Calendar
Yippee - all my Christmas shopping is done. The idea is to recycle, regift, and/or donate the present to the Salvation Army food bank. I have warned my family. Son unwraps gift. 'Ooh. How exciting - a tin of sardines. In tomato sauce! Thanks, Moosey...
+5

+5A summer gardening week often passes by in a lazy blur. Put on the hoses. Do some weeding here. Shift the hoses. Do some weeding there. Shift the hoses again. Each day I've had Little Mac and big Fluff-Fluff for cat-company, while Rusty has kept a bored vigil nearby. And each night I've driven off to a carol singing rehearsal (different choirs) where Good King Wenceslas has gone wandering off in a snow storm. Such a strange contrast...
Thursday 21st December
Today the world was supposed to come to an end - someone decided that the Mayan Calendar had run out. Well, I've just got the Moosey Calendars back from the printer, and I can definitely promise that my version of 2013 is still going to run. The photographs are disconnected from the seasons, though - pink peonies in February and Daylilies in April, for example. Garden gnomes provide authentic garden colour in June, which is mid-winter here. You won't find any cold, shivery pictures in my calendars.
Beautiful Daylily
Summer Flower News
Today I dead-headed my first dahlia. Eek! That was quick! And I took some time (with my new Christmas camera) to check the daylilies. I have some lovely coloured ones, and this summer they are doing well. As a consequence I've decided that I really like them and I want more, hee hee.
Someone upstream has been pruning pines - bits of branches keep floating through my property and clogging up my river pumps. So I've been fishing lots of little Christmas trees out of the water race - it's rather festive. Joy to the world...
Monday 24th December
I am so lucky. Non-Gardening Partner and I are back from a challenging and inspiring weekend tramp (hike, trek, etc.) in Arthur's Pass National Park. We spent the night in Carroll Hut, high above the Otira Valley, with tussock, alpine tarns (full of tiny tadpoles, night-time noisy with croaking frogs), and giant buttercups (Ranunculus lyallii) in flower. And yummy gourmet food, thanks to the trip's chef (Daughter of Moosey).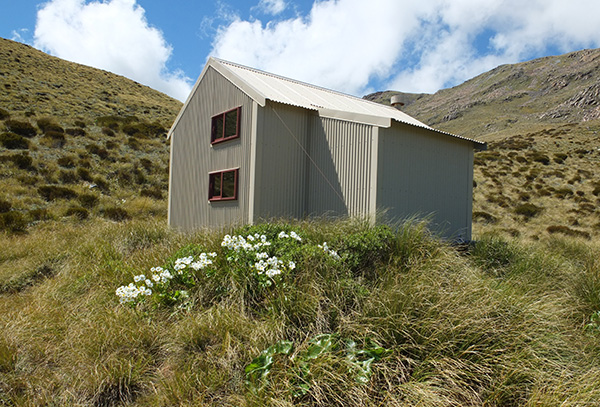 Carroll Hut
As a result of this 700m semi-vertical climb the strangest (and unmentionable) bits of the Moosey body are feeling a bit worn today. Time for a therapeutic swim, methinks, and then the last bit of Christmas shopping (at the Charity shop again).
Fluff-Fluff the Cat
Getting Ready
And then I'll be getting the garden ready for the BIG DAY, which means encouraging (?) Non-Gardening Partner to mow all the lawns, while I trim all the edges. Rusty the dog is a bit stinky and needs a Christmas shampoo, and my cats need their special pet-meat treats thawed. Christmas is for the animals, too!
The Last Carols
Tonight is my last carol singing concert, in a massed choir singing with the Salvation Army brass band. It's a stirring, old-school Christmas sound, so much better than the tinkling muzac of a million malls...
Tuesday 25th December
Christmas day! I love my family and my garden, and all the cats. And Rusty the dog, and all my friends, and Pond Cottage, and music, and mathematics (I've decided to read up on differential equations). Merry Christmas!
Rhapsody in Blue Roses